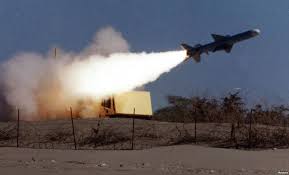 Prabhakar Gupta
The beauty about China is that it retains the potential to spring surprises and keep the entire world on its toes, especially the United States (US). The latest shocker has come in the form of the flight test of a hyper-sonic missile delivery vehicle dubbed WU-14 that was seen hurtling over Chinese air space recently. Hypersonic missile vehicles developed by the US and another one "Brahmos" designed jointly by Russia and India have the capability for precise targeting and rapid delivery of nuclear warheads over vast distances. These weapon systems can counter hostile missiles and space defences. Reports indicate that the test has made China the second country after the US to have successfully tested a hypersonic delivery vehicle that can carry nuclear warhead at a speed of above 10 Mach.
Hypersonic technology will allow countries to strike targets anywhere in the world within minutes. It is difficult to track, detect and intercept a hypersonic missile system because its flight path is not as high as that of the ballistic missile. As things stand a hypersonic missile system can bypass all conventional missile defence systems.
This means that China now has the capability of breaking down any missile defence system or missile shield that the US has in place and striking a target of its choice within minutes; in other words the much touted US "Prompt global strike" programme a has been neutralised by China by putting in place one of its own. The development has made law makers in the US very worried as articulated by the Senate Armed Services Committee after the test flight carried out by China became public. "When round after round of defense cuts have knocked Americas technological advantage on its back, the Chinese and other competitor nations push towards military parity with the United States; in some cases, as in this one, they appear to be leaping ahead of us," observed the committee recently.
While the world looks on alarmingly at the frantic pace with which China is acquiring defence hardware and technology indigenously, the country has a standard tongue in cheek response to such apprehensions. "Our planned scientific research tests conducted in our territory are normal. These tests are not targeted at any country or any specific goals," said the defence ministry of the country in a faxed message after the flight test.
There are many in the US, however, who are convinced that China has only one country in mind while making these military advancements. It is definitely trying very hard to match up its military technology with the US. This does not imply that other countries do not come by in the overall strategic picture. While preparing for the eventuality of a face-off with the US China also stays sensitive to its tenuous relations with Russia and open belligerence towards Japan. India also comes somewhere within this picture.
China watchers are of the strong opinion that the military advancement is with an economic purpose in mind. China wants to neutralise the US in the South Pacific region so as to gain a strategic advantage in the arena of commerce. It wants to establish its hegemony on the sea lanes and the trade. The countries in the region already very worried and are looking towards the US for guidance. It is against this backdrop that many Asian countries have welcomed the move by the US to increase its presence in the South-Pacific region. On their part a lot of these countries, like India, are also going headlong into building their military strength with indigenously produced or acquired military hardware.
The US on its part has its own set of problems; Senator John Cronyn, representative of Texas says, "Considering the Obama administrations penchant for continually indebting ourselves to the Chinese government rather than taking necessary steps to put the nation on a strong fiscal footing the reports about China's military advancement are all the more disturbing."
China is not fighting shy of making massive investments in its defence acquisition as also research and development sector. The Peoples Liberation Army is definitely a huge force to reckon with and is improving by the day. In the field of strategic assets like nuclear technology and delivery vehicles it is witnessing phenomenal accretions. The Chinese space and nuclear programme is not targeted towards mass production, it is concentrating on quality with specific requirements in mind.
The field of hypersonic delivery vehicles is yet in development stage globally, with ready to use systems not in place. Experts believe that the technology will be ready to use in five to 10 years time globally. Hypersonic vehicles tested by the US like the Falcon HTV-2 made by Lockheed martin are said to travel at a speed of Mach 20 that is almost double of what China has tested. China, therefore, is standing somewhere between the US and the Indo-Russia model. It will definitely be a powerful player in this genre of warfare when it comes by. The country is also said to be developing precision guidance systems to be directed by satellites.
The US military establishment has refused to comment on the issue; strategic experts of the country, however, are getting increasingly convinced that Asia Pacific is now looking at a conventional-nuclear mix in its perceived spectrum of conflict. China has not come up with any doctrine of its nuclear policy which makes things even more difficult to understand.
This is the time for the US to exert its influence as a unilateral superpower. First and foremost it needs to extricate itself from the economic stranglehold that China has over it. There are other regions in the world where manufacturing and industry can be boosted, so what if the end product will come a little more expensive, at least the military capability of a hegemonic nation will not be boosted. Second, strategic alliances will need to be worked out with regional players like India, Japan, Taiwan, Russia etc to come up with a credible response to military muscle flexing by China. The time to act is now before it gets too late.