Col Alok Mathur, SM (Veteran)
The Democratic Republic of Congo (DPR) is a country in Central Africa. It is also known as Congo-Kinshasa, Belgian Congo and Zaire. It is bordered by the Republic of Congo (ROC), also called French Congo, in North-West; Central African Republic in the North; Sudan in the North-East; Uganda, Rwanda, Burundi in East and Tanzania, Zambia and Angola in the South. It has a small coastline in on to the Atlantic ocean where River Congo finally merges with the Sea. It is the second largest country of Africa and has population of 108 million. The capital of DPR is Kinshasa .
The region was originally home of Bantu tribes and was explored by European traders in 18th century. Initially, the French tried to colonise East Congo but King Leopold ll of Belgium outsmarted them and his Expeditionary Force landed at the mouth of the Congo River and asked for trading rights. A treaty was signed on 17 November 1879 and Congo was colonised and renamed as Congo Free State. Finally, on 15 November 1908, it was officially called Belgian Congo. The area was rich in oil and other minerals and best suited for Rubber Plantation.
There were, however, ethnic conflicts and uprising against atrocities by Belgian troops. Belgium gave independence to Congo on 30 June 1960 which led to a civil war like situation over there. Many serious cases of looting, arson and murder were reported due to break down of law and order.
Belgian forces, on the pretext of saving its nationals and assets, planned to take over Congo once again. The newly installed Congolese government approached the United Nations for military intervention on 12 July 1960. The United Nations, on 14 July 1960, passed its Resolution No. 143 to send a Peace Keeping Force to Congo and warned Belgium not to intervene and to move out of the region at the earliest.
The first multi-national Congo mission of United Nations Peace Keeping Force landed at Congo on 15 July 1960. In French, it was called 'Operation Des Nations Unies Au Congo' (ONUC).  Meanwhile, the conditions deteriorated as the Katanga tribe revolted and Prime Minister Patrice Lumumba was assassinated by the rebels. A large group of foreign mercenaries also entered Congo and were fighting the state forces. There was total uncertainty and chaos.
The UN forces were composed of almost 20,000 troops from 12 countries. The largest contingent of a Brigade strength was from India, followed by Ireland and Sweden. The insurgency was at its peak between 1961 and 1963.
Indian 99 Infantry Brigade led by Brigadier K S Raja with about 4000 troops and medical staff had landed to reinforce the UN mission in 21 February 1961 after assassination of the Prime minister of DPR Congo. 3/1 Gorkha Rifles was a part of the brigade. The UN force headquarters were about 15 kms from the Airport of Elizabethville and there was an important crossroad which, if occupied, would break the strategic logistics lifeline for UN troops deployed in Katanga region.
The rebel force named 'Gendarmerie' led by Moise Tshombe was well equipped. It  even had Armoured Cars and wanted to occupy the Katanga region which was rich in oil, copper, cobalt and uranium; Tshombe wished to declare it an independent country.
The UN troops had to carry out a number of operations to restore peace. Tshombe got agitated as his plans failed and his insurgent group started ambushing UN columns and kidnapping isolated UN personnel. There were about 100 casualties of UN troops. Later, under pressure from UN Operations, a peace agreement was signed in 1963 and Tshombe agreed to join the mainstream. Congo Mission 1.0 ONUC was finally terminated on 30 June 1964.
Captain Gurbachan Singh Salaria, PVC (Posthumous)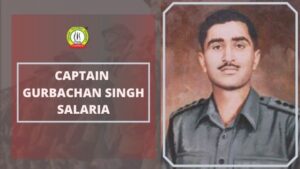 Captain Gurbachan Singh Salaria was born on 29 Nov 1935 in village Janwal in Gurdaspur district of Punjab. Gurbachan's father, Munshi Ram was a Risaldar in the British Indian Cavalry and had participated in the Second World War.
Gurbachan joined King George Royal Military College in 1946 at the age of 11 years. Later, he was trained in NDA and IMA. He joined 2/3 GR on commissioning in 1954, but was side stepped to 3/1 GR in March 1960, which was earmarked for the UN Mission in Congo. He reported to the unit at Leopoldville on 16 March 1961 and was promoted as Captain.
The unit carried out area familiarisation initially and firmed in the operation area. There was a refugee camp in the area of responsibility, where there were a lot of Congolese women. Gendarmerie troops often resorted to abduction and molestation. Captain Gurbachan Singh saved the local women from Khatang troops on 3 December 1961, which resulted in exchange of fire.
On 5 December 1961, the Gandermerie established a massive road block on Road Elizabethville- Airport in order to isolate the UN Force Headquarters (HQ) . The road opening party reported the new development. The convoy could not proceed to the Airport. The task to open the road block was given to 3/1 GR and a Swedish Armoured Squadron.
The Commanding Officer of 3/1 GR planned a two prong attack against the road block. Alfa company with two platoons was detailed  to attack the position frontally with fire support of the two Swedish Armoured Cars and Capt Gurbachan Singh with a Platoon minus and two Armoured personnel carriers was to act as the cut-off force.
The assault commenced at broad day light. Capt Gurbachan Singh leading his small force took a hook and reached the planned site. He was just 1500 yards from the main objective on a flank. At 1300 hours, he came under heavy automatic fire from undetected enemy bunkers. They had laid an ambush for the main attacking UN force. The rebels had around 100 Katang troops and two captured Belgian Armoured Cars. Captain Gurbachan Singh knew that he was no match for the subsidiary road block established by enemy force and he knew that if he did not fight with them, they will massacre the main force heading for the road Junction. He decided to assault the road block.
He initially made a fire base and engaged the enemy with Rocket Launchers and APCs mounted MMGs and then led a typical Gorkha charge with open Khukris. Each Gurkha killed 10 Insurgents. Captain Gurbachan Singh chased the fleeing insurgents, killing many of them. A sudden burst of enemy LMG fire hit him in his chest and neck; he continued charging and killed the LMG crew before collapsing.
This unexpected bold action completely demoralised the enemy who fled despite numerical superiority and prepared defences. The gallant action by the officer prevented any movement of enemy strike force towards the main battle scene. The main force successfully tackled the road block enemy positions with minimum casualties and prevented encirclement of UN headquarters in Elizabethville. Capt Gurbachan Singh Salaria subsequently succumbed to his wounds .
His personal example, with utter disregard to own safety, dauntless leadership inspired his small team of Gorkha soldiers overcome the  strong enemy position despite being heavily outnumbered and exposed. For his gallant action, bold leadership, unflinching devotion to duty, disregard to own safety in face of enemy fire, Capt Gurbachan Singh Salaria was awarded the highest gallantry award 'Param Vir Chakra'posthumously.
Ongoing UN Missions
There are still 12 active UN missions all over world involved in various conflict zones and approximately  90000 peace keepers from 122 countries are deployed. MINURSO UN mission for referendum  conflict between Morocco and Sahrawi Republic in West Sahara since 1991; MONUSCO UN mission in DP Congo-Kivu conflict since 2010; UNISFA in Sudan since 2011; UNMISS in South Sudan since 2011; MINUSM in Mali since 2013; MINUSCA in Central African Republic since 2014; UNMOGIP in Kashmir since 1949; UNFICYP in Cyprus since 1964; UNMIK in Kosvo-Serbia since 1999; UNTSPO in Middle East since 1948; UNDOF  in Israel -Syria conflict since 1948 and UNFIL Lebanon-Israel conflict since 1948. There are 122 countries contributing troops to UN missions. The top ten countries are Bangladesh (6447), Nepal (5536), India (5481), Rwanda (5263),Ethiopia (4856),Pakistan(3949),  Egypt (2818), Indonesia (2818), Ghana (2296), China (2248).
India has taken 175 fatal casualties in UN peace keeping missions; it is the highest number in the World. On 26 July 2022, two BSF troops Shishupal Singh and Sanwala Ram Vishnoi were martyred in MONUSCO mission in Congo. Indian contribution to United Nations Peace keeping missions has been appreciated by UN Secretary Generals time and again. We are proud of our valiant soldier's devotion towards good world order and tranquillity.