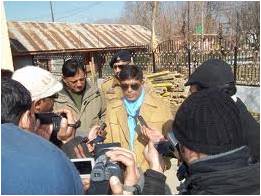 Simrit Kahlon
The policy for rehabilitation of former terrorists framed and put into practice by Chief Minister Omar Abdullah with adequate support from the erstwhile Union Minister for Home, P Chidambaram brings to mind the biblical parable of the prodigal son. The parable refers to a sinful son who suffers due to his aberrant ways, repents, returns and is welcomed back into the family fold by a forgiving father much to the consternation of the elder dutiful son.The philosophy of forgiving the sinner, reforming him and bringing him back into the mainstream, is indeed noble and one that pervades almost every humane system of administration. Having said that, one must also realise that every case needs to be judged on its individual merit and a universal amnesty may not always be a good idea.
It is to be noted that a large number of the erstwhile terrorists who have managed to return while taking advantage of the rehabilitation policy have come via Nepal instead of the entry points identified by the Government of India for this purpose. It is common knowledge that Nepal is being used as a base by the ISI to run terror training camps and push the trained manpower into India through the porous Indo-Nepal border. The fact of the Kashmiri militants returning through this circuitous route, which enjoys neither the benefit of proximity to their homeland nor ease of negotiation, makes their return a matter of concern. In addition, a considerable number are coming back with families conceived of wives belonging to Pakistan Occupied Kashmir. This is likely to strengthen their affinity for the part of Kashmir that is under Pakistani occupation; another point which should be of concern to the forgiving Chief Minister.
These families have now formed an association called the POK Returned Families Rehabilitation Forum (PRFRM), to press the government to provide them with additional facilities to make their so called rehabilitation absolutely smooth and trouble free. They are demanding accommodation from the government in addition to jobs and financial aid. An interesting feature of the whole exercise is that it is the wives of these ex-militants, largely hailing from Pakistan occupied Kashmir, who are the most vocal in expressing their demands. Amazingly, these wives make no bones about the fact that they are not willing to make adjustments and stay with their husbands' families in their homes and so want separate accommodation. As an end result, ensuring a smooth marital life for erstwhile terrorists is now deemed to be the responsibility of the state of Jammu and Kashmir and by an extended logic that of the Government of India.
It would be interesting here to take a cursory glance within the larger region and see how China treats Tibetan people who move out of Tibet. They may leave but under no circumstances are they allowed to return to Tibet. The territory of Tibet, on the other hand is being peopled by Chinese populations from other provinces of China. Keeping this in view, the returning militants should in fact be grateful that they are being allowed to return at all and that too with their families in tow who are likely to add to the demographic burden on the limited resources of the state. If their women are so unhappy and dissatisfied with their lot here why did they leave their native land at all?
It is obvious that these people have also adopted the culture of political blackmail. They brazenly continue to demand free lunches and in their shameless behaviour they get the full support of an irresponsible opposition and, of course, the separatist leadership. As a result they have generated immense nuisance value which they are exploiting to the hilt in discrediting the government irrespective of the long term harm it may cause to the region.
In any case, the return of Kashmiris who had crossed over to Pakistan with the aim of receiving training in the use of arms and spreading of terror and disaffection among the general population in Jammu and Kashmir must be viewed with a certain degree of suspicion. The elementary question here is, why do these militants want to return? There could be three reasons: one that they are disillusioned with the movement, two that the fatigue factor has got to them, and three that they have some evil design which may be fulfilled by returning to the valley albeit under the guise of reformed individuals. If the reason is any one of the former two, their return would be welcome but just in case they are returning with a nefarious design, it is worth considering what safeguards the benign government of Jammu and Kashmir has in place to avert any impending disaster that may occur as fallout of their return. That there is real danger of these people having been pushed into Kashmir with the intention to create mayhem in the state became quite evident from the recent arrest of an erstwhile terrorist on charges of having master minded almost thirteen acts of terrorism in the valley in cahoots with a personnel of the J&K police. This should be an eye opener for the government of Jammu and Kashmir and all other hearts that are bleeding for the so called reformed terrorists.
The state government should concentrate on setting right the environmental, social and developmental kinks that have cropped up in the state due to terrorism. It needs to realise that once it gives in to politically engineered demands there will be no end to the same. This is a fact that even the Government of India needs to realise and accordingly deal with. The prodigal may indeed be allowed to return and may also be welcomed back but then he also needs seek penitence for his sins rather than making shameless demands.