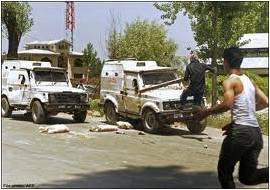 Jaibans Singh
A spate of grenade attacks in the Kashmir valley in the recent past has the security forces worried. On 02 and 03 August, within a span of 24 hours, the valley was rocked by four grenade attacks in the buzzing towns of Sopore, Baramullah and Srinagar. Even more alarming is the fact that CCTV coverage has revealed the involvement of teenagers in hurling of grenades at Sopore; the attack injured three people, damaged several vehicles and spread panic in the town. The boys, being minors, have since been released from custody after counselling.
The policy of using civilians in grenade attacks has been pursued by terrorist organisation for a few months now. In an earlier instance on May, 19, a police station, once again at Sopore, was subject to a grenade attack. Later two civilians, Ishfaq Shafi Kana and Saleem Mushtaq Beigh, were arrested for having lobbed the grenades at the behest of a Hizbul Mujahideen terrorist. The recent use of minors to launch grenade attacks has confirmed that this policy is here to stay.
It was about a decade back that terrorist organisations changed their strategy from direct engagement to stand off grenade attacks. In the initial stages terrorists lobbed the grenades themselves, later, they started using children. Massive damage was caused by this strategy, especially to civilian lives and property. A comprehensive information campaign was launched at that stage to sensitise the people on the precautions to be taken against such attacks. It was with full cooperation of the people with the security forces that this menace was brought under control. Now, it seems that the same tactics are being applied by terrorist organisations leading to a haunting feeling of a revisit of those dreadful times.
Grenade attacks are just one part of the burgeoning security problem in the State. On July, 07, terrorists carried out an audacious attack on army personnel on duty at Pampore, just 15 kilometers from the capital city of Srinagar. One army soldier was killed and one injured in the incident. Incidents of this nature are exceptions rather than the norm these days. The fact that this was possible is something to be concerned about. Senior army commanders have expressed apprehension of augmented support to terrorism from across the border as seen by a perceptible increase in infiltration attempts in the last few months. Most have been aborted but some 35 to 38 terrorists, according to army estimates, may have successfully infiltrated into the valley. The spurt in terrorist activity is probably the handiwork of these elements.
Terrorist activity has been supported and augmented by some political measures also. The Panches and Sarpanches in the Valley, selected after a hiatus of nearly 30 years have been subjected to concerted psychological pressure by terrorist groups and their political partners. They regularly receive threats and have been attacked on at least six different occasions. One Sarpanch has lost his life. The overall effect has derailed the Panchayat Raj system resurrected after painstaking political effort.
All through the summer and especially in the last few months the separatists have been trying their level best to wrest the political initiative; in the month of July, buoyed by a meeting with the Pakistan Foreign Secretary, Jalil Abbas Jilani, they took a spate of actions to register their presence. Jamaat-e-Islami in Kashmir, ably supported by the Hurriyat Conference, gave a Fatwa directing tourists in Kashmir to follow a "proper dress code"; Mirwaiz Umar Farooq warned the State government against giving a boost to tourism from Israel to the Kashmir valley. It goes without saying that all this attributed considerably to a decline in tourist foot falls in the valley from July onwards.
Concerted attempts are being made to exploit every incident which can put the government and the security forces on the back foot. The killing of a suspected terrorist, Hilal Ahmad Dhar, on the night of July, 25, at Bandipora has led to a spate of agitations despite an enquiry into the incident having been ordered by the army. Again on July, 31, when a civilian died in a CRPF camp at Shopian, separatist sponsored strike and protests rocked the town despite the Police having confirmed that the death took place due to an accident. "These killings will continue until complete demilitarization of whole state," said Syed Ali Shah Geelani. "Martial law is in place in Jammu and Kashmir ….," said Mirwaiz Umar Farooq; so much for peace and tranquillity. So far as the separatists are concerned every unfortunate accident in the valley presents an opportunity to demonise the security apparatus.
These activities have compelled security forces and intelligence agencies to reassess the situation and come up with methods to neutralise this modified terrorist strategy. Recently, Defence Minister AK Antony visited Kashmir after a gap of 18 months. While congratulating the security forces for the success that they have achieved in marginalising the terrorists, he advocated less visibility, enhanced vigil and better coordination between intelligence agencies and troops on ground. While throwing diplomacy to the winds, he openly admitted that cross border support to terrorist activity is very much there and it needs to be addressed internally. There was no talk of repeal, revocation or modification of the Armed Forces Special Powers Act.
It is apparent that the separatist, divisive and terrorist elements may have lost their lustre but not their sting. They cannot be taken for granted or wished away as spent forces. It should never be forgotten that development is an offshoot of security and not the other way round. The State government, therefore, has its agenda for the forthcoming months cut out. It now has to look closely at the security situation while delivering on its development agenda; under no circumstances can the disruptive elements be allowed to get back into a position of reckoning let alone strength.