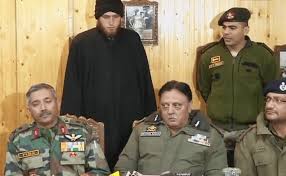 Jaibans Singh
Majid Khan, a budding footballer of Anantnag, Kashmir, joined the terrorist outfit, Lashkar-e-Toiba (LeT), in beginning November this year, only to quit and surrender to security forces a week later due to an appeal by his family.
The incident acted as a catalyst for more appeals by Kashmiri families to their rebellious wards to disown the cult of terrorism and return home. Two families from Pulwama and Shopian appealed to their sons to return. Of these one, Ashiq Hussain Bhat, has been married for less than a year and his wife has threatened to commit suicide if he does not return. This apart, one more youth has surrendered after the Majid Khan incident.
September, 2017, witnessed two back to back surrenders by militants of Hizbul Mujahedeen, Adil Hussain Dar and Arif Ahmad Sofi. They surrendered during active operations in which their senior terrorist colleagues were killed. The disgruntled militants used the encounter to break free from their group. In the latest two incidents, they have simply walked out on their group.
Locals who get swayed into joining terrorist groups soon realise their mistake and start looking for opportunities to get back to a normal life with their families. The security forces are well aware of the mental trauma that a sizeable chunk of the HM cadre, especially the new entrants, is going through. They are closely watching these trends and have been quick in creating credible systems to leverage the same and wean the indoctrinated youth away from terrorist influence.
In the case of encounters, security forces have evolved an elaborate drill whereby they first motivate the encircled terrorists in a counter-terrorist operation to surrender. In certain cases even their families have been called to prompt them to lay down arms. This strategy has elicited good results.
In the recent trend where newly inducted militants are running away from their group due to appeals from their families, the security forces have started assuring the local militants "full cooperation" in their effort to join the mainstream.
This appeal was made in a joint press conference at Srinagar addressed by Lt. Gen. J.S. Sandhu, General Officer Commanding of the Army's Srinagar based 15 Corps and Director General, Jammu and Kashmir Police, SP Vaid.
"We are after foreign terrorists. We want to give the local boys a chance to surrender…..I foresee a violence-free and disturbance-free Kashmir soon," said SP Vaid.
This policy is different from the earlier procedure, wherein, arrested militants were booked under the Unlawful Activities Act as also the Arms Act.
There is a fair amount of euphoria being generated with regard to the recent spate of surrenders. They have been given a lot of boost by the media with breathless reporters waxing eloquent on a new dawn of peace that is fast approaching.
While being happy about the turn of event it needs to be remembered that such surrenders have been taking place earlier too. As early as 1993, a militant, Muhammad Yussuf Parrey aka Kuka Parrey, surrendered and joined hands with Indian security forces in their operations against the militants. Parrey formed a pro-government militia – the Ikhwan-ul-Muslimeen which harboured a deep hatred for the Islamist militants and the Jamaat-e-Islami. He was shot by terrorists on 13 September 2003.
The second salvo came in 2004, in the form of a surrender and rehabilitation package formulated by the Mufti led government of which the Congress was also a part. This package was designed to provide a healing touch to the people of Kashmir. It was also adopted, after a little modification, by the Omar Abdullah led government and is still in place.
It would not be correct to give outright amnesty to such youth who have sought the path of militancy of their own volition. Statutory punishment for having broken the law of the land is very necessary albeit with a certain degree of leniency.
There is a need to set a benchmark on the basis of the unlawful acts that the surrendered militant has committed while he was active. In cases like Majid Khan, of course, a humanitarian view can be taken.  Those involved in heinous crimes like murder, rape, abduction etc. can be entitled to benefits only when legal action has been completed. In order to prevent fake surrenders all cases need to be examined by committees comprising of representatives of Police, IB, Army, BSF, CRPF, ITBP etc.
Similarly, in the case of militants coming back with families from Pakistan Occupied Kashmir (POK), care has to be taken to ensure that they come only through the legally sanctioned routes. The policy should not be extended to those infiltrating through the line of control or following the Nepal-Bangladesh route to get back.
More necessary than the surrender and the subsequent rehabilitation is the need to nip the problem in the bud and full responsibility for the same falls on the shoulders of the political leadership and the civil society of Kashmir.
Did the parents of Majid Khan not realise that their son was going through a sensitive phase? His fragile state of mind becomes apparent from the manner in which he has switched to militancy and back in the course of a single week. The parents should have acted much earlier!
The elders in Kashmir must understand that sloganeering, lockouts, stone pelting etc. are the drivers sending the boys into the fold of terrorism. The process of keeping them away from harm should start early when their boys are getting swayed into participating in such activities.
Too much of amnesty is fraught with risk and added problems. The policy needs a deep thought and not a rushed, excited approach. It has an air of positivity embracing it but on the flip side it is not without an inherent set of pitfalls. The security forces are making the right moves to capitalise on the new trend, but the lead in this matter has to come from within the Kashmiri community itself.
(Jaibans Singh is a reputed analyst, author and speaker)