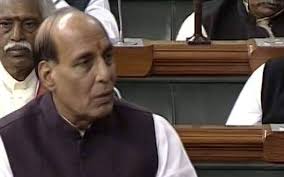 Defenceinfo Bureau Report
In a major development, the NDA government has expressed willingness to hold simultaneous election for the J&K State Assembly and the Lok Sabha in case the Election Commission gives its concurrence. This was conveyed by Home Minister Rajnath Singh in the parliament, while replying to a statutory resolution for promulgation of President's Rule in the state where the Assembly was dissolved on November 21. "From our side, there is no objection (to holding of elections). Whatsoever number of forces the Election Commission wants, we are ready to give," the Home Minister said.
While observing that restoration of peace and normalcy in J&K is linked to the integrity of the country and reiterating the government is working in this direction, Singh said he was open to all suggestions in his regard. "For restoring peace in Jammu and Kashmir, I am ready to accept all suggestions," he said. "Tell me one, two, three, four, five suggestions, we are ready to implement," he added.
The suggestion of simultaneous elections given by the Minister deserves consideration in view of the difficulty faced in holding elections in the state as also the prevailing situation of snow bound conditions. It would, in any case, be best to wait till the weather opens up.
The Kashmir imbroglio demands a nationalistic approach in which all parties and organisation shed personal agendas in a quest to look for a solution. To this extent the offer for suggestions made by the Home Minister needs to be welcomed and taken up.