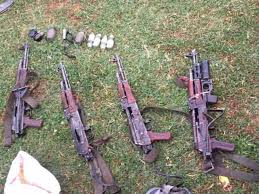 Dr. Simrit Kahlon
In a new and unique trend, a large number of terrorist hide outs are being busted by security forces on the basis of human intelligence provided by locals. It seems that the terrorists, under pressure of being caught, are not staying in once place for long. On many occasions they are vacating the hide outs in a tearing hurry, leaving behind warlike stores like Rifle magazines, radio sets, UBGL's, grenades and also administrative items like food packets, clothes etc. Magazines are being left possibly because there are no rounds to fill them up; UBGL's are difficult to hide so they are also being shed.
Security experts are of the view that this panic is due to a near total absence of experienced terrorist leadership on ground. Since the beginning of this year, reports have been coming in about the decimation of terrorist cadre and, more significantly, terrorist leadership. In January, 2020, Lt. General KJS Dhillon, the then Corps Commander of Srinagar based Chinar Corps had stated that the Army has wiped out the leadership of Pakistani terrorist group Jaish-e-Mohammed (JeM) in Kashmir even as groups like the Lashkar-e-Taiba and al-Badr have been completely decimated. At that stage Riyaz Naiko was the only commander left in the indigenous terrorist organisation, Hizb-ul-Mujahideen, now, even he has been killed. The lower rung that was elevated to leadership role has also been neutralised of late. As many as six self styled "commanders" have been killed in the month of June itself.
On 19, June, the present General Officer Commanding  of Chinar Corps, Lt. General BS Raju, in the presence of J&K Director General of Police (DGP), Dilbag Singh, stated that the security forces have neutralised eight terrorists in the last 24 hours. Please note that this was the time when turmoil over the Galwan incident was at its peak. After that, a steady head count of terrorists has been reported on a daily basis. On June, 20, a day after the press conference, a JeM associated foreign terrorist, Tayab Waleed, was killed at Likhdipora, Kulgam. He was known to be an IED expert. Three other local terrorists were also eliminated in a separate encounter on the same day. The total number of terrorists killed in this year has already attained a record threshold of 100 plus including the most important leadership.
Among the stuff being confiscated by security forces are, most abhorrently, sex related items like condoms, Viagra etc. This indicates that, while being under so much pressure for their very lives, the terrorists are not averse to molestation of local girls.
Ever since the cult of terrorism took roots in the region, there have been distressing reports of molestation of women by terrorists, especially those of foreign origin. Once infiltrated into Kashmir, these terrorists, drunk on the power that the AK-47 gave them, threw the ideology of Jihad to the winds and concentrated on leading a good life which primarily included fulfilling their carnal desires. There were many forced marriages leading to advent of "Half Widows." Fortunately, that time has been left behind since terrorism has waned considerably. Sadly, even the few remnants seem to be more interested in following the footsteps of their predecessors than concentrating on the cause of so-called Jihad.
The time has come for the people of Kashmir to negate the cult of terrorism and violence that these evil people perpetrate. With the Line of Control (LOC) virtually sealed, a well laid out pattern is being followed for recruitment of local terrorists. The lookout is for boys from middle class to poor families who are ready to sell their souls for a small amount of money and promises of a bright future in this world beyond. Some are drug addicts and others, in the flush of youth, join with the intention of impressing their girlfriends.
Families should stay vigilant about the well established propaganda machinery that has been put in place to lure innocent young Kashmir boys. There is always a Burhan Wani or someone else of his ilk being used as poster boys in the propaganda campaign. They are prominent in all Pakistan based social media outlets catering for large Kashmiri youth audiences. There is no element of religiosity and sacrifice visible in the murderous and perfidious acts of terrorists. The sheen given by the media is absolutely ridiculous and a blatant spread of disinformation.
The new age terrorist in Kashmir can safely be profiled as an indoctrinated local youth who is both ill trained and ill equipped. He is given rudimentary instructions, handed over a rifle with some ammunition and let loose. Such ill trained persons are no match for the highly professional and experienced security forces. On top of it, they lack local support. Even in their own localities there are many ready to see them dead, hence, their life span is very short.
Family support, especially from the mothers in Kashmir, becomes more relevant because sons do appreciate and reciprocate their mother's love, affection and sacrifices. We are many examples of Kashmiri youth excelling in several competitive exams and other fields like sports and making their mothers and families proud. It is these examples that should be emulated.
The security forces, especially the Indian Army, are constantly giving messages and statements requesting the local youth to shun the path of terrorism. They also call upon those who have joined to surrender on the promise of being treated honourably. These messages emanate from the highest offices of the Corps Command and DGP, Police. The local youth should heed these messages since they are to their benefit since they stand no chance once they are caught in the security dragnet. It is hoped that good sense prevails and the small segment that still supports terrorism also s shifts to a path of peace and prosperity as a vast majority of the people already have.
(Dr. Simrit Kahlon is an academician and a social worker)