Jaibans Singh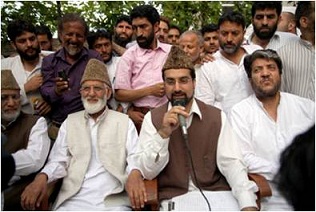 The beginning of 2011 witnessed a change of heart amongst the separatist leadership. Syed Ali Shah Geelani started espousing a pacifist unarmed and peaceful struggle for self-determination. Mirwaiz Umar Farooq started questioning Chief Minister Omar Abdullah's administrative capability after having shunned governance for decades. Then came a bolt from the blue when Abdul Ghani Bhat admitted that senior leaders of Kashmir were killed, not by the security forces or government agencies, but by militants. Also in January, in a major breakthrough, the Police busted a Hawala racket in Srinagar and nabbed Advocate Ghulam Mohammad Bhat, a separatist leader of the Hurriyat (Geelani) faction, with Rs 21.20 lakhs. Geelani insisted that Bhat has been implicated in a "false" case. However, the public could not be fooled and the damage to Geelani's reputation was done, from that moment on, throughout the year, he remained on the back foot.
As the separatists upped the ante in the latter part of the year, it became evident that this "chill pill" was merely a ploy to send a message to sponsors across that a cut in aid would also lead to a change of heart. By February, the interlocutors appointed by the government had carried out extensive discussion with social and political groups across the State. The only group which they could not engage in a dialogue was the Hurriyat Conference. This posture came as a surprise since this vocal and passionate political group was expected to grab the opportunity to put across its views. It seems that the Hurriyats decision was based on some political realities emanating from certain direction from their masters across the border.
As the summer approached, Syed Ali Shah Geelani tried to reach out to a larger international audience with a new avatar as a statesman. He released a pamphlet on Face book called "Qaid-e-Inqilab: Syed Ali Geelani", in which, he related his version of the Kashmir cause – Kashmir is not a part of India; it is an international dispute; government and security forces are heaping atrocities on innocent Kashmiri people etc. He also reiterated that the Hurriyat faction will not go for prolonged strikes, of course with a rider that the onus of a trouble-free year was on the government. Thus, in a classic case of double speak, he painted himself and the Hurriyat as the modicum of reasonableness and shifted all responsibility on the State government.
In the month of June, Mirwaiz Omar Farooq went to Europe, hat in hand, looking for some elusive support. On his return, a jubilant message was spread across the Valley that his efforts have borne fruit and the European Union has linked the Kashmir issue with signing of the Free Trade Agreement with India. Interestingly, this great piece of news found no mention anywhere in the European media. The separatist camp conveniently forgot that the recession plagued economies of Europe need India for resurrection and not the other way round. Meanwhile, Syed Ali Shah Geelani, shed his new found reasonableness and aspiration to become a statesman and made a call for a Bandh on June, 11, the day when a young Kashmiri, Tufail Matoo, died in Srinagar during a Hurriyat sponsored disruption and stone pelting exercise in 2010. The Bandh elicited minimal support and put paid to Hurriyat plans to orchestrate violence during the peak tourist season.
The arrest of Gulam Nabi Fai by the Federal Bureau of Investigation in US on July, 19, came as a huge setback for the separatists. The Kashmir American Council which was being run by Fai with ISI funding was possibly one of the conduits for the Hurriyat also. Geelani was probably the only Indian citizen who raised a voice in favour of Fai and continues to do so. In a seminar held on December, 24, he went so far as to declare Fai as an Ambassador of Kashmir. This preposterous statement and other made in support of Fai corroborate the ISI-Fai-Geelani (Separatist) network, something that the Indian and international investigating agencies need to take note of.
With the onset of winter, separatists thought of activating their cadre before going into their traditional hibernation. A most disgusting incident took place on December, 03, when a shopkeeper Tariq Salam Bhat, was surrounded by about 60 youths near Srinagar, struck with a cricket bat and killed just because he defied Hurriyat sponsored protesters. This incident has left an indelible black mark on the already soiled human rights record of the Hurriyat.
The final call for the year was given by none other than Geelani on, December, 22.He blamed the Government of India for 'social engineering' just because a few Panchayat leaders were sent on a tour of various states in India and a music programme was held in Kashmir University. His own children have enjoyed all fruits of modernity provided by the country, yet, he has no qualms in pushing for a medieval existence for those whom he professes to represent.
It is evident that Hurriyat has been on the downswing all through the year and all attempts made by the conglomerate to resurrect its falling image have come to naught. Its attempts to reach out to the people, the international community and even its sponsors in the global arena have not elicited a positive response. Incidents like the Hawala racket and the killing of Tariq Salam Bhat have caused immense harm to its image. The desperate measures that leaders have taken individually to connect with the people have fallen flat. All this has happened because the people of Kashmir have seen through hollow rhetoric and Geelani Inc no longer enjoys popular support in the valley. There is a profound lesson here to be drawn for all existing and aspiring politicians of Kashmir; playing to the gallery and spouting populisms may bring limited gains in the short run but it is sure to rebound in the longer run.