Jaibans Singh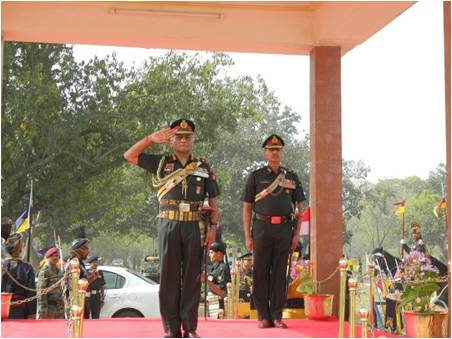 General VK Singh, Chief of Army Staff (COAS), Indian Army, visited Skinner's Horse at Meerut Military Station on March, 21 and reviewed a ceremonial mounted parade of the regiment. The COAS is Honorary Colonel of Skinner's Horse in view of his historic association with the unit where his ancestors served with distinction during the period of World War I and World War II.General VK Singh's affiliation with Skinner's Horse dates back to the early 20th century when one of his ancestors, Bhanu Singh, a valiant and dignified soldier joined the folds of the regiment prior to World War I and went on to become the Risaldar Major of the regiment during World War II. He retired as Risaldar Major Bannu Singh, OBI. Other members of the General Officers family have also served the regiment with distinction.
Raised as an irregular Cavalry Regiment on February, 23, 1803, at Hansi by Colonel James Skinner, CB, Skinner's Horse, also called 1Horse, is the fourth oldest cavalry regiment of the Indian Army. The annals of its glorious history over two centuries are replete with outstanding military achievements and tales of valour. As a Horse Cavalry the regiment performed with distinction in the first Afghan War, 1841, especially so at Kandhar in 1842; the Second Afghan War, 1889; the Chinese Boxer rebellion, 1900; North West Frontier 1914-18; the Third Afghan War, 1919 and World War 1. In 1939, the Regiment converted from Horse Cavalry into a Motor Cavalry Regiment at Rawalpindi and took part in World War II. Post independence, the Regiment fought gallant actions in the Indo-Pakistan conflicts of 1965 and 1971. Today, the Regiment is the proud recipient of 18 Battle Honours and one Theatre Honour and has, amongst its ranks, with one Vir Chakra, Five Sena Medals, five Mention-in-Despatches, eight Chief of Army Staff Commendation Cards, four Vice Chief of Army Commendation Cards and ten GOC-in-C Commendations Cards.
 The Regiment, in view of its rich heritage, has been privileged to associate with some more distinguished personages as Honorary Colonels. His Majesty King George V, Duke of York, was Honorary Colonel of the Regiment from 1899-1936; Major General His Highness Sir Madho Rao Scindia, Bahadur, Maharaja of Gwalior, GCSI, GCVO, GBE, ADC from 1906-1925; Lieutenant General His Highness Maharajadhiraj Rajeshwar Sri Sir Yadvindra Singh Mahindar Bahadur, GCIE, GBE, LLD, Maharaja of Patiala from 1955-1974 and now General VK Singh, PVSM, AVSM, YSM, ADC, Chief of Army Staff, Indian Army from October, 01 , 2010.
The ceremonial parade was commanded by Colonel Dhiraj Chengappa, Commandant Skinners Horse and the Regimental Standard was carried by the Parade Adjutant and Ensign Officer, Major Basant Sewda, Sena Medal (Bar). Conducted with commendable precision and elan', the Parade  left the spectators spellbound and elicited great appreciation from the reviewing officer.