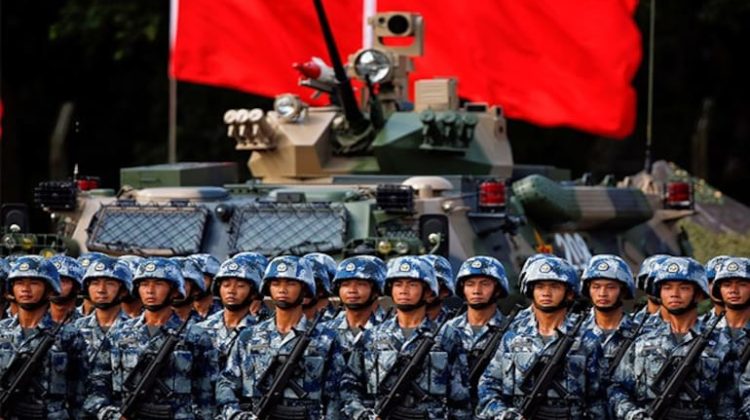 Maj Gen C P Singh, Retd
"Diplomacy is the art of telling people to go to hell in such a way that they ask for directions." — Sir Winston Churchill
On 01 July 2021, China celebrated the 100th anniversary of  the foundation of Chinese Communist Party (CCP). From its origins, the party sought to transform the nation's society, economy and politics to bring about "wealth and power."  In outlining China's transition from "semi-colonial, semi-feudal society" to the world's second-largest economy, General Secretary Xi Jinping underlined  that  China has arrived on the global geopolitics and now claims its rightful place at the top of the world order.
Chinese fighter aircrafts  and  bombers violated Taiwan airspace on the first anniversary of the Galwan Valley Clash between Indian and Chinese soldiers. It's a clear signal to the world that 'China has arrived!' and has the desire and capability to rewrite the new world order post COVID, pandemic.
For many years, Western Governments have assumed that China would seamlessly join and support the existing international system.  However, since assuming power in October 2012, Xi Jinping has given clear indications that China is seeking a central position on the global stage, commensurate with its economic and military might, with a view to refine and redesign all the  elements of the existing world order to better fit it as per China's perspective and interests. China believes in coercive diplomacy and it's  foreign policy is very simple and clear- It's My Way or No Way. China's arsenal for world domination consists of Economic Coercion and Military Might.
Chinese Leadership Vision
The Chinese leadership has not offered an explicit description of the world order it would like to shape or  the kind of changes it would like to bring about.  This should not give the impression that  the leadership does not have a vision of what it wants. The Chinese leadership is very clear of its path ahead. Beijing does not seem to aim at a complete overthrow of the current international order. Instead, at least in the medium term, the objective seems to be the building of a new, partial system carved out of the existing order.  Its vision  is to preserve domestic stability, stimulate economic development, resolve  territorial disputes at own terms by coercion or limited aggression and secure great power status with the help of nation states under its debt trap.
China's vision is still taking the right contours and its present form may be taken as transient phase rather than a permanent shape. For more than a decade, China has pursued a strategy that relied heavily on economic carrots to increase the stake of the Southeast Asian countries in maintaining good relations with China. In the past few years, however, China has directly used economic relations to compel target countries to alter their policies. This growing trend  of economic bullying is worrisome. The use of military force and coercion, although not now envisaged as a primary tool to achieve strategic objectives, would in due course, likely to  become the  main instrument of power,  as China's capabilities grow uncontested.
Debt Trap Diplomacy
China has become an essential engine of growth for powering the global economy. In addition, excessive dependence on China is increasing countries' vulnerability to Beijing's increasing propensity to use economic means to compel target nations to alter their policies in line with Chinese interests. The term 'debt-trap diplomacy' was introduced in 2017 and has been widely used in recent years to allege China's lending policies. Over the past two decades, China has become a major global lender, with outstanding claims now exceeding more than 5% of global GDP. Almost all of this credit is official, coming from the Government of China and state-controlled banks and lending institutions. In total, the Chinese state and its subsidiaries have lent about $1.5 trillion in direct loans and trade credits to more than 150 countries around the globe. This has turned China into the world's largest official creditor,  surpassing traditional, official lenders such as the World Bank or  the IMF.
The world remains hopeful that as China rises, it will adhere to international and regional norms and strengthen the prevailing international system from which it has benefited in recent decades. However, when we look at Africa, we see many countries chasing dreams of a better economic future while burying themselves in massive amounts of infrastructure-induced debt from China that they may not be able to actually afford.  IMF Findings indicate that in 2012, the IMF found that  PRC had financed over 15.5% of Africa's external debt and by 2015, roughly two-thirds of all new loans were coming from China. The internationalization of Chinese construction firms and IT companies as well as the building of infrastructure to improve exploration and export of African natural resources, are key concerns for Beijing. So the development ploy ultimately fits into China's grand  geo-economic strategy. This has some analysts issuing warnings about debt traps – with some even going as far as calling what China is doing, a new form of colonialism. Pakistan, North Korea, Mongolia and some African countries are already in the bag and others are falling in the trap
.
Military Power
China is the only country, in the world today, having an expansionist strategy. It wants to settle the border disputes at own terms. Most of the countries have fallen in line to have peaceful borders except India. Xi wants to use economic power to make nation states tow his line and if that fails, there should be enough muscle to flex. Xi's ambitions of making China a global power have, in turn, driven his vision of building a modern and battle-ready PLA, capable of taking the fight to the enemy, if need be. Specifically, China has steadily progressed to  create  a favourable asymmetrical tilt in military strength to pose serious  operational and logistical challenges for its immediate neighbours, including India.  Through this modernisation, Xi also hopes to demonstrate that China has learnt from past failures and presently, it's a force to reckon with, much stronger than it has been in many years.
China has the strongest military force in the world as calculated by "Ultimate Military Strength Index"  while USA stands at No. 2 and  India   at No. 4. Under the leadership of Xi Jinping, the PLA has become a better force qualitatively—one that is capable of fighting any battle on any kind of terrain at a moment's notice. The PLA has undertaken  efficiency enhancement positive changes in its organisation and technological upgradation to make it a leaner and more efficient fighting force for 21st Century.   Similarly, the PLA Navy: once neglected,   is now on track to become the most dominant  naval force in China's near and far seas. Indigenous production has been a cornerstone of the PLA's modernization drive.
Post Covid World Order
Initially, the image of China got a dent because of Beijing being blamed for Wuhan origin of the Corona virus. The allegations by the western world lead by President Trump put the Chinese on a back foot. When countries push back against China's story of its corona virus success,   Chinese diplomats, leaders and media lash out — in large part because they are   not used to dealing with dissent and open discussion at home.   China also warned the nations of dire consequences if they joined the QUAD, an international forum that China considers as an Anti-China lobby. As countries continue to grapple with the pandemic, the PRC has doubled down on the message that China's political model of strong, centralized leadership is superior to the chaos of liberal democracies. China is steadily asserting it's  might to change the world opinion. China views  the COVID crisis as a chance to acquire more power and emerge as global leader post COVID.
Conclusion
China has a clear, though unstated vision of world dominance by mid of  21st Century. With economic coercion and enhanced  military might, it's slowly and steadily moving in that direction. A more powerful Beijing might further dominate its neighbors, high jack the International Forums like UN, WHO, WTO etc and coerce the world into submission and acceptance of it's dominance. This may result in several flashpoints, on the way but China seems to be prepared for it.   Although China's vision for a new world order is a work in progress, it would be a mistake to wait until this vision is fully formed.   The relationship between China and the world  is now changing and China is demanding it's new role as world leader.  The Peoples Republic of China has arrived to dominate the world in 21st Century.   The world may ignore it, albeit for some time,  at  it's own peril.From the desk of –
(The author is an Army veteran, social activist & career consultant. Mail – www.majgencpsingh.com)