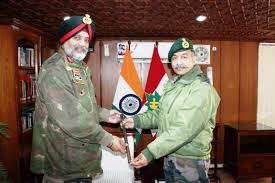 Defenceinfo Bureau Report
Lt. Gen. Kanwal Jeet Singh Dhillon has taken over as the 48th Corps Commander of the Army's Srinagar-based 15 Corps. The formation, also called the Chinar Corps, has its Headquarters in Badami Bagh, Srinagar, and is responsible for the Kashmir Valley, inclusive of the Line of Control and Counter-terrorist profile in the hinterland.
He has taken over from Lt. Gen. AK Bhat who is moving to a new appointment in New Delhi after a successful tenure that saw a huge number of terrorists being neutralised and many other political developments including the imposition of Governors rule in the state post the fall of a the PDP-BJP coalition government and successful conduct of Panchayat and Urban Local Bodies elections. Under Lt. Gen. AK Bhat, the Army conducted itself with utmost honour, maturity and professionalism through all challenging times.
In his farewell message, Lt. Gen. Bhatt complimented all ranks of the Chinar Corps for their dedication and thanked the J&K police, CRPF, BSF and other security forces, civil administration and the people for their support.
Lt. Gen. Dhillon was commissioned in December 1983. The General Officer has an incisive understanding of J&K, having served in the state for five tenures since 1988, notable being Sector Commander of the Rashtiya Rifles and Brigadier General Staff of the Chinar Corps. Before taking over as the Chinar Corps Commander, the General Officer was tenanting the prestigious appointment of Director General, Perspective Planning.