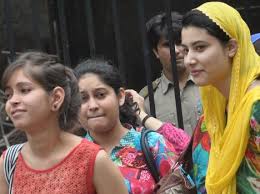 Jaibans Singh
"Five women from Jammu and Kashmir pass out from OTS and become 0fficers of Indian Army." It is this kind of news headings that one wishes to see emanating from the Union Territory of Jammu and Kashmir in times to come. Why only the Army, one would like to see women playing a dominant role in fields like medicine, law, corporate, administration, media etc.
The foregoing is very much in the realm of possibility considering the massive boost to education given to Jammu and Kashmir in the last few years. At a cursory count the state now has new IIMs, AIIMS, IIMCs and a host of others institutions, over and above its existing education infrastructure. Modern Indian women are known to leverage such facilities to the maximum and there is no reason that the young ladies of Jammu and Kashmir will not do so.
The women of the state have every reason to feel empowered and confident now that the shackles that were constraining them stand removed. Chief among them was that women, under the state Constitution of Jammu and Kashmir and due to provisions of Article 370 and Article 35A, were being denied full-fledged rights to land and property in the state. Such women who were state subjects but married a person who was not a state subject forfeited legal and ancestral right to their own property in the state. The legislation passed by the parliament on 05 August, sets aside this proviso and gives to the women who are married to non-state subjects full right on their land and property.
Notwithstanding the foregoing, there is a lot of ground to be covered so far as full empowerment of women in the state is concerned. According to statics, women fare poorly in workforce percentage parameters in comparison to other states of the country. In urban areas the share of female population in workforce stands at a miniscule 14.4 per cent; in rural areas it is slightly better at 26.3 percent. In comparison, neighbouring Himachal Pradesh boasts of a women work force in urban areas of 44.82 percent. Lack of employment opportunities along with low level of education are the biggest culprits in keeping women socially deprived and facing inequality.
There is some serious work underway to empower women in the Union Territory. The outgoing Governor, Satya Pal Malik paid a lot of attention to this aspect. He reconstituted the Governing Body of Jammu and Kashmir Women Empowerment Society (JKWES) for implementing various schemes and programmes related to women in the State.
Women who belong to deprived and poor segments of society can now apply for loans from the Rashtriya Mahila Kosh (RMK) which will be provided at minimum interest to assist in setting up small businesses. Support to Trainees and Employment Programme (STEP) will provide training to rural women in agriculture and allied sectors, like dairy, handloom, etc. The Swayam Sidha Women Empowerment Programme (SWEP), an integrated scheme for women's empowerment is designed for formation of women into Self Help Groups (SHGs). Benefit and empowerment for women is also bound to flow from the flagship central schemes like Beti Bachao, Beti Padhao; Sakhi, the Nirbhaya fund generated One Stop Centre Scheme for security of women; Swader Greh, for rehabilitation of women and other women centric initiatives being run as part of digital India, Skill India etc.
Such forward looking schemes are likely to usher a positive change in comparison to the cosmetic treatment given to the matter by the previous state Governments. The Mehbooba Mufti led Government abolished stamp duty on the sale of property registered in the name of females, in what it termed as an incentive to encourage families to register their properties in the name of their female family members. A noble thought indeed, but, the former chief minister failed to factor in the fact that no family would register property in the name of women in view of the draconian provisions of Article 370 and Article 35a that limited their right as explained above.
There is a need to take this noble thought process of women empowerment ahead with motivation coming from all segments of society, be it family, civil society, role models, seniors, and intellectual among others. Workshops and seminars should be organised at various levels, awareness campaigns on job and business opportunities should be held, especially in villages. Research on the subject should be commissioned in universities to identify best practices in taking forward the noble venture. A conscious attempt has to be made to bring the women of the region at par with the rest of the country.
Exploitation of women in the work place is a universal malady; special attention needs to be paid to this aspect so that women as well as their families feel safe while going out to work. It also has to be ensured that working women are not exploited in terms of wages. In short, everything possible should be done to build confidence levels of women and encourage them to forge ahead.
Women, along with their children, have remained the most vulnerable victims of the environment of foreign sponsored terrorism and militancy in the region. They have witnessed the degeneration of their otherwise enlightened society leading to a perceptible increase in domestic violence, humiliation and harassment. The Army very well understood the trauma being faced by the women due to the debilitating shadow of terrorism. In response it has given, for more than three decades now, special attention to their needs though the medium of its welfare initiative –Operation Sadbhavna. The government would be well advised to study the model for women Empowerment followed by the Army in Operation Sadbhavna and carry it forward.
A sustained effort to ensure empowerment of women in Jammu and Kashmir with required momentum being maintained can, within a short period of time, make women important stakeholders in every segment of society. Such a situation will go a long way in ensuring much needed stability in the region.
(Jaibans Singh is a senior journalist, columnist and commentator)