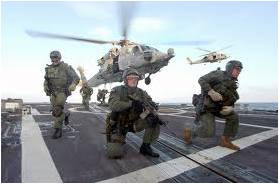 Jaibans Singh
Prime Minister Manmohan Singh, in the course of a press conference held at Kabul on May, 12, was asked whether India would adopt the type of operation carried out by the US to eliminate the al-Qaeda chief in order to get the terrorists wanted by it. Dr. Singh said: "These are sensitive issues and we don't discuss strategies on terror in press conferences." He added: "We are not the US". By so saying the Prime Minister has closed the option of a covert operation into Pakistan territory against those who are known to be supporting and sponsoring terrorist activity in our country. This also means that the terror camps that are functioning in Pakistan Occupied Kashmir and from where infiltration of large well armed groups is carried out will be allowed to function with impunity. It also implies that India will, in perpetuity, fight a low intensity conflict in its own territory, suffer casualties and bear losses.
While making this statement, the Prime Minister has not even given a cursory thought to the impact that it will have on the Indian soldiers. With one stroke they have been condemned to a debilitating and humiliating form of warfare which is totally unacceptable as a basic military doctrine. Since times immemorial militaries across the world have been following the strategy of taking the conflict in to enemy territory, but here in India, the reverse seems to be totally acceptable to the political leadership.
The Prime Minister was very right when he said that "we are not like the US". There are many reasons why we are not and cannot be like the US. The US attained its independence through a war fought bravely and righteously against a much superior power. Having attained independence it has guarded the same zealously all through its short history as a Nation and continues to do so. India, with its ancient civilisation, is quite used to being down trodden by foreign forces, some have stayed back for good and some have looted and gone back.
The ideas held by the US about national security and honour are quite different from ours. The US follows the time tested tribal philosophy of family honour coming first and foremost (Something that India also believed in during the times of the Ramayana but gave up quite some time ago). For the US leadership, the loss of even one American life has to be avenged with all the might at its disposal. For the Indian leadership, human life, whether it is that of an Indian soldier, a Kashmiri hit by foreign terrorists, a deprived tribal hit by foreign sponsored Naxalites or anybody else, holds no value when weighed against personal, political or party interests. Some word of commiseration, a little bravado and our leadership is back doing what it likes best – shouting in Parliament or indulging in petty character assassination of the opposition through a proactive media.
When it comes to the matter of security consciousness, the US does not fight shy of heavily taxing its citizens to spend trillions of dollars to keep its soldier well equipped and ready for combat against all possible threats worldwide. The killing of bin Laden has proved that the US can and will strike at any place in the world which it feels, even remotely, threatens its security interests. More significantly, it has the means to do so. In India there is a lot of sloganeering for the brave soldier but not much beyond that. How many questions have been raised in parliament about the poor state of equipment which the Indian army is holding? Does the nation realise that we are now on the verge of a 1965 type of situation where even Pakistan will be better equipped than us? We are nowhere as far as defence research and development is concerned and not even willing to set time bound programmes of modernisation to maintain an edge, at least against Pakistan. Comparing with China is, by now, an impossible dream. National security today has become a victim of bureaucratic stalling of defence acquisition and no one seems to be bothered.
There is, however, one aspect where we are like the US. The people of both countries repose unflinching trust, regard and respect for their soldiers. In India, this is probably the only factor which is keeping our Armed Forces going. The views expressed by Prime Minister Manmohan Singh in Kabul may not necessarily be the views of a majority of the people of the country who want their Armed Forces to be strong, well equipped and capable of proactively meeting all inimical challenges to the Nation's security. The old and tired leadership of our Nation is out of sync with the realities on ground. It simply does not have the will to take tough calls (like the one President Obama has taken) and as such opts for a status quo.
In a way the uninterested, passive, conciliatory, placid, acquiescent, submissive approach being followed by our country is most apt since our forces, though not wanting in morale or training, do suffer from a severe restriction of being inadequately equipped. Our outdated MI-8 helicopters of Russian origin are no match to the ultra sophisticated stealth helicopters used by the American Navy Seals in the operation to kill bin Laden. Yes, we can launch covert operations but first we would need the right equipment and political support, both of which are lacking. There is one issue that the leadership of the country needs to clarify to the nation – is their passivity the reason behind the poor condition of our Armed Forces or is the poor condition of our Armed Forces the reason behind their passivity? Till such time that this question is answered honestly and addressed urgently we cannot hope to be like the US.