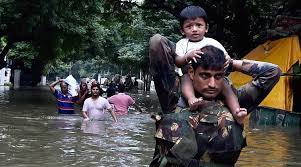 Jaibans Singh
As the situation turned critical in Chennai due to unprecedented floods, our brilliant administrators from the IAS got down to deciding as to how the problem was to be managed.
After great deliberation over many days and several meetings they arrived at an outstanding decision….Call the Armed Forces.
Then they set the process in motion with tremendous efficiency. The state Chief Secretary sent a note to Union Home Secretary, who forwarded it to PMO, who sanctioned it and sent to Defence Secretary who finally gave written permission to the Service Chiefs.
IMAGINE THE BRILLIANCE REQUIRED FOR ALL THIS!!!
And the Armed Forces….they simply went in as ORDERED…… wet their boots a bit … saved a pregnant mother and her unborn child in a daring Helicopter rescue and saved the situation as was expected of them
WHAT THE ARMED FORCES DID WAS NO WORK, IT IS ONLY DUTY TOWARDS THE NATION. FURTHER, IT REQUIRED NO BRAINS.
THE REAL WORK WAS DONE BY THE BRILLIANT ADMINISTRATORS, THE MIGHTY IAS, WHO TOOK THE CRUCIAL DECISION TO CALL THE ARMED FORCES AND THAT TOO IN JUST FIVE DAYS TIME!! AND THEN PROCESSED THE DEMAND MOST EFFICIENTLY THROUGH THEIR SELF CREATED LABYRINTH OF OFFICIALDOM.
SO WAS THE WORK OF THE IAS VERY TAXING? OF COURSE!! AFTER ALL, IT TAKES BRAINS TO UNDERSTAND AND PUSH THROUGH THE MAZE OF SANCTIONS AND APPROVALS.
As the rescue operations progressed, the PR departments of the Armed Forces sent out press releases of efforts put, they wanted the nation to know how their armed Forces respond.
BUT THE MEDIA WAS NO LONGER INTERESTED!! IT HAD OTHER MORE IMPORTANT SUBJECTS TO COVER LIKE THE POLITICAL CONSEQUENCES OF THE TRAGEDY… HOW LONG DID RAHUL STAY AT CNHENNAI… WHAT DID HE SAY…. HAS JAYALALITHAS' IMAGE BEEN RUPTURED ETC.
A good Indian citizen then asked of the IAS officer and the politician, "The Armed Forces are so dedicated towards the Nation, they stand by the people in all times of calamity, so why do we have them sitting at Jantar Mantar asking the Nation to acknowledge their service"
Pat came the reply, "The Armed Forces, in helping the people, are only doing their job. We decided that they should help the people and they did." And they added, "Agreed!! The Indian Armed Forces work very hard and with dedication. WE SALUTE THEM. Is that not what they want all the time… SALUTES. So we salute them today as we saluted them on Republic Day and Independence Day and Army Day and all other days when they call upon us to salute them. IS THAT NOT ENOUGH FOR THEM!!"
Interestingly, nobody has tried to question out brilliant administrators as to why the floods happened in the first case. Nobody has tried to find out as to why the planning was not done to ensure that such man made calamities do not take place.
THIS MY DEAR FRIENDS AND COLLEAGUES IN THE FRATERNITY OF SOLDIERS IS MODERN "BHARAT" FOR YOU!!