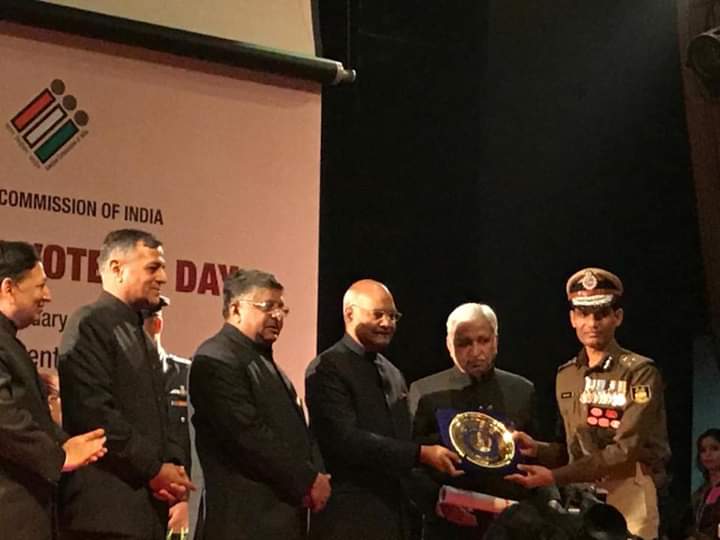 Jaibans Singh
Unity in diversity, nation first and embedded secularism are the pillars on which democratic countries like India stand. The country gains strength from people who abide by these principles and dedicate their entire life to uphold them.
One such person is Vijay Kumar who belongs to a small, unknown district of Bihar and has been called upon, by the Nation, to perform the challenging task of containing foreign sponsored terrorism in Jammu and Kashmir, a region with which he has no ethnic, geographic, religious or cultural affinity. As a true nationalist he has responded with selfless dedication.
Saharsa District, located in the historic Mithila region of Bihar, is one of the earliest centres of Brahmanical civilisation in India. In modern times, however, the district is better known as one among the most backward in India. It is from this region that Vijay Kumar rose to build a career for himself in the Indian Police Service (IPS). After completing his Post Graduation in Sociology in the prestigious Jawaharlal Nehru University  he cleared the prestigious Civil Services examination in the year 1997 and joined the elite IPS. He was allotted the Jammu and Kashmir cadre at a time when foreign sponsored terrorism was at its peak in the state and Governors rule was in place. Many would have baulked at the prospect but Vijay Kumar took it on willingly. This boy from Bihar went off to terrorism infested Kashmir to work, this epitomising the best that India has to offer.
In trouble torn Kashmir he started from the grass roots as SDPO Ganderbal, a hotbed of terrorism. In his evolving service, he probably holds a record of being Superintendent of Police (SP ) in all terrorist infested areas of the Valley. He has had stints as SP Awantipora, SP Kulgam and SP Kupwara. He was briefly DIG Traffic, Srinagar which, in itself, was a big challenge considering the huge amount of stone pelting and social disruption that was the norm in those times. After that posting, he was back in operational mode as DIG South Kashmir Range, Anantnag.
In discharge of his duties, on each day, Vijay Kumar would have witnessed a new challenge in the form of terrorist initiated activity, encounters by security forces, joint operations, disruptive activities by vested interests sold out to foreign powers, innumerable problems being faced by the harassed and beleaguered population and much more. He dealt with these challenges professionally and gained experience by the day. He was unsparing to himself and expected a similar dedication from those under his command, all for the better since the smallest carelessness can cost a life in the valley.
His hard work and efficiency was duly acknowledged by his superiors and the Nation. In 2001, he became the first recipient of the Presidents Police Medal for Gallantry (PPMG), from the J&K IPS cadre. It was awarded for an outstanding encounter that he conducted in Tral, Kashmir that led to the killing of five foreign terrorists of the dreaded Pakistan sponsored Jaish-e-Mohammad. He has also been awarded the Police Medal for Gallantry (PMG) twice and J&K Police Medal for gallantry once. The Indian army too has acknowledged his excellent service in joint operations by conferring upon him commendation cards by the GoC-in-C, Northern Command, in 2005 and Chief of Army Staff in 2007. The DG CRPF and DGP J&K have also awarded him Commendation Discs.
In January, 2015, he went on central deputation to CRPF and served as DIG CRPF, Delhi Range. During the Jat agitation in Haryana in February 2016, he was deputed to Rohtak along with 15 companies of CRPF. His efficient handling of the sensitive situation won for him a special commendation from DG CRPF.
Vijay Kumar then went on assignment as IGP COBRA, an elite force for Jungle Warfare. During assembly elections of nine states in the year 2018, he was nominated as chief force coordinator. For his outstanding performance, the Election Commission of India awarded him with a prestigious National Award that was conferred upon him by the President of India. He has also served in Chhattisgarh as IG, CRPF and conducted several successful anti- Maoists operations and an incident free parliamentary election in the year 2019.
In May 2019, Vijay Kumar was back where he like being the most – Jammu and Kashmir. He took on responsibility of IGP Armed Police, Srinagar.
During the preparatory phase for abrogation of Article 370 he, reportedly, gave vital inputs based on his vast experience which were put to good use by the Government. In the last week of December, 2019, he was posted as IGP Kashmir. His immediate task was to revamp combat capabilities of the Police Special Operations Group (SOG) and human intelligence of JKP for anti-terrorist operations. Consequently, anti-terrorists operations resumed at full swing and several top commanders of JeM, HM and LeT got neutralised. Several modules were busted and several hideouts were destroyed.
In recent times, terrorists had planned to take advantage of the situation created by coronavirus and advent of the holy month of Ramadan. They considered this an opportune time to step up their nefarious activities and started killing innocent civilians for being "informer." they also stepped up attacks on security forces. In their planning they had not factored IGP Kashmir, Vijay Kumar. The pace of counter-terrorist operations was not let down at all, in fact it gained momentum. Incisive joint operations (with Army and CRPF) based on specific intelligence, gained mostly by police, led to the killing of more than 31 terrorists in the month of April, 2020, itself. Overall, more than 60 terrorists have been eliminated since his taking over as IGP, Kashmir
Huge gatherings in funeral/ burial of killed terrorists that were carriers of the deadly coronavirus needed to be stopped. IGP discussed this issue with senior hierarchy in Police, Army, CAPF, Intelligence agencies and civil administration and put in place a new SOP, whereby, dead bodies of killed terrorists are no longer being handed over to families. They are being brought to Srinagar for identification, post mortem and lifting of DNA samples. Burial are being conducted with full religious practices at safer and isolated places in the presence of a magistrate and a few family members. A few people with a vested interest used the media to instigate people on this issue; the police, however, moved quickly to expose them. The general public shown great appreciation for the good system put in place.
In recent days security forces carried out incisive joint operations in Handwara and netralised senior, well trained terrorists, some of foreign origin, Sadly, Army, JK Police and CRPF too suffered casualties and came under tremendous pressure. IG Vijay Kumar took initiative to increase pressure on terrorists. With sustained effort, two specific intelligence inputs were received and two operations launched in Awantipora. These led to the killing of two LeT and two HM terrorists including the HM Chief Riyaz Naikoo. This huge success considerably enhanced morale and confidence of security forces.
Inspector General of Police, Vijay Kumar, is of the type that makes the backbone of an organisation, be it the Police, Paramilitary or the Armed Forces. So long as patriots like him serve in Kashmir, Pakistan will never be able to fructify its evil designs.