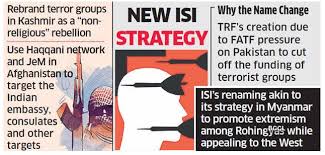 Jaibans Singh
The saying, "Give the devil its due" applies most aptly to Pakistan's perseverance in pursuing its evil terrorist agenda. It keeps the pot boiling against India (particularly in Kashmir) and against beleaguered Afghanistan, despite all pressures by the international community. For warding off this pressure Pakistan has a well honed process in place of creating proxies in the form of charity institutions for its main terrorist outfits like Lashkar-e-Toiba (LeT), Jaish-e-Mohammad (JeM), Hizbul Mujahideen etc. Once the proxies are functional and funds have been diverted, Pakistan tells the world that it has banned the outfits. On ground they continue to work even better in their new avatars. The best known such "charitable" organisations are the Falah-e-Insaniyat and the Jamaat-ud-Dawah that earn millions for their so-called charity work especially in times of natural disasters like floods and earthquakes.
The world finally caught on to the double game being played by Pakistan and has told it bluntly to relent from such activities or face the consequences. The country has been put under extreme pressure due to the ignominious "Grey List" status accorded to it by the global money laundering and terrorist financing watchdog, Financial Action Task Force (FATF) since 2018. Pakistan has taken many steps like proscribing dubious entities for being affiliated with Jamat-ud-Dawah, Falah-e-Insaniyat and Jaish-e-Muhammad groups, arresting known militants and banning organisations.  Yet, the FATF has not removed the country from the Grey List. As such, there is a Damocles' sword of being relegated to the "Black List" hanging on the Government of Pakistan and that too after active support of countries like Malaysia and Turkey along with all time ally China. Pakistan continues to stand in the Grey List post the meeting of FAFT held in June 2020, a reality that it is trying to obfuscate by saying that the matter did not come up for discussion due to some technical problems.
Under pressure from the FATF Pakistan has come up with a new and novel way to keep the pot boiling in Kashmir. The new organisation for conduct of terrorist and disruptive operations in Kashmir, is "The Resistance Front" (TRF). The idea of creating TRF was conceived and immediately implemented post the August 2019, reorganisation of Jammu and Kashmir and Abrogation of Article 370. It was the outcome of a Catch 22 situation for Pakistan, wherein, it could not hold back terrorist and disruptive activity in Kashmir and yet it could not carry it out through known terrorist organisations due to intense pressure from FATF. TRF is presently a front for the LeT and Hizbul Mujahideen but is poised to cater for the other terror organisations also.
Pakistan wanted to make the new entity more acceptable in the western world as a indigenous front of the Kashmiri people. Hence, for the first time and very cleverly, it chose for its new organisation a non-Islamic name. The cat came out of the bag when TRF Twitter activity continued despite an internet ban in Kashmir. Investigations revealed that the main Twitter handles of the organisation were running from Pakistan.
TRF further attempted to gain political legitimacy by issuing statements on matters like the Domicile Law which it denounced as a BJP ploy to change the demography of Kashmir. "We openly declare that any Indian who comes with an intention to settle in Kashmir will be treated as an agent of RSS and not a civilian and will be dealt with appropriately," said a TRF statement recently.
This statement when seen along with the terrorist activity of targeting Panches, Sarpanches and BJP party workers in the region, indicates a strong amalgamation of the political and military objectives within the fold of the TRF. Apparently, it has taken on responsibility for both the political narrative which was earlier set by the Hurriyat Conference and conduct of terrorist activity as controlled by various terrorist masters sitting across the border. That it is running the Pakistan agenda is also quite clear since its words and actions match exactly those being spoken by the Government of Pakistan and specifically Prime Minister Imran Khan.
India is providing irrefutable evidence to the international community, especially FATF, about the nefarious clandestine activities being carried out by Pakistan through TRF in its bid to engineer a revival of terrorism in Kashmir. It is for this reason that Pakistan is not being able to shed the Grey List tag despite giving a package of lies and half truths to the FATF in all meetings. In fact, if there had been no support from China that has a great financial stake in the country, Pakistan would have, long since, been relegated to the Black List of FATF.
The security forces operating in Jammu and Kashmir are not overtly worried about the TRF. They look upon it as an "old and very weakened wine in a new bottle" that can do little to stop the ushering of complete peace, vibrant political and economic activity in the region.
That said, an iron grip has been kept on activities of the TRF and many members associated with the group as Over Ground Workers (OGWs) and providers of intellectual support have been arrested. It is reported that one such group arrested in March, 2020, included an engineer, a shopkeeper, a baker and a government employee.
It is for too long now that terrorist groups like the LeT and Hizbul Mujahedeen have managed to function with charity fronts. Now we have this "online" venture in the form of the TRF to contend with. It is time for the international community to respond, rather than react every time a new "seasonal" entity is created by Pakistan. This proclivity of the country to constantly create proxies and change labels to stay afloat needs to be demolished once and for all. This is the only way by which peace in the sub-continent can be assured.
(Jaibans Singh is a geo-poetical analyst and writer)