Mehtab Karan Singh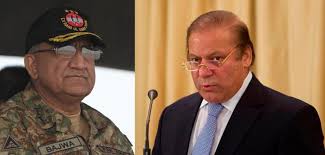 It is very interesting to note Pakistan's posture vis-a-vis Jammu and Kashmir on its Independence Day celebrated on 14 August. In a significant departure from tradition, the angst that marks statements on Indian, especially Jammu and Kashmir, was considerably toned down.
Pakistan's acting High Commissioner to India, Syed Haider Shah, called upon India and Pakistan to work together for creation of a peaceful region.
It may be recollected that last year Pakistan had dedicated its Independence Day to the freedom of Kashmir and the then High Commissioner had made some very abrasive statements. This year, Pakistan has also refrained from creating ill will by not calling the separatists for the celebrations in Delhi. On earlier occasions such invites to the separatists led to break down of talks. Quite a comedown in thought and deed here!
The new Prime Minister of Pakistan, Shahid Khaqan Abbasi, has urged the international community to play its due role in resolving the Kashmir issue with India and has also called for "support" to his country's fight against terrorism. By openly admitting its inability to contain its Jihadi marauders, Pakistan is highlighting its weakness in dealing with its inner contradictions.
India, in comparison, has taken a firm and righteous stand on the security threats that pose a challenge to the country, particularly from the neighbourhood.
In his address to the nation from the ramparts of the Red Fort on the 70th Independence Anniversary of the country, Prime Minister Narendra Modi has made it very clear to inimical foreign powers (mainly Pakistan and China) that India is ready to face every possible challenge that is thrown towards her and is not going to be pressurised by the any kind of sabre-rattling.
He also spoke of India's successful initiative to get the global community on to a collective platform to fight the menace of terrorism. India wishes to be a "partner" with all likeminded powers in the global fight against terror.
Modi has also emphasised that all actions of the security forces in maintaining the security and sanctity of the nation will get full support from the government.  This, coupled with his statement that no leniency will be shown to terrorists', gives a free hand to the security forces in Jammu and Kashmir to conduct relentless operations and rid the region from the scourge of terrorism.
The difference in the thought process of the two nations is palpable. While India is poised to play a leadership role in fighting global terror, Pakistan is admitting to its inability to control the violent situation in its own land. Pakistan is whining for support while India is offering partnership to likeminded countries and taking affirmative steps to meet the terrorism challenge head on.
The message is that India holds the capability to fend off all inimical challenges to her security both internal and external, while Pakistan is on life support.
The call of the Pakistani premier to the international community to intervene in resolution of the so-called Kashmir problem cuts no ice across the world on two counts. First, India is steadfast on seeking bilateral dialogue with Pakistan on Jammu and Kashmir as laid out in the Shimla Agreement. Second, the world leadership realises all too well that Pakistan is reneging on its promise by attempting to involve the international community; it has seen through Pakistan duplicity and is not ready to get sucked into the imbroglio.
One is reminded of a fateful advice given to Pakistan by Hilary Clinton when she was US Secretary of State. "Snakes in your backyard will not only bite neighbours," said Clinton during a press conference in Pakistan in 2011. The remark is as much, if not more, relevant today as it was at that time.
The world, sooner than later, is bound to call upon Pakistan to take India's support in sorting out its tenuous internal security situation. The country will be compelled to stop providing to terrorist organisations like the Lashkar-e-Toiba (LeT) and Jaish-e-Mohammaed (JeM) the facility to use its soil to export terror into India.
The Indian army has launched sustained and relentless counter-terrorist operations in Jammu and Kashmir, especially in the Kashmir Valley. In a short span of time, probably by the end of this year, the region will be rid of terrorism in totality.
With blocking of finances to its stooges in the state and choking of all infiltration routes, the possibility of a resurrection of terror in the region by Pakistan has also been obviated.
The US has declared the Hizbul Mujahedeen (HM) a terrorist organisation and its chief Syed Sallahuddin an international terrorist. The HM is a Pakistan based terrorist organisation whose job is to indoctrinate Kashmir youth onto the path of terrorism. Once very powerful, the organisation is now a pale shadow of its earlier avatar.   The US declaration will not affect India too much since the HM has been all but obliterated in Kashmir, but it will considerably dent Pakistans' international standing.
A corrective action by Pakistan will enhance its international standing which has hit a nadir of late. For India it does not matter too much since the situation is already well under control. In fact, the more Pakistan tries to create an upheaval in Jammu and Kashmir the more it will expose itself as an international pariah.
The mature posture that Pakistan has adopted during its Independence Day celebrations comes across as a welcome step in the right direction. What needs to be seen is whether the posture can be maintained or will it be derailed by the Pakistan army as on all earlier occasions.
For the sake of Pakistan one fervently hopes that it is maintained and nurtured since an inability of change the self destructive narrative at this sensitive stage will lead to total calamity. In trying to destroy India, Pakistan will destroy itself completely.
(Mehtab Karan Singh is a US based engineer and columnist)