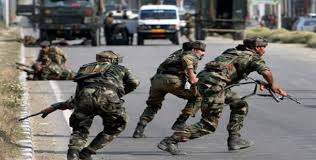 Vikas Khanna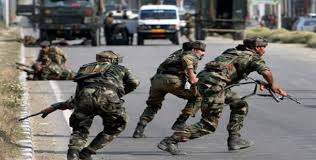 Who should be held responsible for the death of five innocent civilians in Kashmir Valley last week? The submission by a minor girl before a chief judicial magistrate that she was not molested by a soldier exposes a sinister campaign to discredit security forces.
Kashmir was on the boil all through last week after a rumour spread that an Indian soldier had tried to molest the minor girl. Angry mobs were out on the streets, shouting slogans, pelting stones at security forces and police. Who instigated them to create a law and order problem in the Valley?
As it appears, there was a deliberate attempt to vitiate the atmosphere. And those who did it knew very well how the security forces would react. And the security forces fell into their trap by opening fire on a rowdy crowd which led to the death of five people who perhaps were not party to the conspiracy.
Among those who died was a young boy who wanted to represent Indian cricket team one day. It just took one rumour and five innocent lives were snuffed out leaving behind their families to mourn their loss forever. Naturally, the responsibility needs to be fixed.
It is a well known fact that some forces do not want the presence of Indian army in Kashmir. From time to time, there have been vicious campaigns against the army over its alleged excesses on "innocents" and human rights violations in Kashmir Valley. The same forces have become active once again to discredit security forces that have been battling against all odds to maintain law and order situation in the state.
Normalcy is anathema to a few in Kashmir who are working against the interests of their own brethren. As long as their personal interests are served, they don't mind sacrificing the lives of others. Their personal interests are well served as long as Kashmir remains tense.
The common people in Kashmir should ask themselves as to what benefit has accrued to them  by frequent "Hartal" (Strike) calls given by separatist leaders. Why is it that innocent people get killed and instigators remain confined in safe environs?
Who will explain the latest killings? It is very easy to put the blame on security personnel who were forced to open fire. But who provokes them? They are often abused and ridiculed. A recent video which went viral speaks volumes about how security personnel have to put up with humiliation.
The video shows a soldier being chased, thrashed and humiliated by a bunch of young boys. There are other videos also doing the rounds, in one such video an armoured vehicle of the CRPF retreating in a street with some boys pelting stones at it without any fear or intimidation. There is a virulent campaign against security forces being conducted on social media.
How would one expect a normal human being to react when his honour is at stake? And security personnel are human too.
The political leadership of the state rushes to New Delhi every time any such an incident happens. Every time, the oft-repeated arguments against Armed Forces (Special Powers) Act (AFSPA) are put forward before the union government.
No state favours special powers which give soldiers virtual immunity from prosecution. But can security forces fight insurgency with their hands tied down? In fact, Indian army has on occasions taken punitive action against its soldiers whenever they were found to have violated norms. But human rights activists and critics say the prosecution process is slow and not all cases are probed.
Herein lies an important question! If security forces can be accused of human rights violations then so can be violent protesters.  If security personnel come under attack, what are they supposed to do? Should they become sitting ducks? Does the constitution not give them the right to defend themselves if their lives are threatened? This is a question which needs to be debated at length.
The AFSPA, which covers large parts of north eastern India and Kashmir, gives security forces powers to search, enter houses and some more powers that assist in conduct of counter terrorism operations and maintenance of law and order. Human rights activists say the soldiers misuse the law and commit abuses, whereas the army says it needs the law to tackle insurgency. Both sides have contrarian view points. While the need for special powers in an environment of foreign sponsored terrorism is beyond doubt, security forces need to be extra conscious of the overarching authority that is reposed on them to deal with the situation, Special powers come with special responsibilities. The security forces will do well to get unsavoury incidents probed by independent commissions so that their reputation is not sullied.
All said and done, the casualties could have been avoided had the situation been handled tactfully with total synergy between all instruments of state authority. Why were the rumour mongers allowed to have field day in the first place? The local government is equally responsible for not acting fast and for allowing the situation to first simmer and then escalate.
A video first released by the army wherein the girl denied molestation by a soldier was trashed. The protesters claimed that the girl gave the statement under duress. Among those who doubted the veracity of the army video were myriad factions of the Hurriyat Conference which brought the valley on a standstill for days together.  Should the Hurriyat not be held responsible for acting in haste, instigating people for no reason and being party to the creation of the violent situation? It is disheartening to see the innocent youth falling victims to separatists' agenda and losing their precious lives.
More and more people across the country are getting anxious by the manner in which anti-national forces are being allowed a free run in the Kashmir valley. It is time for the elected government to act in a sage and proper manner to curb the rot.
(Vikas Khanna is a senior journalist based in Delhi)