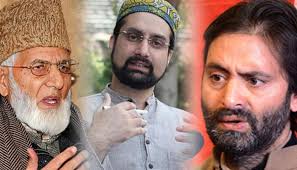 Jaibans Singh
On 06 January 1993, an attack by armed terrorists of the Jammu Kashmir Liberation Front (JKLF) on a platoon of Border Security Force (BSF) at Baba Yousuf Lane near Sopore led to the killing of a few troopers. In the resultant gun battle, an explosives cache belonging to the terrorists exploded and the fire spread to nearby buildings. A large number of civilians were reported killed in the aforementioned very unfortunate incident..
Some portions of the Kashmir media that holds affinity to the separatist cause plays up the incident, year after year, as a deliberate massacre by the BSF personnel. There is no element of truth in this allegation considering that the judicial enquiries instituted to investigate the incident have not been able to establish malafide intention on the part of the security forces. Notwithstanding, the government of the day provided compensation to the relatives of the deceased
It was a very a sad incident indeed, but it was one of many that took place in the turbulent period, starting from 1989, when terrorism was at its peak. Ethnic extermination of Hindus was the first strategic objective given by Pakistan to the terrorist rank and file that it infiltrated into Jammu and Kashmir. It formed the vanguard of the so-called Jihad for liberation of Jammu and Kashmir from India.  That was a dark period in the history of Kashmir when as many as a million people simply vanished from the region due to evil machinations of Pakistan.
The Pundits of Kashmir became the targets of one of the most savage ethnic cleansing pogroms ever to be inflicted on a body of people in the world
In concert with their evil design, the terrorists went about fructifying their unholy agenda in a surgical manner. In less than six months of the terrorist assault perpetuated on Hindus of Kashmir perpetuated in 1989, more than seven hundred hapless and dumbstruck Kashmiri Pundits were killed in the most brutal and savage manner. The killing was accompanied by torture and atrocities of a kind unheard of in the annals of history.
Brij Nath Shah of Kupwara was kidnapped on April, 27, 1990; two days later he was found hanging from a tree with his lips stitched together. Sham Lal of Anantnag was kidnapped in May, 1990; his hands and feet were chopped off and his skull battered. Brij Nath Kaul of Shopian and his wife were tied to a speeding vehicle; their mangled bodies were found ten kilometers away from their homes. Thousands died and an equal number were reported missing with no guesses required about their fate.  The killings were conducted irrespective of age, profession and above all political affiliations.
The local population with whom Kashmiri Pundits had co-existed for generations did not come forward to assist them. The most horrendous diktats of terrorists were adhered to in letter and spirit; Hindus were denied treatment in hospitals; the kith and kin of those dead were not even allowed to perform their last rites in the manner prescribed by their religion.
Over the years, a small but very diabolical leadership has been created in Kashmir by Pakistan's Inter Services Intelligence (ISI) to keep the pot boiling in Kashmir.  It consists of disparate set-ups with differing ideologies that has been amalgamated into a loosely knit conglomerate known as the Hurriyat Conference/Separatists!!
Frenzy is regularly whipped up by these people who specialise in creating an environment of unmitigated rage through invocation of religious and wholly skewered nationalist sentiments. The separatist coffers tick even as families that struggle to come to terms with the loss of their loved ones lost to engineered politics of disruption and terrorism generated violence.
Inimical forces look upon the youth as a prime constituency for their objective of destabilising the region. They come up with various means to attract the youth and then exploit them for their evil ends. Many among those who get recruited as terrorists or join the disruptive activities have little understanding of the ideals for which they put their future and their very lives in danger. They do not understand the evil intentions of the Pakistani designs that has a motive of subjugating and colonising the region as in the case of Pakistan Occupied Kashmir and Gilgit-Baltistan. Be that as it may, it would be difficult to describe those arsonists as innocent since they were participating in an anti-national activity.
Separatists like Syed Geelani emotively showcase their sacrifices for the so-called liberty and freedom of his people. Without going into the merits of his case the question that arises here is – in terms of his commitment to the professed cause do they match up with the sacrifices made by leaders like Mahatma Gandhi who fought for the freedom and liberty of their people? The answer is a big NO.
Geelani's  children have received the best possible education through facilities provided by the very government that he has spent a life time opposing; as a result,  they are now pursuing lucrative professions in Pakistan, Saudi Arabia etc. far from the miseries of Kashmir. His family members are comfortably settled across India, especially in New Delhi. His "selfless sacrifice" has definitely been good for his family. He has no compunction in using health facilities provided by the Government of India, he is looked after, free of cost, in the best government hospitals like AIIMS.
Other separatists have similarly isolated their families from the turmoil of Kashmir that they are engineering at the behest of Pakistan.
The exploitation of a sad incident like the one that happened in Sopore in January, 1993  as diabolic propaganda is done every year by the Separatists who have themselves nothing to lose and all to gain in Kashmir. It is time for the people to realise that they are being manipulated. They need to contest the evil policies that are constraining their march towards peace and development. If Sopore is to be remembered as an alleged atrocity by the security forces; so should be the terrible acts of violence perpetrated by terrorists and their accomplices in the same period and beyond.
(Jaibans Singh is a reputed analyst and author)