Col Alok Mathur, SM (Veteran)
Tom Weiner of New York Times, when referring to the sensational series of coups in Pakistan on 14 October 1999 said, "For months Prime Minister Nawaz Sharif and General Pervez Musharraf were like two scorpions in a bottle waiting to strike."
General Musharraf was detailed to go to Colombo to attend a week long Golden Jubilee celebration of the Sri Lankan Army. Pakistan International Airlines (PIA) Airbus 320, Flight PK 805, carrying 190 passengers took off at 1300 hours on 12 October 1999 from Colombo International Airport for Karachi for the return journey of the Chief and his entourage. At 1700 hours, Prime Minister Nawaz Sharif dismissed General Musharraf and installed a favourite, Lt General Khwaja Ziauddin, Head of the ISI, as the new Chief of the Pakistan Army.
The act can be described as a civilian coup against the military establishment. PIA Flight PK 805 reached Karachi at 1800 hours but was denied landing by blocking the runaway with fire engines and trucks. The aircraft kept circling on top even as the pilot, Captain Sarawat, reported shortage on fuel and asked for permission to land. He was told to take the aircraft to Oman or to India. The baffled pilot informed General Musharraf about the critical situation. The general came to the cockpit and tried calling Lahore and Islamabad Air Control Towers (ACTs) but there was no response. Finally, he contacted Dubai ATC and relayed a SOS message to Lt General Muzzafar Usmani , Corps Commander, Karachi Corps to take over airport and facilitate safe landing. Meanwhile ATC Karachi directed the flight to proceed to Nawabshah, a suburb town near Karachi that had an airstrip.
Fortunately, General Usmani reacted fast, commandos reached Karachi Airport and took control of the ATC tower by 1900 hours .The plane landed safely with five minutes of fuel left. General Musharraf was received by the Corps Commander and safely escorted to Corps Headquarters.
By 2000 hours, 100 Brigade took over Islamabad and Lahore TV/ Radio station and started playing martial music there. The Prime Minister and President of Pakistan were put under house arrest. General Musharraf addressed the worried Nation at 0300 hours early morning on 13 October 1999 and declared that that Pakistan Army, the saviour of Pakistan, has taken over the country. There was no bloodshed.
During his tenure as President and Chief Executive, Musharraf survived four more assassination attempts by Human bombs /Car bombs. He was given a covert security cover by CIA, which provided the intelligence inputs well in advance. He was looked upon as the proverbial cat with nine lives.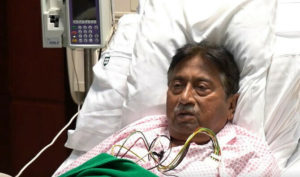 General Pervez Musharraf in a Hospital in Dubai   
On 11 June 2022, General Musharraf , is now 78 years old, was admitted in a hospital  in Dubai in a critical state. He is suffering from Amyloidosis and his vital organs are malfunctioning. It is said that he is in the last stage of his life but he continues to fight on like a soldier.
Back home in Pakistan, he is facing treason charges for suspending the constitution in 2007 and imposition of Emergency. Moreover, he has been declared fugitive in the Benazir Bhutto murder case and Red Mosque violence.
Parvez was born on 11 August 1943 in Neher Wali Haveli in old Delhi, India. His father Syed Musharrafuddin, a graduate from Aligarh Muslim University, was  accounts officer in the foreign office of the British Government. His mother, Zarin, was from Lucknow and a graduate from IP college Delhi University. The Syed family moved to Karachi after partition. His father joined Pakistan foreign services and was posted to Ankara, Turkey. The family came back to Karachi and young Parvez joined Saint Patric School and was later admitted in Forman Christian College. He has two brothers, Javed  an economist settled in Rome and Naved a doctor based in lllinois, USA.
He was selected for Pakistan Military Academy as an officer cadet in 29th Regular course in 1961 at the age of 18. He passed out from Academy in 1964 and was commissioned in to Regiment of Artillery. His first posting was at Indo-Pakistan border near the Khemkaran sector. During the Indo- Pakistan War, 1965, he was posted in the unit as GPO and carried out intense shelling during the Khemkaran offensive. He remained with his troops and guns under heavy shelling by Indian Artillery and was wounded also. He was awarded Imitiaz Sanad Medal for gallantry. After the war, he volunteered for Special Service Group (SSG) and was inducted to serve from 1966 to 1972.
As company commander during Indo-Pakistan War, 1971 Musharraf undertook various special missions deep inside enemy territory  He was promoted to Lt Colonel in 1972  and Colonel in 1974. He commanded a SSG brigade in Siachen in 1987, and launched an assault on Bila Fonda La but had to pull back after suffering many casualties. He however, was commended by General Zia-ul-Haque. The Indian Army, ultimately, occupied the entire Siachen glacier under Operation Meghdoot. He never digested the Siachen defeat and pledged revenge at an appropriate time.
He was promoted to Major General in 1991 and was appointed as Commander, 40 Infantry Division based in Okara. In 1992, he made a plan for a secret operation to occupy Kargil heights but Prime Minister Benazir Bhutto rejected it. He was appointed as Director General Military Operations DGMO in 1993 and served closely with the Army Chief till 1996. He was very close to Benazir Bhutto and visited USA a number of times where he established a good rapport with the American NSA. As a Lt General, he commanded the famous strike corps (1 Corps) based at Mangla region in Pakistan Occupied Kashmir.
He was sworn in as the 7th Army Chief in 1998 as General Jahagir Karamat was removed by then PM Nawaz Sharif. He superseding Lt General Kuli Khan and Lt General Nawaz Khan while securing this appointment. Even, Shehbaaz Sharif and Benazir Bhutto who was then leader of opposition supported his elevation. He was also appointed 10th Chairman of Joint Chief of Staff Committee in 1998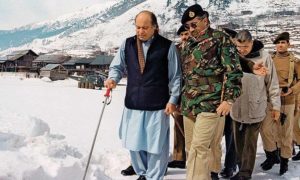 Prime Minister Nawaz Sharif visiting forward areas of his country after the Kargil war 
The story of Kargil was one of deceit and treachery by General Pervez Musharraf . To satisfy his personal ego and ambition, he masterminded and launched Operation Koh Paima (as named by him) without the knowledge of Prime Minister Nawaz Sharif and with the support of a few sycophant Generals working directly under him. Operation Koh Piama was already underway when the Lahore Peace Declaration was being signed by the prime ministers of India and Pakistan as a consequence of long negotiations and bus diplomacy initiated by PM Atal Bihari Vajpayee.
The intrusion in Kargil Heights beyond LOC commenced in January 1999 by NLI/ SSG troops. They were well entrenched by May 1999 and occupied three pockets covering Mushkoh , Dras  and Yaldar Batalik Sector with almost a division strength.
The Indian army detected the intrusion in the first week of May 1999 and responded ferociously with a two Division strength. Kargil Heights were regained by end June 1999 with complete victory for India. 3000 Pakistan soldiers were killed. India also suffered 400 plus casualties. The entire world opinion went against Pakistan.
There was a demand by Naval Chief Admiral Fasih Bukhari , Air Chief Marshal P Q Mehdi  and General Kuli Khan to Court Martial General Pervez Musharraf as they were kept in dark. Pak PM also blamed him for the fiasco and  heavy loss of Pakistani troops . That was beginning of mistrust between the Army Chief and PM of Pakistan. The chess game had begun and a coup was in the pipe line. Nawaz tried to mend fences and even extended Musharraf's tenure by two years but was then prevailed upon to remove him leading to the fiasco in Karachi.
On becoming martial law administrator, Musharraf declared a state of emergency, suspended the constitution and assumed power as Chief Executive. A new Naval and Air Chief were appointed and discontent in Armed Forces diffused. Sharif was deported in exile to Saudi Arabia. He banned all political parties and announced his own cabinet comprising of technocrats and diplomats.
The move was criticised by the international community and  Pakistan was suspended from the Commonwealth of Nations.
Musharraf appointed himself President on 20 June 2001. Then, 9/11 happened and US wanted to launch offensive on Al Queda hide outs in Afghanistan. Musharraf authorised US troops to use bases in Pakistan which was not liked by fundamentalists.
The Pakistan Supreme Court directed him to hold elections by 12 October 2002. The elections were held on schedule and a pro- Musharraf party, PML (Q), emerged as the single largest party followed by PPP of Benazir Bhutto. He nominated Shaukat Aziz as PM and held the appointment of President till 2007.
As time passed his popularity took a hit and the second polls saw a 64 % negative vote due to controversies like atomic material pilferage, Lal Masjid attack, insurgency in NW province, suspension of Chief Justice etc. Benazir Bhutto was assassinated on 27 December 2007 at Rawalpindi and Musharraf was blamed for the lapse.
Finally, Musharraf handed over appointment of Army Chief to General Kayani on 28 November 2007 and as President he again declared emergency the same year. Public protests forced general elections in 2008. PPP came to power and a coalition govt was formed. Yusuf Raza Gilani was sworn as PM. On 7 August 2007, both PPP and PML (Nawaz) asked for impeachment of Musharraf and he finally resigned on 18 August 2008. On 23 November 2008, he left Pakistan and  proceeded to London. He returned in 2013 but was disqualified for nomination after which he left for Dubai for his treatment and extended exile.
He was sentenced to death on 17 December 2019 for treason and murder of Benazir Bhutto. The death sentence was annulled in 2020 by the Lahore High Court but he could not return to his homeland. Now with the coalition government in place, the family of Pervez Musharraf (wife and son) are requesting the Pakistani PM to allow the ailing Pervez to come back.  Recently even General Bajwa has visited him in Dubai. At the end of it all, Musharraf will be remembered as  mastermind of the Kargil blunder of 1999 and a man mired in controversy and notoriety.