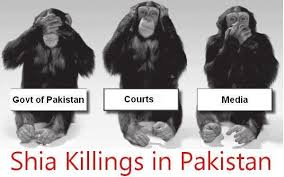 Jaibans Singh
Saad Aziz is a normal upper crust Pakistani kid! He has studied the BBA programme at the Institute of Business Administration (IBA) in Karachi. His friends remember him as a normal student who played football for IBA United and had a GPA above 3.0. It was only during his third year at college that a change came over him. He dropped his old friends, stopped talking to girls, began bunking classes and grew his beard. He was seen more and more with religious-minded people from IBA's Iqra Society.
His friend circle says that immediately after graduation he went somewhere for a few months. It is not difficult to guess that he went for training to become a so-called Mujaheedeen to join any one of the many fundamentalist, Jihadi organisations that pockmark Pakistan.
Today Saad Aziz stands as the prime accused and master mind of the horrendous killing of 47 innocent Shiite Ismaili's at Safoora in Karachi on May, 13. Witnesses say that six men came on three motorbikes, entered the bus and fired indiscriminately for nearly 10 minutes. Most passengers were reportedly shot in the head at close range. 25 men and 16 women were killed instantly from among the 60 passengers, including children, on the bus.
The barbarity of the act would send a chill down the spine of any civilized human being, and here we have an educated young man who should have been looking forward to a bright career and a good life indulging in this mindless act of violence and outright savagery.
Investigations have established that Saad Aziz was also responsible for the killing of the Second Floor café director and social activist Sabeen Mahmud in the last week of April. Because of her liberal views and a highly publicised pro-valentine day campaign, Sabeen was declared an "infidel" which justified her "extermination." What is notable, however, is that the act was carried out by a person who should have been as progressive and moderate as Sabeen herself having been educated in a similar modern environment.
It, thereby, becomes clear that Saad Aziz has been successfully indoctrinated to become a remorseless, sadistic killer by those who now manipulate his life. Sadly, Pakistan has many like Saad Aziz, in fact, enough to be a big cause of concern for both the leadership and the civil society of the country.
This narration puts paid to the oft repeated government viewpoint that terrorism in Pakistan is an off-shoot of poverty and lack of education. In Pakistan today, terrorists are being bred not only in the Madrasas as is popularly believed but in all sections of society. The menace has successfully invaded the mindset of the entire nation.
This revelation also puts paid to the oft repeated conspiracy theories against India being propagated liberally in Pakistan. The Pakistani opinion makers would like the people there to believe that India is behind all incidents of terrorist violence in the country including the attack in Karachi.
In consistence with this policy, the chief minister of Sind province, Syed Qaim Ali Shah, had been quite vociferous in asserting that the attack was a handiwork of the Indian intelligence agency Research and Analysis Wing (RAW).
With Saad Aziz coming to the forefront as an accused, the chief minister was quick to take a typical political U-turn. In the press conference after the arrest of Saad Aziz he said, "I never said RAW is involved. I said RAW can be involved because of its terrorist activities in Sindh and Balochistan." He, of course, left a window open by asserting that the affiliation of the arrested terrorists would be clear only after the Joint Investigation team (JIT) formed to investigate the incident submits its report.
This is not the first instance in recent times when the powers that be in Pakistan have insinuated an Indian hand in their internal security problems.
The Pakistan Chief of Army Staff, General Raheel Sharif, on April 15 post a meeting with Prime Minister Nawaz Sharif warned, "foreign and international agencies against trying to destabilise Pakistan….." It does not take rocket science to deduce that he was referring to India and India alone.
This blame game has a historical connotation that cannot be ignored. Ever since its inception as a separate Nation, the jaundiced Pakistani leadership has lost no opportunity to paint the Hindu as a proverbial villain responsible for all woes of the Muslims of the sub-continent. This when the country was conceived to be a secular nation by its founder, Mohammad Ali Jinnah, and had a sizeable Hindu population – reduced to irrelevance now by specific and inhumane pogroms.
Pakistani text books, even today, blame Hindus for the split of the country and the creation of Bangladesh. The new generation is being told that because most of the teachers in Bangladesh were Hindus they successfully poisoned the Muslim population of the country against Pakistan. Absolutely ludicrous, but then, it is happening in Pakistan with impunity.
One can only advise the Pakistani leadership, political, military and most importantly the civil society to understand the reality of the firm roots that religious fundamentalism is taking in their civilization. It is time to set aside the Hindu card and identify the actual enemy. Further delay will only strengthen the forces that are bent upon regressing the nation into the medieval ages and backwards if possible.
Anti-Shiite attacks have been increasing in recent years in Karachi and in other cities like Quetta and Gilgit. Around 1,000 Shiites have been killed in the past two years in Pakistan. A pamphlet found at the site has claimed the role of the Islamic State in the killings and has threatened more attacks. This is what Pakistan should be worried about. If Pakistan wishes to challenge its fundamentalist forces it should understand clearly that India has no hand whatsoever in their barbaric agenda.