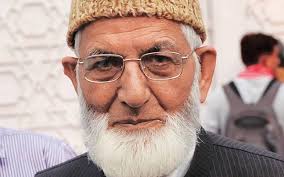 Jasbir Sarai
 "Exploited in good times and exploited in bad times," There can be no better way to explain Pakistan's relationship with Syed Ali Shah Geelani, the Kashmiri nonagenarian, separatist leader. The 90 year plus Geelani is not in good health; he is under treatment at SKIMs, Srinagar, a multi-speciality hospital that has state-of-the-art facilities. The Pakistan propagandist machinery, sadly, has gone into hyper-mode in spreading rumours of his death.
Quite obviously, Pakistan wishes to cash-in on Geelani's ill health for their all important objective of spreading discord and disruption in Kashmir.  The propagandist machinery of the evil neighbouring country is not bothered about the inhumanity of its sadistic gesture of pronouncing a live man as dead; all it cares about is its agenda to seize the narrative in Kashmir and convert the recent environment of peace into one of turmoil yet again. If Geelani's ill-health can provide the catalyst, they have no compunction in using the same.
Pakistan wants the entire Valley to erupt into strikes and shut-downs; it is spreading rumours of Geelani being admitted in SKIMs by the administration with mala-fide intentions. What is conveniently being ignored is that, for many decades now, The Government of India has been extending the best possible medical treatment to Geelani. On several instances in the past he has been flown under Government expense for free of cost medical treatment in All India Institute of Medical Science (AIIMS).
India has always treated Geelani with respect due to a mass leader. Apart from the medical attention, security and other facilities, his children received the best possible education in Kashmir itself and are now well settled across the world and also in India. His one son is a Doctor in Pakistan while his daughter resides in Saudi Arabia; he has family in New Delhi with a house in Malviya Nagar.  They all are far removed from the "Miseries of Kashmir." His "selfless sacrifice" has definitely been good for his family.
What has Pakistan given to Geelani for all the loyalty that he has extended to the nation?  In the late 1990s Pakistan's Inter Services Intelligence (ISI) became quite disenchanted by the lacklustre performance of All Party Hurriyat Conference (APHC). Its constant squabbling and internal dissension was not taking the separatist movement anywhere despite a colossal expenditure by the ISI. The conglomerate further lost credibility in the eyes of its masters after the successful conduct of the 1996 and 1998 Lok Sabha polls in Kashmir.  
It was under these circumstances that the elevation of Syed Ali Shah Geelani as Chairman APHC and the unceremonious ouster of Mirwaiz Umar Farooq came by. Geelani then went on to become the architect of the darkest, most turbulent period in the history of Kashmir. In order to remain relevant he proverbially "sold his soul to the devil." He chose to become a stooge of Pakistan and started singing the tune that Pakistan's Inter Services Intelligence (ISI) wanted him to sing.
The complete radicalisation of the APHC, its subservience to Pakistan and to the terrorist cadre is the legacy of Syed Ali Shah Geelani to his organisation and to his people. He brought with him the self defeating agenda of Jammu and Kashmir joining Pakistan and blatantly used the platform provided by the Hurriyat to propagate the same. He introduced into the separatist movement an element of religion by describing it as a part of the larger pan-Islamic struggle.
The pursuit for self determination for the people of Kashmir was overshadowed by his open bias towards Pakistan which created doubts about his political motives. APHC however could not bear his rigid postures, abrasive politics and pro-Pakistan leanings and he was forced to resign in 2003. The Hurriyat leadership blamed him of having weakened the cause by bringing about a division in its ranks. He formed a separate entity, the Hurriyat (Geelani) that never gained political significance.
In Kashmir, even the most strident advocates of freedom, whose numbers is dwindling fast, do not look at Pakistan as an option to align with. Geelani thus stood isolated. Geelani stayed in the limelight for some time more and then Pakistan decided to unceremoniously dump him. The nadir came in 2015 with Geelani boycotting the Eid Milan Party at the Pakistan High Commission in New Delhi as a protest against non-inclusion of Kashmir in the talks between Prime Minister Narendra Modi and Nawaz Sharif at Ufa in Russia. It is astounding that, after being used like a puppet, he continued to show servility to Pakistan even after that.
One is compelled to say that Geelani as well as Pakistan pursued politics of opportunism with each other. While such an attitude can be expected from Pakistan, no self respecting leader who is fighting for the freedom of his people would bow before a foreign government that has no interest either in him or his people.
Geelani says that Kashmir should become a part of Pakistan while many in Pakistan themselves feel that the country should be trying to consolidate what it has rather than looking for other territories on which they have no claim whatsoever. Geelani says that he wants freedom for his people while the fact is that they are already enjoying the same as a part of the largest democracy in the world.
While maintaining the sensitivity of the situation and wishing a speedy recovery to Geelani, it becomes important to look at the life and times of Geelani with objectivity. If such an exercise is carried out with honesty the derivative is a life lost in pursuit of an impractical political dream and alignment with a country that has given to him absolutely nothing except disrespect and ignominy.
It is hoped that the people of Kashmir will keep themselves isolated from the notorious, shameful and evil exploitation of Geelani's name by Pakistan in order to disturb their lives. It is time to give a strong message to Pakistan that the times when such canards could be spread to good effect. Once again, here's wishing Geelani a speedy recovery.
(Jasbir Sarai is an Army veteran and social activist)