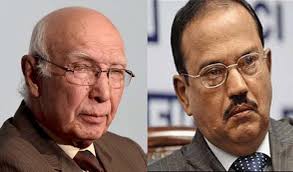 Vikas Khanna
The wily Pakistani leadership has put Prime Minister Narendra Modi in a tight spot. As things stand today, it appears that Pakistan is least bothered to carry forward the talks agenda agreed to by Modi and Nawaz Sharif in the Russian city of Ufa last month.
It also puts Sharif in a poor light as it appears that he did not have the mandate of Pakistan's powerful army and the Inter-State Intelligence (ISI) in resuming dialogue which got stalled last year after a miffed New Delhi cancelled foreign secretary level talks following Pakistan High Commissioner's refusal to call off talks with Kashmiri separatist leaders. India had then warned Pakistan that the invitation to the so-called leaders of the Hurriyat by Pakistan's High Commissioner raised questions about its sincerity and attempts to interfere in India's internal affairs.
Attempts by PM Modi and PM Sharif to mend ways and kick-start the stalled talks have met with stiff opposition from Pakistan army and the ISI which together wield more powers and influence than the democratically-elected government in Islamabad.
Hardly had the ink on the joint statement by India and Pakistan on the sidelines of the Shanghai Cooperation Organisation summit in Ufa dried, that Pakistani army, with the full backing of ISI, launched a mini war by repeatedly firing along the line of control dividing Kashmir. Simultaneously, it also unleashed militants trained at its backyard to resume attacks on security personnel and civilians in Kashmir and then expanded the operation to Punjab.
The objective was to derail the proposed bilateral talks. Had the talks agreed to by the top leaders of the two countries progressed, it would have put paid to nefarious efforts of Pakistani army and ISI to continue with its planned infiltration attempts in Kashmir as it hardly has two months before snowfall in the higher reaches will make the infiltration impossible.
With a pliant government in Jammu and Kashmir soft on separatist elements, it suits Pakistani handlers to push in as many militants as possible. Attempts by some disgruntled elements in Kashmir to raise Pakistani and Islamic State flags with impunity during rallies by separatist leaders is very much in concert with the agenda set out by terrors masters across the border.
What is more perplexing is the complete silence by Pakistani leadership on the repeated ceasefire violations? Adding salt to its wounds, Pakistani High Commissioner, Abdul Basit, brazenly blamed India for 70 ceasefire violations along the disputed border when he was summoned by foreign ministry mandarins in New Delhi last week.
The higher echelons in Pakistan dread talks at the National Security Advisors level due on August 23-24 at a time when India succeeded in capturing alive a terrorist of Pakistani origin who along with his accomplice had launched a daring attack on security personnel in Kashmir early this month. With concrete evidence pointing to arrested militant Naved's Pakistani nationality and his father's admission, Islamabad will find it very difficult to parrot its oft-repeated line that the insurgency in Kashmir is home-grown and that it has no role whatsoever in perpetrating and maintaining the same. With polygraph test report due anytime before the two top security experts sit for talks in New Delhi, Pakistan will find its back on the wall. Armed with such fool-proof evidence, India now plans to rally the global community to expose Pakistan's overt and covert operations by backing insurgents in India.
With New Delhi foiling Islamabad's designs to fall in its trap by cancelling the proposed talks, it fired another salvo today by inviting the Kashmiri separatist Hurriyat leadership for consultations at Pakistan High Commission on the same day when NSAs – Ajit Doval and Sartaj Aziz – are due to hold talks. This, Pakistan hopes, will irritate India which will again react in the same way and discontinue talks. The game plan of Pakistan is to wriggle out of the situation that it finds today. But India will do well not to wilt under pressure and instead bite the bullet. India should use the opportunity this time and talk tough with Pakistan. A crystal clear message should be delivered to Pakistan that talks and terror can't go hand in hand.
In any case, the talks would be a banal exercise as it would lead to nowhere. With Pakistan continuing to be in a denial mode, it would be naïve for India to expect any breakthrough. The talks with Pakistan will remain grounded and yield no results till it withdraws its support from militants, a tough ask. Meanwhile, the Indian government should make all efforts to enlist support of maximum countries to alienate Pakistan and its so-called supporters.