Col Alok Mathur, SM ( Veteran)
Two Giant Ilyusin 76 of 44 Squadron of Indian Air Force stood ready for takeoff on the runway of Agra Air Base with a special task force of maroon berets (Paratroopers) on board on 3 November 1988.Group Captain A G Bewoor was the chief pilot in the lead  aircraft and Wing Commander A S  Gill was the pilot of the second aircraft. The Air Traffic Controller announced the green signal to' Friendly One' and the aircraft of Group Captain was  gracefully  airborne after 25 Seconds. The second Gajraj 'Friendly two,' was also cleared for takeoff and followed Friendly One. The aircrafts climbed to 30000 feet and headed South on a long voyage for a secret mission. Another taskforce of Black Cats had taken off from Delhi Airport at 1230 hours and had reached Trivandrum by 1500h awaiting  further orders. Operation Cactus had begun.
Operation Cactus was launched in response to a coup attempt by a well trained terrorist group against the President of Maldives in November 1988. The President went in to hiding and flashed SOS to few friendly countries seeking military intervention to rescue him and his family. India was prompt in extending the requisite support.
The Republic of Maldives comprises of 2000 low lying beautiful coral islands grouped in 26 atolls sprawled from North to South approximately 800 kms in length and 130 kms in width, on the equator in the Indian Ocean. Of these only 200 islands are inhabited and only 20 which are more than one square km in size.  The total land area is 300 square kms. The islands are at 1.5 metres above sea level and it had been predicted that Maldives may submerge under water in next 50 years due to rise in water level caused by global warming. Male, also called the ' Kings Island,'  is the largest island town and capital of Maldives. The country has two airports.
Maldives was a British protectorate that achieved independence on 26 July 1965 and became a Republic on 11 November 1968. The population of 5.5 Lakhs follows Sunni Islam religion. There is large group of migrants from India, Sri Lanka, China , Nepal and Bangladesh in the country.
The nearness of Maldives to Southern India suggests that initially the population was Dravidians from India. The presence of Stupas and artefacts confirm that the inhabitants possibly converted to Buddhism in 250 BCE during the reign of Emperor Ashoka. In 1153 AD, King Darumavantu Rasefanu converted to Islam under influence of Arabian traders and was renamed as Al Sultan Muhammad Adil.
The Portuguese arrived in 1500 as traders, built a fort at Male in 1519 and ruled till 1593.  The French landed in 1529. Dutch ships with a large force arrived in 1599. It finally became a British protectorate in 1887 and stayed so till 1965.
On achieving independence in 1968, Amir Ibrahim Nasir became the first president  and Ahmed Zaki the prime minister. In 1975, Zaki was dismissed and exiled by the President on charges of planning a coup. President Nasir fled to Singapore in 1978 due heavy unrest in masses due to poor economic conditions.  Maumoon Abdul Gayoom , who was  the transport minister in the Nasir Government was elected as President. He ruled for the next 30 years. There were coup attempts against Gayoom in April 1981 by ex SAS mercenaries and again in 1983 by Ibrahim Maniku , but these were exposed and neutralised.
In September 1988,Gayoom was elected unopposed as President for the third term. A new coup plan was being conceived by his enemies at a Duck farm at Colombo.  A Maldivian' businessman, Abdullah Luthufee, who was close to ex-president Nasir , came in contact with PLOTE chairman Uma Mahaeshwaram  and  made a plan to attack Male with a trained commando group provided by PLOTE and overthrow Gayoom's government. The well trained group were equipped with latest AK 47 Rifles, Grenades, Mortars and Medium Machine Guns. D-day was planned for 3 November 1988, as the President was scheduled to visit India to attend the death anniversary of Mrs. Indira Gandhi.
Diego Garcia, the US  Military Base in the Indian Ocean  was located  1285 kms from Male. The distance from Colombo ( Sri Lanka) to Male was 764 kms. Karachi Port was 2400 km  and the nearest Indian City of Trivandrum,Kerala was 611 kms .The distance between Agra base and Hulhule Airfield was 2598 kms  and 2700 kms from  IGI Airport New Delhi.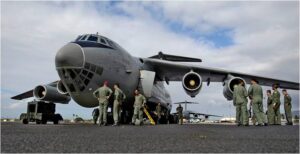 The coup force of 80 militants  accompanied  by Abdullah Luthufee left Sri Lankan shores in two diesel engine powered fishing Trawls dressed in civil clothes as fishermen, on the early morning of 30 October 1988  and headed for Male .The taskforce leader was Julio Vashanti , a PLOTE commander.
President Abdul Gayoom had an intuition that something was brewing to topple his Government for which reason he cancelled his trip to India. Maldives had a National Security Service ( NSS) group with total strength of 1400 troops which served as a paramilitary Police and fire fighting force with limited weapons and limited training.  Major Mohammad Jahir was the head of NSS and its Headquarters ( HQ) was located in the old Portuguese fort at Male .
The coup force landed on 3 November at 0330 hours at Male beach unopposed. They divided in various teams and soon occupied the Presidential Palace, radio station, power house , Telephone exchange , Defence Minister's office  and other important installations. They headed for NSS HQ where alert NSS troops opened fire and in the exchange of fire Commander Vashanti was killed.
Gyaoom along with his family and protected by a team of NSS bodyguards went in to hiding in a servant quarter. The coup troops roamed around freely in Male city but were not aware that flash messages on behalf of the President had been flashed by Ibrahim Zaki, foreign secretary of the Maldivian Government to many countries like USA,UK ,Pakistan, Sri Lanka ,Singapore, Malaysia and India, through a Tel-line which was still working. Zaki contacted the Indian Joint Secretary External Affairs, Kuldip Sahadev,  at 0530 h who in turn informed PMO Secretary Ronnendra Sen. PM was at Patna on 3 November, he decided to return. MOS, Home, meanwhile informed National Security Guard (NSG) for mobilisation. A meeting of Cabinet Committee on Security (CCS) was scheduled for 1100 hours at South Block on 3 November 1988.
I was the NSG duty officer at Manesar Camp. I received a call on hotline at about 0700 h on 3 November 1988 from NSG IG Ops to mobilise NSG task force for a mission in Maldives. I immediately informed the Force Commander and Commanding Officer of 51 Special Action Group (SAG) and 52  SAG Squadron which was on alert status for the day. Manesar to Palam Airport was approx 50 kms. Tactical HQ,  One composite Squadron of 51 SAG and one of 52 SAG  were  at  Palam Technical Area , ready to board before  two Airbuses and one AN32 were  provided to us at 1200 h. We were Airborne at 1245 h and landed at Nagpur and after refuelling again took off  and were at Trivandrum  Airport  by 1500h.  Male was just 90 minutes away. We were ready when we were asked as to how many were paratroopers . Only 25 % troops were paratroopers. Moreover, NSG was not trained for Para drop operations at that time but could have air-landed. NSG thus awaited orders in Trivandrum Airport but the mandate never came.
Finally, 50 (I) Para Brigade was assigned to carry out the mission. Brigadier FFC Bulsara, 'the daring Bul' was the Para Brigade Commander. All battalions 3 Para, 6 Para and 7 Para were committed on various peace time routine duties as there was no advance warning order. In fact, Administrative Inspection of the Brigade HQ was in progress when VCOAS spoke directly to the Brigade Major to move a Battalion (Bn) in two hours. BM apprised him politely that no intact Bn will be available . It can be a composite Bn.
Brig, Bulsara clearly told MO Directorate that he would conduct the operation as per his plan once the task has been spelt out. The Army Chief directed that the tasks were 'to rescue the President of Maldives and neutralise the terrorists.' There were no maps and intelligence available . The Brigade Commander ruled out Para dropping as the there was sea all around and limited Parachutes were available. He informed  MO that he will move once ready and he ruled out take off  in two hours.
Brig Bulsara's initial plan was for the first IL 76 to carry a path finder Company of 6 Paras.  If cleared then the rest would land, otherwise para-drop would be done. The second IL 76 was to land once the runway was secured with another company and follow up troops. He incorporated elements of 411 Para Engineers and 17 Para Field also. Brig Bulsara , CO Col SC Joshi  and Charlie company was in the lead aircraft with the task to secure the airfield opposed or unopposed and then to go across to Male and locate President.
Brig Bulsara carried out his final briefing at 30000 feet inside the fuselage and the CO assigned further tasks to the Company Commander and Signal officer. Major Dhillon finally briefed the troops to secure the ATC and runway at the earliest on landing. He was  still wondering whether Hulhule Airfield was  safe. The troops slowly dozed off  to the melodious hum of Jet engines.
The lead aircraft was approaching Trivandrum at 2000h, when it got code word" Valkriye"  from  control that the runway at Hulhule was safe so far. Trivandrum ATC  saw the IL76  approaching at 20000 feet. The Pilots contacted ATC that and informed them they would not land and could not disclose the new destination. The aircrafts now entered the air space of Maldives and at 2125 h contacted Hulhule ATC. The controller was excited and passed transmission ' Hudiya , Hudiya, Hudiya'…( Pre arranged code word for all clear). The runway was  hidden in darkness . Group Captain Bewoor requested ATC to switch on air strip side lights for final approach.  The lights appeared in the darkness for a minute and were switched off again.
The pilots warned the troops to be ready to deplane. The IL 76 was descending fast and just 200m before landing asked for lights. The runway was illuminated by amber lights on both sides and the aircraft landed with a thud. The aircraft stopped at the end of the runway overlooking roaring sea waves and was taken to the parking area. The ramps were lowered, there was uneasy calm. Major Dhillon told his  second in command to secure the runway. He with his team rushed  for the ATC tower. He climbed up carefully with his buddy covering him and found about four persons at the tower. They raised hand and were shivering. After a thorough check, he disclosed his identity and put them at ease. After 30 minutes, Friendly Two landed safely. After 45 minutes, both IL 76 took off and landed back at Trivandrum by mid-night for ferrying more troops. It was a wonderful feat and half the battle was won.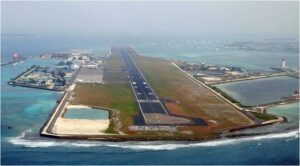 Brig Bulsara and Mr. AK Banerjee arrived at the ATC BY 2300h and contacted the Maldives NSS HQ. Major Muhammad Jahir of NSS was on line. He apprised the latest situation that militants had caused a lot of havoc, killed civilians and fired a rocket at NSS HQ . Brig Bulsara was put on line with the President by the by the security officer.  Brig Bulsara said ' Mr President, we have arrived. You are safe .Compliments from Indian PM Rajiv Gandhi. My troops will be in Male before sun rise and will contact you, Please send your representative at harbour.' 3 Para had arrived by now and took over the airfield. 6 Para then headed for Male in motorised Dhonni ( Boats) to complete the task.
6  Para landed at Male in wee hours of 4 November 1988 and secured the beach head and harbour. The speed boats were fitted with Yamaha outboard motors  and 411 Engineers pilots handled them like toys. Soon, C coy contacted the Lungi clad guide , who took them to a house where the President and his family was hiding. Major RJS Dhillon and his troops reached the hide out but nobody would open the main gate. Finally, when the bodyguards saw Turbans, they realised Indians have arrived as promised and opened the steel door. Major Dhillon paid his compliments and contacted New Delhi informing that President was safe. President Gyoom thanked Indian PM. Gradually, entire Male city was combed and secured.
Meanwhile, when Abdullaha Lauthufee saw IAF aircrafts landing at Halhule , he knew Indians had arrived and his group will not be able to execute the coup. He assembled his core group and hijacked a recently anchored marine vessel, MV Progress Light, escaped with 27 Hostages on board and headed East towards Singapore at  early morning of 4 November 1988 . His prize hostage was Ahmed Mujuthuba, a cabinet minister of the Maldives Government and his Swiss wife Ursula.  The ship was fired upon by troops of 3 Para by RLs and MMGs but it escaped in the darkness.  In fact, 6 Paras saw an unknown ship cruising away but never realised it was a hijacked ship as their boats headed for the main land.
Now, the Indian Navy came in to action. INS Godwari was returning to Mumbai from Europe after a three months friendly good will mission.  It was tasked to locate MV Progress Light. IL 38 and TU142 M Strategic maritime reconnaissance aircrafts were deployed to locate the fugitive. Finally, it was located on 5 November. INS Teer and INS Betwa also joined the hunt. They surrounded it from three sides, but the terrorists threatened to kill the hostages and blow up the ships. NSG still at Trivandrum was again put on alert for ship Intervention. The hostile Ship was now 90 kms from Colombo  and was about to enter Sri Lankan waters.  Finally on 6 November 1988 , the task was allotted to MARCOS , who were given MP 5 Sub machine guns on loan from NSG. INS Godvari and INS Betwa closed in and fired on MV Progress Light with main guns, crippled and rammed it . Terrorists killed two hostages but were over-powered.  Rest all hostages were rescued. Total fatal Casualties were 19 Maldivians k including 8 NSS Troops. Six terrorists were killed and 75 mercenaries were apprehended.
The Operation was called off at 1200h on 6 November 1988.  The de-induction started on 7 November 1988 . The whole of Maldives celebrated and garlanded the Indian troops. One training team was stationed at Male on request of the President for a few months, the rest of force, including NSG troops who remained at Trivandrum throughout  operation ,were de-inducted  by 8 November 1988.
The whole World appreciated the timely action taken by India to restore Democracy of a friendly Nation with minimum collateral damage. The decision to send airborne troops 2500 kilometres away was bold and depicted complete synergy between the political and military leadership. It was a unique strategic multi-service joint operation which conferred regional power status to India.