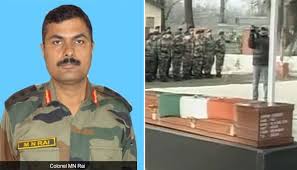 Defenceinfo Bureau Report
On the occasion of 69th Independence Day, one Kirti Chakra, three Shaurya Chakras, 23 Sena Medals (Gallantry) and 15 Mention in Dispatches were conferred on officers and men of the Northern Command for display of exemplary courage and dedication to duty.
The Kirti Chakra and Shaurya Chakra are the second and third highest gallantry awards respectively awarded for act of valour, courageous action and self sacrifice in peacetime.
Naib Subedar Rajesh Kumar eliminated two heavily armed terrorists in a fierce encounter in Wadarbala forest of Kupwara on October 27-28, 2014. He achieved martyrdom while ensuring safety of his comrades involved in a fire fight with terrorists in treacherous forested areas close to LoC.
For his exceptional resilience, commitment and epic bravery during intense odds, he was conferred with the Kirti Chakra posthumously.
Colonel M N Rai, the Commanding officer of a Rashtriya Rifles Battalion, was instrumental in neutralization of large number of terrorists.
He was awarded Yudh Seva Medal for exemplary service on January 26, 2015. The very next day, he was leading a patrol party which was fired upon while negotiating the surrender with a father of a trapped terrorist.
Though grievously wounded, Colonel Rai eliminated a fleeing terrorist at close range and continued to engage the second terrorist.
For his conspicuous act of gallantry and supreme sacrifice in line of duty he was conferred with the Shaurya Chakra posthumously.
Major Tanuj Grover of Rashtriya Rifles was awarded the Shaurya Chakra for displaying exemplary leadership and selfless devotion to duty.
The officer-led team neutralized two terrorists, including an IED expert in Sopore on February 21, 2015.
In a thickly forested high altitude area, Captain Varun Kumar Singh of Rashtriya Rifles spearheaded an operation resulting in elimination of two hardcore terrorists involved in weapon snatching incident from police piquets. For his professionalism and devotion to duty officer he has been awarded Shaurya Chakra.
Conveying his felicitation to the recipients of the gallantry awards, Lt. Gen. D.S. Hooda, GOC-in-C Northern Command, complimented all ranks of Northern Command for their exemplary Service to the Nation and exhorted them to rededicate themselves to safeguard our nation's borders and confront new challenges with professionalism and courage.