Jaibans Singh
Every year, on 06 February, the Indian Army celebrates "Naushera  Day'  to mark the defence of Naushera in the Indo-Pakistan War 1947-48 and the martyrdom of Naik Jadunath Singh and others. This year too, in accordance with established traditions, Naushera Day was commemorated at Naik Jadunath War Memorial, Naushera, District Rajouri on 06 February  2022 with a wreath laying ceremony.  Major General Rajeev Puri, General Officer Commanding, Ace of Spades Division along with a large number of military and civil dignitaries and local populace of Naushera town laid wreaths at the War Memorial.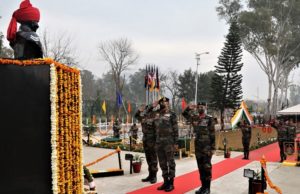 Wreath Laying at Naik Jadunath War Memorial, Naushera
Again, as per established tradition, the event was followed by a multi-specialty medical camp, with special provision for specially abled people, at Usman Stadium, Naushera. The aim of this camp was to extend multi-specialty medical care to the needy villagers living in remote areas of Naushera Sub division. Wheel chairs, artificial limbs, crutches, hearing aids and blind sticks were distributed to the specially abled villagers. Eye screening by a renowned retina specialist from Rotary Eye Hospital was also organized. The event concluded with felicitation of Veer Naris, gallantry award winners and Bal Sainiks.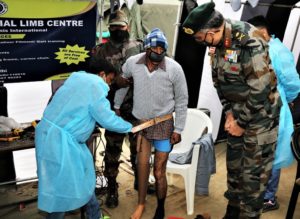 Medical camp as part of Naushara Day celebration 
Naik Jadunath Singh Rathore of the Rajput Regiment was deployed as section commander at Naushera. He was an experienced soldier having also seen action in World War II. His presence of mind in thwarting success attacks by the enemy on his piquet turned the tide of the battle. The Gazette note on the basis of which he was awarded a Param Vir Chakra (Posthumous) reads as given below:-
" At No 2 picquet on Taindhar on 6 February 1948, No 27373 Naik Jadunath Singh was in command of a forward section post, which bore the full brunt of the enemy attack. Nine men against overwhelming odds garrisoned the little post. The enemy launched its attack in successive waves and with great ferocity to overcome this post. The first wave swept up to the post in a furious attack. Displaying great valour and superb qualities of leadership Naik Jadunath Singh so used the small force at his disposal that the enemy retired in utter confusion. Four of his men were wounded but Naik Jadunath Singh again showed his qualities of good leadership by reorganising the battered force under him, for meeting another onslaught. His coolness and courage were of such an order that the men rallied and were ready for the second attack which came with greater determination and in larger number than the preceding one. Though hopelessly outnumbered, this post under the gallant leadership of Naik Jadunath Singh resisted. All were wounded, and Naik Jadunath Singh, though wounded in the right arm, personally took over the Bren gun from the wounded Bren gunner. The enemy was right on the walls of the post but Naik Jadunath Singh once again showed outstanding ability and valour of the highest order in action. By his complete disregard for his personal safety and example of coolness and courage, he encouraged his men to fight. His fire was so devastating, that what looked like impending defeat was turned into a victory and the enemy retreated in chaos leaving the dead and wounded littered on the ground. With this act of supreme heroism and outstanding example of leadership and determination, Naik Jadunath Singh saved the post from the second assault. By this time, all men in the post were casualties. The enemy put in his third and final attack in undiminished numbers and determination to capture this post. Naik Jadunath Singh, now wounded, prepared literally single-handed to give battle for the third time. With great courage and determination, he came out of the sangar[b] and finally with the Sten gun, made a most magnificent single-handed charge on the advancing enemy, who, completely taken by surprise, fled in disorder. Naik Jadunath Singh, however, met his gallant death in his third and last charge when two bullets hit him in the head and chest. Thus, charging single-handedly at the advancing enemy, this Non-Commissioned Officer, performed the highest act of gallantry and self-sacrifice and by so doing saved his section-nay, his whole picquet from being overrun by the enemy at the most critical stage in the battle for the defence of Nushera."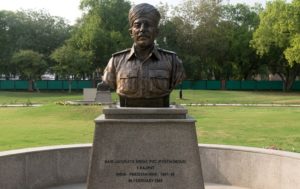 Bust of Naik Jadunath Singh, PVC (Posthumous) at National War Memorial, Delhi
Any talk of bravery and courageous tenacity exhibited during the war would be incomplete without mention of Brigadier Mohammad Usman.  At the time of partition he declined to move to Pakistan despite being given the bait of becoming the Pakistan Army Chief. He did not relent from his spirit of nationalism and continued to serve the Indian Army. He was in command of 50 Parachute Brigade during the war and deployed in the Naushera-Jhangar sector. When  Jhangar fell due to insurmountable odds of the Pakistani attack, Brigadier Usman vowed to take back the strategic location and did so within a period of three months.
When the Battle of Naushera  was about to commence Brig. Usman addressed his officers. "The enemy was gradually closing-in and was building-up strength for a major attack on Naushera; an enemy success at Naushera would give the invaders not only a feeling of superiority over the Indian soldiers but also whet his appetite to grab more territory; the coming 'Battle of Naushera' has a National dimension; If we lose Naushera, Delhi is not far for the Afghan invaders; we are fighting the first major battle of 'Free India' under Indian officers and have to win at all cost. I will not leave Naushera under any circumstance and will make sure that we win the coming battle at any cost," he said. The motivation was enough for the troops to fight like Tigers under his command
On 7 February morning, local patrols reported that the enemy had disappeared leaving behind a large number of dead. By midday 7 February, it became apparent that the Indian army had won a great decisive victory in naushera. It was because of this feat that Brig. Usman got to be known as the "Lion of Naushera."
Brigadier Usman fell to a hero's death on July, 3 1948, while defending Jhangar. He was awarded Maha Vir Chakra, Posthumously, and became the highest ranking Indian Army officer to have received this award during the war. His funeral was attended by Prime Minister Jawaharlal Nehru and his cabinet colleagues. The stoic and brave defence of Naushera was the turning point of entire war in Jammu and Kashmir during the war.