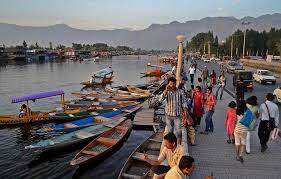 Farooq Wani
While the killing of militants, security force personnel and civilians in Kashmir makes news, few take a serious note of how the once flourishing tourism industry of the region is slowly being bled to death by the ongoing unrest and violence.
Emperor Jahangir who was so spellbound by the natural beauty of Kashmir that he referred to it as "paradise on earth" would never have dreamt that four centuries later this "paradise" would be devoid of visitors and that too at a time when communication and travel would be so easy!
Why go so back in history, even as late as three decades ago none of the visitors enjoying a Shikara ride in the placid waters of the Dal Lake or taking a pony ride in Gulmarg would have ever thought that the days of Kashmir as one of the world's most preferred and India's Number one tourist destination were numbered.
The self-determination movement in Kashmir has been going on ever since the United Nations passed resolutions on the same in 1948. However, but those who led this struggle ensured the tourism industry, which provided livelihood to thousands of Kashmiris', was not adversely affected.
The situation deteriorated once militancy took roots in Kashmir, but after a brief hiatus, conditions started improving and tourism slowly started getting back on track. A decade later, it appeared that the worst was over and such was the sense of enthusiasm that houseboat owners and hoteliers invested heavily in refurbishing their assets which had deteriorated over the years due to the absence of tourists. Unfortunately, their optimism was short lived.
The Shri Amarnath land row of 2008 ushered in the new trend of prolonged unrests. The violent turn such protests take has propelled Kashmir from a 'paradise' into a 'war zone.' Therefore, even though Chief Minister Mehbooba Mufti and the Hurriyat leaders take great pains to invite tourists and assure them of their safety there is, at best, lukewarm response. One cannot blame the tourist because who in his or her senses would ever want to come to a place where fear and uncertainty rules the roost? Sadly, uncertainty and lack of security is the reality of Kashmir which is not hidden from the world.
Tourists seek peace, solace and a stress free holiday; they aspire to take a break from the tensions and anxieties of their routine lives and relax in a peaceful environment and this Kashmir is no longer capable of providing.
Only natural beauty cannot attract tourism, the environment needs to be equally conducive.  Since the tourism industry in Kashmir is being held hostage to the continuing unrest and violence, tourist destinations in Himachal Pradesh and in other parts of the country are making a killing!
Along with this there is an associated issue of equally great concern. Frequent shutdowns and prolonged protests have created a climate of commercial uncertainty in Kashmir which is dissuading business houses from setting up industries and ventures that would provide several job avenues to locals. The end result is that despite having the required qualifications and skills, locals remain unemployed. There was a ray of hope when, after realising how the long summer unrest of 2016 had adversely impacted the working class, the Hurriyat announced that it was exploring "sustainable" methods of protest. Sadly it is noted that the separatist conglomerate has, as yet, not unveiled its roadmap for this "sustainable" protest strategy.
As things stand today, the dice is heavily loaded against the common Kashmiri as he is caught between the devil and the deep sea. Neither can one expect that the Hurriyat will cease its activities, expecially the dreaded 'protest calendar' politics; nor can it be hoped that militants will stop their attacks on security forces and the common Kashmiri.
The only option that is left is to explore the possibility of finding a via media between the self-determination campaign, the 'freedom struggle' and the common Kashmiri's legitimate right to earn a livelihood. It's a very tough call, but if the Hurriyat and militant groups decide to cooperate, then a mutually acceptable solution can be found.
Knowing the obdurate mindset of both the Hurriyat and militant groups, only our civil society can help by stepping in to resolve this contentious issue and this constitutes the appeal of all right thinking Kashmiri's who are fed up with the constant uncertainty.  Civil society members should reach out to the Hurriyat and the militants and tell them that while they are free to pursue their philosophy and ideology they need to ensure that tourism and job opportunities do not emerge as 'collateral damage' of their activities.
Both need to be reminded that they publicly declare their actions as being directed solely towards the betterment of their people. Such a declaration becomes meaningless if their acts result in impoverishment of the average Kashmiri. The Hurriyat and militant groups also need to be reminded that a nation at war does not necessarily need to deprive its marginalised people of job opportunities!
Israel and Palestine are bitter enemies but as per a 2013 report carried by Israel's oldest and most reputed newspaper Haaretz, 48,000 Palestinians are legally employed in Israel while nearly 30,000 are working there illegally. As we all know, the separatists and militants are very fond of comparing the Kashmir issue with the Palestine problem. Therefore wouldn't it be worthwhile for them to emulate the Palestinian authority's example of not letting its irreconcilable differences with Israel ruin the employment prospects and livelihood means of its people?
Kashmir's tourism industry cannot be allowed to die of 'starvation' because the livelihood of thousands is dependent on it. Kashmir youth cannot be deprived of the job opportunity that they have worked so hard to achieve. Kashmir cannot be made hostage to a regressive ideology.
(Farooq Wani is a reputed journalist and commentator)