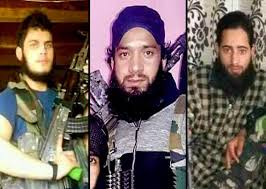 Jaibans Singh
A few days back on June, 21, two terrorists were killed in an operation at Pazwalpura, Sopore. The operation was conducted jointly by the Special Operations Group (SOG) of the Jammu Kashmir Police (JKP), a unit of the Army and contingents of the Central Reserve Police Force (CRPF) and was based on specific information collected through local intelligence.
The operation exemplified the seamless synergy that exists between the security forces as also the deep rooted intelligence apparatus that is in place to flush out terrorists. Most terrorist Tanzeems (groups) have been infiltrated by security forces and intelligence agencies, leading to credible information about the whereabouts of the terrorists. Moles are taking money to set up terrorists for encounters! In such a situation the terrorists do not stand a chance.
Those killed in the June, 21, Operation were identified as Gulzar Ahmed Lone and Abdul Basit Mir; they were local terrorists aligned with the Hizbul Mujahedeen (HM). When killed, they were poorly equipped with one AK -47 each, a small quantity of ammunition and a few grenades. They carried with them a paltry sum of Rs. 2320/-.  They had, quite apparently, been forsaken by their masters and were thus reduced to a dire state with hardly any weapons or money at their disposal.
Some local newspapers eulogised Abdul Basit by speaking of thousands attending his funeral. It was said that he was a devout Muslim who had left studies to join terrorism. To add a degree of romanticism, it was also said that he was motivated by the idea of "sacrifice."
There is evidence available with the police of both Lone and Basit being involved in the murder of at least two innocent fellow Kashmiris. They were also paid recruiters of the HM, responsible for luring innocent young boys of Sopore on to the path of terrorism in exchange of monetary compensation.
There is no element of religiosity and sacrifice visible in the murderous and perfidious acts of the slain terrorists.  The sheen given by the media to the killing, under the circumstances, is absolutely ridiculous. It amounts to blatant spreading of disinformation due to some vested interests.
Gulzar Lone and Abdul Basit at least lived for a few years at after taking to the path of terrorism. Others are not so lucky! In the encounter on 22, June, at Kakapore, Pulwama three terrorist were killed. Two among them, Shakir Ahmed Bhat and Irshad Ahmed Dar, were recruited as recently as April, 26, 2017; they had been in the game only for two months. The third named Majid Hamid Mir had been recruited in June 2016.
Majid and Shakir were residents of Kakapore itself and Irshad was from Awantipore. This implies that the group was not comfortable with operating away from their home base. Sadly for them, they were vulnerable in their home base too and were, as such, identified and killed.
There were some among their own people who first sold them out and then joined their funeral procession to earn some money from the funeral managers too.
A well laid out pattern is being followed for recruitment of local terrorists in Kashmir. With the Line of Control (LOC) sealed, the new local recruits cannot be sent across the border into Pakistan for training as was the case earlier. They are, therefore, indoctrinated, recruited, given some rudimentary instructions, handed over a rifle and some ammunition and let loose. Such ill trained terrorists are no match for the highly professional and experienced security forces. On top of it, they lack local support.
Majid, Shakir and Irshad are perfect examples of this trend.  As a result, they were killed within a very short span of taking the path of terrorism. At the end of it all they were nothing more than cannon fodder to meet the objectives of some very evil forces. A similar fate awaits all such youngsters who commit the fatal error of being swayed into the path of terrorism.
Those vested with the responsibility of recruiting local terrorists look for boys from poor families who are ready to sell their souls for a small amount of money and promises of a bright future in this world and beyond. Some are drug addicts and others, in the flush of youth, get impressed by the likes of Burhan Wani. Some, most unfortunately, join b with the intention of impressing their girlfriends.
These boys do not realise that what they are seeing is a fatal illusion. In actuality, terrorist are like hunted animals, always fearful of the time when they will be shot and knowing full well that the time is not too far.
It is quite heartening to see the resolve with which security forces are targeting terrorists in the Kashmir Valley. The intention to rid the region from the scourge of terrorism is quite obvious. Such a pressure could not have come by without complete support of the government.
Anti-national forces at the behest of their foreign masters will try everything possible to reduce the pressure. Counter terrorist operation will witness interference in the form of stone pelting, shouting of slogans etc, massive crowds will be garnered for funeral processions of slain terrorists; rumours of innocents being killed will be floated; attempts will be made to frame security forces in cases of human rights violations.
Herein will be the acid test of the government; it has to absorb the pressure and ensure that the momentum is maintained under all circumstances.
It is also the responsibility of the civil society and the parents in Kashmir to ensure that their boys do not get lured by the illusion that is being created. The government and the nation have spread out their hands to assist able and qualified Kashmiri youth in chalking out a career. It is this opportunity that needs to be leveraged and not the despicable, evil and violent path of terrorism that assures nothing other than ignominious death.
(Jaibans Singh is a reputed defence analyst, columnist and author)