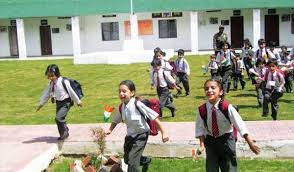 Defenceinfo Bureau Report
Srinagar, June 17: The Indian Army has reiterated its commitment to carry on with its welfare initiative in Jammu and Kashmir called 'Sadbhavna'.
'Sadbhavna' was launched in early 1990s with an aim to reach out to the people of Jammu and Kashmir reeling under the shadow of foreign sponsored terrorism.
The benefits accrued from the initiative in improving the social indices, infrastructure and in consolidating the peace dividends in the state are far in excess of what was perceived during its conceptualisation.
Army Goodwill Schools, an education initiative launched under the ambit of 'Sadbhavna' in Jammu and Kashmir, has provided middle/high school level education to over one lakh students.
Presently, over 14,000 students are undergoing schooling in various army run schools in the state and over 1,000 children from the state are studying in institutions outside the state through scholarship programs facilitated by the army.
In the last three years only, the army has provided medical aid to approximately 3.68 lakh people and treated over 4.57 lakh animals in medical and veterinary camps held under Sadbhavna, local civilian authorities and people actively participate in these hugely popular camps.
Over 200 National Integration Tours have been conducted under Sadbhavna, wherein, more than 5,000 beneficiaries (both students and elders) visited other states of the country and got a firsthand view of the culture of their fellow citizens and the growth trajectory of the nation. They came back motivated to become productive citizens of the country and actively leverage the growth trajectory for personal development.
Army, under Sadbhavna, is also committed to skill development of the youth and women of the state to further facilitate their employment. Army run vocational training centres and women empowerment centres spread across the state provide practical skills to interested and deserving candidates.
Sourced through Army's own budget, people friendly projects are being executed year after year to ameliorate the conditions of people living in far flung regions of the State.
The success of any goodwill initiative can be measured by its popularity, active participation and number of beneficiaries, which, in case of Sadbhavna has very encouraging statics.
It remains the endeavour of the army to contribute in the well being of citizens of Jammu and Kashmir, for which reason the army will remain committed to its efforts to meets aspirations of the people of Jammu and Kashmir through this unique program.