Maj Gen C P Singh (Retd)
Introduction
Sun Tzu aptly said- "Your enemy's enemy is your friend". India and Taiwan have a common neighbour who believes in expansion of frontiers by force.  India has ignored the existence of Taiwan for long and carrying on with the legacy of 'Hindi Chini, Bhai Bhai'. India has so far avoided diplomatic relations with Taiwan, just not to annoy PRC and maintain a good friendly neighbourhood relations. Unfortunately, all such friendly gestures have not paid any dividends and China is more and more belligerent in it's attitude with India. China believes in 'One China Theory' and wants all nations to only recognize PRC as 'The China' and maintain relations with it. There is no place for Taiwan in their scheme of things.
The links between India and Taiwan have gathered good momentum in recent years. The relationship between India and Taiwan is going through some important  changes on account of a number of developments. It appears now that India is set to expand its economic ties with Taiwan significantly. India has fired the warning shots, regardless of China's reaction and It's a welcome change. Our EAM has often stated that India is strong enough to take independent decisions in it's national interest.
History  of Mutual Relationship
Taiwan's relations with Indian leaders go back to pre-independence era. President of the Republic of China Chiang Kai-shek visited India in 1942 and  he insisted on meeting with Mahatma Gandhi and Jawaharlal Nehru, despite U.K. Prime Minister Winston Churchill's objections. When the Kuomintang retreated from the mainland to Taiwan, these ties got  carried over. While India was one of the first non-communist states to recognize the PRC, unofficial ties with Taiwan continued through the 1950s and 1960s.
Taiwan, officially the Republic of China (ROC), is a country in East Asia.   The ROC is no longer a member of the UN, having been replaced by the PRC in 1971. India is among the 179 of the 193 member states of the UN that do not maintain formal diplomatic ties with Taiwan. India and Taiwan do not have diplomatic relations so they have opened Cultural Centres, in each other's capital in 1995.   This has   played a significant role in improving the people-to-people contacts, and in expansion of cultural, economic and academic  relations. India and Taiwan have  also signed a number of bilateral agreements in the field of agriculture, civil aviation, investments, customs cooperation, double taxation avoidance   etc.
Stepping-up  Economic Ties
Economic cooperation between India and Taiwan got a fillip in 21st Century after a hibernation of 50 years since Independence. In 2018, India and Taiwan   signed an   bilateral investment agreement to give a boost to economic ties between India and Taiwan.  Presently, more than 100 Taiwanese   companies and enterprises are working in India. India – Taiwan trade is  growing at a rate of 20% YoY. Both the countries are working on free trade agreement (FTA) to remove all barriers in trade and investment, to help create a resilient supply chain system.
Semi-conductors Connecting Friendship
The unprecedented COVID pandemic taught many lessons to the world and India also learnt to be self reliant. Going by the principle of 'Atmanirbhar Bharat' India  also started opening up to 'Make in India' and manufacturing of all essentials in India. India badly needs semi conductors for various electronics, armament and automobile  industries. 70% of these are imported and mostly from China. Indian industries were badly hit when the supply chains from China got disrupted due to COVID.
India's adversarial relations with China, pandemic-induced disruptions, and Beijing's weaponization of supply chains have  pushed New Delhi to begin reducing critical technology dependencies and build up domestic capacity.     Establishing semiconductor manufacturing hubs has been a matter of priority for India in the last few years and Taiwan is   a leader in semiconductor manufacturing. India has been keen to bring in as many  global players,   as possible, in order to develop semi conductor  manufacturing facilities in the country and Taiwan is the natural choice for that.  The central government has allocated $9 billion for setting up its semiconductor   manufacturing ecosystem with the aim of establishing "a global hub for electronics manufacturing and design".  All of this provides an opportune moment for India and Taiwan to enhance their bilateral trade, which indirectly could also benefit Taiwan's political goals.   Semiconductor manufacturing will emerge as a key area for cementing India-Taiwan relations and  fostering closer cooperation across a number of other areas including political and diplomatic engagements.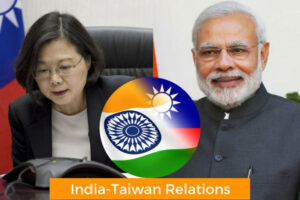 Taiwan Outreach
Taiwan has tried to reach out to India, many times. Its carefully crafted New Southbound Policy,   which was officially launched in 2016, has served as a roadmap for greater engagement with Taiwan's potential friends and partners – especially India. To step up the momentum, Taiwan needs to maximize the potential of the New 'Southbound Policy' in engaging India and other major actors in the Indo-Pacific region. Given that India is a key focus country within the framework of the New Southbound engagements.
Indian Approach
Recent conflict of interests with PRC  have compelled India to revisit it's 'One China Policy' and there has been a growing sentiment in India that it should establish closer ties with Taiwan. India can forge closer ties with Taiwan on a number of related issues, including boosting trade and economic ties as well as work on critical and emerging technologies. India's current Foreign Direct Investment (FDI) policy has also been adapted to increase potential investors from countries like Taiwan.
Indian government has been careful to avoid taking steps related to Taiwan which might worsen already difficult ties with a China. This restraint is unlikely to be reciprocated by China on territories that India considers its own, such as Kashmir. India's ties with Taiwan could serve as leverage in its diplomatic game  with China.
India's trade with the Indo-Pacific region passes through the South China Sea route and a large portion of that goes through the Taiwan Strait.   A successful Chinese blockade or invasion of Taiwan would disrupt India's sea routes. Therefore, India is  increasingly concerned about the rising tensions in this extended maritime space and across the Taiwan Strait. It's time for India to be proactive to safeguard it's interests in the Taiwan Strait.
China Factor
For a long time, the China factor has overshadowed India-Taiwan relations.   India's complex   relationship with China also played a role in preventing Delhi and Taipei from intensifying their relationship. However, China's assertive foreign policy under President Xi Jinping has compelled several countries to find a long-term and viable solution to address their national concerns. China's reluctance to address India's territorial concerns and two major Chinese territorial incursions   have forced India to rethink its China policy.  Consequently,  India is making efforts to revamp its Taiwan policy.  India has not mentioned its 'One China Policy' publicly in any bilateral documents since 2010 and it's a reflection of India's new thinking.
Way Ahead
India and Taiwan's new foreign policies are aligned in expressing official determination to carry forward the present developments in  of trade, economic, academic and finally diplomatic relations.  Sectors like tourism and education also remain largely untapped markets, between the two.
Regular diplomatic parleys and visits along with enhanced business ties is the way forward.   India should consider some immediate changes to its policy. Firstly, it should join the US, in backing observer status for Taiwan in international bodies /groups like G-7 and G-20. Secondly, regular political interactions should be strengthened. It's a mutually beneficial partnership for growth and should not be dictated by Beijing's reactions.     India should firmly establish itself as a friendly and trustworthy partner to Taiwan.  It will be a missed opportunity for both Taiwan and India if   two sides do not find a way to engage each other purposefully.
Conclusion
Realities in the Indo-Pacific region have changed, and it's time for New Delhi to deepen its political ties with Taipei. Should New Delhi move quickly with its diplomatic offensive, it may find a warm reception in Taipei. India also needs to build  strong economic ties   and Taiwan will be too glad to reciprocate  with equal warmth.  This partnership will be mutually beneficial to both,  in several aspects. India's Taiwan moment has arrived and our  leaders would be wise enough  to seize it. Certainly, India of 21st century,  is strong enough now to ignore China's   displeasure.
Let's Say-   "Hindi – Tai,  Bhai – Bhai !!!"
(Author is a social activist, career consultant and a motivational speaker)