Col Alok Mathur, SM, (Veteran)
The Indigenously built 45,000 ton Indian Aircraft Carrier Vikrant 2.0, will be commissioned on 15 August, 2022, Amrit anniversary of India's independence.  Aircraft carriers are the pride of any Navy. They are the core of a Naval battle group, secured by Destroyers ,Frigates, Corvettes  and Mine sweepers; Submarines  function as support groups. These water giants play an important role in transforming brown water Navy, to a blue water Navy. India will be the sixth country in the world to design and built an aircraft carrier.
Aircraft carriers operate for strategic missions in high seas since they are capable of moving swiftly to projection areas through long distances. Indian Navy, keeping in view the 7516 km maritime boundary, off shore Islands and 2.4 million square km of Economic Exclusive Zone of India, requires to maintain  minimum three aircraft carrier based task forces for covering the Bay of Bengal, Arabian Sea and the Indian Ocean.  They may be white Elephants in terms of cost of building/acquisition and maintenance, but they are essential to secure maritime frontiers and assets in endless Oceans.
Vikrant 2.0 has been manufactured by Cochin Shipyard and is the largest ship of the Indian Navy. It was approved in 2004, Keel ceremony was conducted in 2009 and launch in 2013. After extensive sea trials, it will finally join the Indian Navy on 15 August 2022.
The aircraft carrier is 260 metres long, 62 metres wide and almost 60 metres high. It has 2300 compartments and will accommodate 1700 naval staff. The ship has 14 stories and two heavy duty lifts to take up aircrafts to the runway and bring them back to covered shelters. The max speed is 52 knots but cruising speed will be 33 knots/ hour, it can travel self contained for 13890 km non -stop. It will be home for 30 aircrafts including fixed wing aircraft, Helicopters and UAVs, a potent weapon platform and floating airfield to check any intrusion in the Indian Ocean.
Initially the carrier will be equipped with a squadron plus of MIG 29 K fighters and Kamov 31 Helicopters. Subsequently MIG 29 fleet will be replaced with F/A 18 Super hornets/ Rafale  M/ Tejas N, for which trials are in progress.
INS Vikrant 1.0 was the first aircraft carrier acquired by the Indian Navy. The ship was a former majestic class aircraft carrier which had been ordered by the Royal British Navy on 14 October 1943 and launched in 1945 as HMS Hercules but surprisingly never commissioned.  An Indian Naval delegation found it harboured in Gareloch remote bay and a deal was made with the British Govt. India bought it in 1957 and after extensive refurbishment and repairs, it was finally commissioned into the Indian Navy as pennant number R11 on 4 March,1961. Captain Pritam Singh Mahindroo was the first commanding officer of the Ship.
It had a displacement weight of 19,500 tons, was 210 metre long , 40 metre wide and almost 10 metre high. It could travel at the speed of 25 knots. It had cruising range of 11,000 kms at speed of 23 knots . It  had catapult assisted take off system later modified to ski-jump mode. It could carry 23 Aircrafts/Helicopters.
Vikrant 1.0, fondly called Mother played an important role in the liberation of Bangladesh in 1971 by blockading East Pakistan from Bay of Bengal and carrying out raids at Chittagong harbour by carrier borne Hawker Sea Hawks (INAS 300) and  French Alize anti submarine aircrafts.The US Seventh Fleet led by USS Enterprise entered the Indian Ocean and threatened India but Vikrant Carrier group supported by Russian Submarines held the fort.
The carrier was decommissioned on 31 January, 1997 after 40 years of glorious service and was made a museum ship. It was harboured in Mumbai for a few years and finally scrapped in 2014.
The second Indian aircraft carrier, INS Virat , was 28,700 ton and commissioned in 1987. It was 226 metre long, 48 metre wide and 9 metre high. Like Vikrant it was of British origin. As the erstwhile HMS Hermes of the Royal Navy, it was commissioned in 1959 and participated in the Falkland War in 1982 as the flag ship of the battle group in the Southern Atlantic. It was released by the British Navy in 1984 and sold to India. Indian Navy got it refurbished and modified as per requirements. It carried a squadron of Sea Harrier (VTOL) manufactured by British Aerospace along with India's indigenous Sea King/Dhurv Heptrs. The second aircraft carrier bid farewell in 2016 after 29 years of service.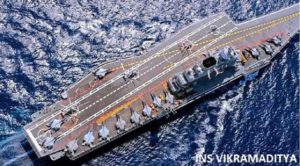 INS Vikramaditya, the third and still serving aircraft carrier of the Indian Navy was commissioned in 2013 . The ship was earlier a 45,500 ton Kiev Class Russian Aircraft Carrier named Marshal Gorshkov; it was commissioned in the Soviet Navy 1987 and was decommissioned in 1994 after collapse of the country. India, after total overhaul and modifications by Russia purchased the same. It was equipped it with 26 MIG 29 K, 4.5 generation Naval aircrafts and 10 Kamov 31 Heptrs.  The Vikramaditya is the flag Ship  of the Indian Navy. Now  INS Vikrant will join as the younger sea warrior to further strengthen the maritime strike capability of Indian Navy.
Naval fleet of the Chinese People's Liberation army (PLA) is growing at a rapid pace. As on 2022, Red Navy has three aircraft carriers, 32 destroyers, 49 frigates, 21 landing ships and six Nuclear powered submarines. PLA has the third largest aviation force in the world.
Keeping in view the dual threat that India faces on her sea shores and sea routes, the entry of IAC Vikrant  along with  Indian Nuclear Submarines Arihant and Arighat equipped with K 15 and K 04 missiles with Nuclear Warheads will now caution the enemy to keep away from Indian Maritime frontiers and blue waters. Moreover, now India is a part of QUAD  along with USA, Australia and Japan. The  group has been reactivated in 2017 to guard the Indo- Pacific Region against Chinese hegemony .  Irrespective of QUAD, we have to be self sufficient to fight our own battle, as the Ukraine War has demonstrated  that in crisis, you are alone to fight and others watch from sidelines. The induction of Vikrant shall be an important milestone of self reliance.