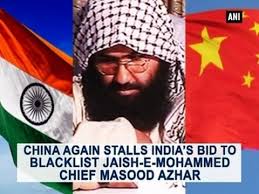 Vikas Khanna
Can China be a trusted ally in the global war against terrorism? The question assumes significance due to the country's steadfast protection to Masood Azhar, the chief of Pakistan-based terror organization Jaish-e-Mohammad (JeM). The country has been consistently scuttling the United Nations Security Council (UNSC) effort to declare him a global terrorist. India has accused the JeM leader of masterminding several attacks, including a deadly assault on an Indian air base in January 2016.
For the second time in as many years China has blocked a combined bid by the United States, France and the United Kingdom to declare Azhar a global terrorist saying "there is no consensus" in the Committee of the UN Security Council.  Where is the question of consensus if one country (read China) continues with its unwavering support for a dreaded terrorist only to please its ally Pakistan? Last year also, it was the odd nation out in the 15-member Security Council to thwart India's bid to place Azhar on the sanctions list that would have entailed his travel ban and freezing of assets. India's application had the approval of all the other 14 members of the Security Council. Needless to say, China is misusing its veto power.
China's opposition to proscribing Azhar is perplexing, given that JeM has already been blacklisted by the UNSC. If China is party to the decision to outlaw JeM, then its obduracy in not to let its leader bracket in the same category is beyond any logic.
China's support for Azhar also raises suspicion about its commitment to fight terrorism. A few months ago, it was a signatory to the Xiamen Declaration which had called upon the international community to establish a "genuinely broad" international counter-terrorism coalition. Not only that, it was also a party to a decision of the five-member BRICS nations summit which called for decisive action against militant groups based in Pakistan terming them as a security concern in the region.
The groups named in the declaration included Taliban, Islamic State, Al-Qaeda and its affiliates including Eastern Turkistan Islamic Movement, Islamic Movement of Uzbekistan, the Haqqani network, Lashkar-e-Taiba (LeT), Jaish-e-Mohammad, TTP and Hizb ut-Tahrir. Both LeT and JeM are anti-India groups based in Pakistan and have routinely carried out militant attacks in Kashmir and elsewhere in the country.
Masood Azhar is undoubtedly the prized asset for Pakistan. Not only has he meticulously planned several terrorist attacks against India, he has succeeded in creating an army of Jihadis who are ready to lay down their lives at his command. His importance lies in the fact that Pakistan government along with its army and notorious Inter-Services Intelligence (ISI) had made several attempts to get him released from a jail after he was arrested in Kashmir in 1994. Five years later, the Indian government was forced to release him and two others, Mushtaq Ahmed Zargar and Omar Sheikh, in exchange for the safe release of passengers of the Indian Airlines Flight-814, which was hijacked and taken to Kandahar in Afghanistan.
If Azhar is declared a global terrorist, the government of Pakistan will be forced to arrest him and seize his assets. This is something the government does not want for two main reasons. Azhar has, in the past, threatened the government of violence if it undertakes any such act. Secondly, he enjoys the support of the Pakistani army. Therefore, the Pakistani establishment is cagey while taking any action against him.
China, too, understands the predicament of its all-weather ally.  Therefore, it has been repeatedly blocking any attempt to outlaw Azhar even at the expense of its own image. China has, in the past, made several statements that there should be no double standards on counterterrorism; sadly, its action belies its so-called commitment against terrorism.
There are some more political and diplomatic compulsions that push China towards supporting Azhar to favour Pakistan. Pakistan has, on many occasions, come to the rescue of China in the powerful Organisation of Islamic Cooperation (OIC) which was critical of the latter's repression of the Muslim Uighur community in Xinjiang province. In the last two years, hundreds have died in unrest in Xinjiang. Activists have accused China of curtailing commercial as well as cultural activities of Uighur. In fact, a 2013 report of the Amnesty International was highly critical of China's handling of the situation in Xinjiang. It said authorities criminalised "what they labeled 'illegal religious' and 'separatist' activities" and clamped down on "peaceful expressions of cultural identity."
As far as terrorism is concerned, China's definition is completely at variant with the world. While the world recognises the exiled Dalai Lama as the Tibetan spiritual leader, China considers him as a "dangerous separatist". The Nobel Peace Prize recipient, who fled into exile in India in 1959 after a failed uprising against Chinese rule, has repeatedly said that he is simply seeking genuine autonomy for his homeland. China is accused of turning a blind eye to more than 150 Tibetans who have publicly immolated themselves over the years. Beijing is miffed with New Delhi for allowing Dalai Lama live in India. And that is also one of the reasons why it has been stonewalling New Delhi's attempts to sanction Azhar to get even with it.
It is amply clear that China does not want to walk along with the rest of the world in the fight against terrorism. It chooses to define terrorists according to its own understanding as has been the case with Pakistan. It is time for China to realise the perils of differentiating between terrorists. Otherwise, it risks global isolation.
It is also time for the United Nations should reconsider its original charter which gives even one permanent member the authority to veto the adoption of substantive and significant resolutions. A rule of the majority within the five permanent members should be followed. Otherwise, the international community will always be found wanting in its fight against terrorism due to double standards by some countries.
(Vikas Khanna is a reputed Delhi based journalist)