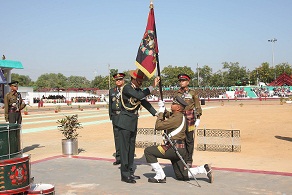 Defenceinfo Bureau Report
Mamun, Pathankot:  It was a historic moment for the Army at Mamun Military Station on Wednesday,05 November 2014 when General Dalbir Singh, the Chief of Army Staff, on behalf of the Hon'ble President of India, Shri Pranab Mukherjee, presented the 'Presidents's Standards' to 50 Armoured Regiment and 84 Armoured  Regiment. Both the Regiments conducted a mounted parade on tanks with clockwork precision and immaculate co-ordination in consonance with the highest traditions of the Indian Army.
50 Armoured Regiment was raised in 1989 under the command of Lieutenant Colonel (now Brigadier) AK Bhatia (Retired). The regiment colours are red over green which in strict martial sense, depicts the traditional 'Verey Light' signal of victory in battle. The Regiment's motto is "Digvijay" which means, "victory in all directions and planes, in war and in peace."
84 Armoured Regiment was raised in 1976 under the command of Lieutenant Colonel Tarif Singh Dhiyia (Late). The Regiment colours are dark cherry and black dark. Cherry signifies thick bonds of common blood, black colour signifies strength of character and personality. The Regiment motto is "Aham Veer Yudh Sthale" which means "I am the brave of the battle field."
This honour has been bestowed upon 50 Armoured Regiment and 84 Armoured Regiment in due recognition of their dedicated and meritorious service since their raising. The Regiments are among the front line units of Indian Armoured Corps which have participated in a large number of operations. The hard work and sacrifices made by the valiant soldiers of both the Regiments have been recognized by various awards and medals.
The Parade was commanded by Colonel Vipul Saini, Commandant 84 Armoured Regiment. The Chief of Army Staff also released a "Special Cover" to commemorate this historic event.