Col Alok Mathur, SM (Veteran)   
The beautiful Island of Sri Lanka is separated from coast of Rameshwaram, Tamil Nadu, India, by a string of islets and  35 Kms long Ram Setu (Adams Bridge) of Ramayana days. It lies across Turquoise blue shimmering waters of the Indian Ocean. The Europeans sailors called it Ceylon. It was also called Emerald Isle and Pearl of the East. The Island is Tear-drop shaped 437 km long North–South and 225 km wide East which gives it an area coverage of 65,610 sq kms.
Its location, astride the main shipping route for those travelling from the Atlantic to the Pacific connecting Europe, Africa and South East Asia, is of strategic importance especially to India as the closest neighbour to which it is racially, economically, culturally and linguistically bound.
Sri Lanka is a multi racial and multi religious nation. The present population is about 20 million with; Sinhalese (74%), Tamils (19%) and others 7%.  Religion wise Buddhist are 68%, Hindus 18%, Christians 7% and Muslims 7% .
Politically, the power had been shared between two parties, Sri Lanka Freedom Party (SLFF) and United National Party (UNP). Regardless of the party in power, almost all jobs in Army or Government offices were given to Sinhalese  and most of the development was in Sinhalese areas. There was discontentment which led to a Tamil demand for more autonomy to the Northern Area where they were in majority. Due to failure of political initiatives, Tamils converged into a single national movement in1976. They formed Tamil United Liberation Force (TULF) and fought general elections in 1977 winning 18 out of 24 assembly seats of the Northern province. The demand for separate Tamil Eelam grew like wild fire. The major militant groups mushroomed were Tamil Eelam Liberation Organisation (TELO), Liberation Tigers of Tamil Eelam ( LTTE). Eelam Revolutionary Organisation of Students (EROS),  People Liberation Organisation of Tamil Eelam ( PLOT) and Eelam Revolutionary Liberation Front ( EPRLF) among others. TELO and LTTE were the most dreaded militant organisations who carried out assassinations, ambushes and illegal tax collections. Sri Lankan government banned these two organisations in 1978.
Velupillai Prabhakaran, a Tamilian fondly called 'Anna,' was merely 18 years old when he raised a group called Tamil New Tigers and nicknamed it as TNT. He used to often visit Tamil Nadu by boats to meet his relations. He went on to create LTTE in Jaffna in 1972 with only 10 students.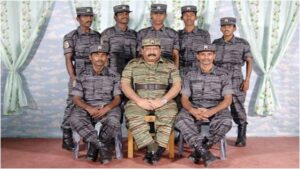 Velupillai Prabhakaran with the top LTTE leadership
The LTTE cadre was of young boys and girls armed with AK 47 and grenades; it was brainwashed to the extent that every member carried a cyanide capsule around the neck to be consumed if caught. There had expert teams for assembling IEDs and making claymore mine and mortars. LTTE came to the limelight when it assassinated the Mayor of Jaffna. The militant group continued to grow with financial assistance from Southern India. On being banned in 1978, the group continued with its underground movement with great success.
Prabhakaran gradually neutralised all other Tamil militant outfits including TELO. The Sri Lankan Army launched Operation Liberation and cordoned off the Northern province. LTTE fought back but there was acute shortage of food and medicines in Jaffna, Trincomalee, Baticoloa  area. PM Rajiv Gandhi was under pressure from AIDMK to intervene and protect the Tamils of Northern Sri Lanka.
Accordingly, an armada with civil supplies was despatched from Chennai by India but it was intercepted by Sri Lanka Navy and was reverted.
On 04 June 1987, Operation Eagle was launched and IAF IL 76 escorted by Mirage 2000 dropped 100 tonnes of supplies in Jaffna. SLAF suspended Operation Liberation after diplomatic negotiations on 9 June 1987. The famous Sri Lanka Peace Accord was signed on 29 July 1987 at Colombo between Sri Lanka President Jayewardene and then Indian PM Rajiv Gandhi.
Indian Peace Keeping  Force (IPKF) commenced Induction by air and sea route at first light of 30 July 1987. Lt Gen Depinder Singh PVSM, VSM . GOC-in- C Southern Command was nominated as the Overall Force Commander (OFC) with HQ I Corps, 36 Infantry Division, 54 Infantry Division, elements of  2 Armoured Brigade and 340 Infantry Brigade Group under command as the Army component. It was supported be 25 Ships and 2 Submarines of Indian Navy and 2 Combat Squadrons , 3 Transport Squadrons and 22 MI17 Helicopters of IAF.
The main task of IPKF was to keep the two warring forces away from each other. Disarm the militant groups, ensure Sri Lankan troops pull back to pre-1984 positions and not carry out offensive missions against LTTE and other militant organisation.
All hell broke loose on 5 October 1987, when 17 LTTE prisoners who were apprehended by Sri Lanka Navy committed suicide en route from Palaly to Colombo. LTTE declared the accord as null and void and executed eight Sinhalese Police men held as prisoners and killed 200 Sinhalese civilians on 6 October 1987.The orders were given to use force and 36 Infantry Division was inducted.
IPKF carried out demonstrative raids and apprehended 131 militant and recovered 27 weapons. LTTE retaliated by attacking Indian army posts of 1 Maratha and 5 Madras which were foiled, They also ambushed a CRPF patrol and killed four Jawans on 10 October 1987. Thus was declared an open war against IPKF.
Jaffna was the main target for IPKF as it was the strong hold of LTTE. A five prong attack including a heli-borne operation was launched on mid night of 11/12 October. The team comprised  a 10 Para Commando sub team and a Company of 13 Sikh LI. Its objective was to apprehend top leadership of LTTE. The information was leaked and when the Heptrs arrived at fields of Jaffna University, they were heavily fired upon. The Para Commandos slithered down and fought their way to cover, but, only 30 soldiers of Sikh LI could be dropped where two platoons were detailed.  The Helicopters were damaged and also unable to go back to the Drop Zone under heavy fire. 29 Sikh LI troops made the supreme sacrifice. There was one survivor who related the gruesome incident.
After this incident, 4 Mountain Division and 57 Mountain Division were also inducted and Jaffna was finally captured on 22 October 1987 after destruction of the LTTE stronghold, however, all LTTE leaders managed to escape into the jungles.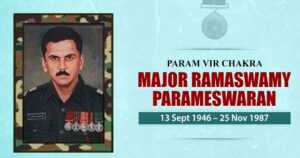 Major Ramaswamy Parameswaran was posted to 8 Mahar Battalion on 30 October 1987 as the unit was proceeding to Sri Lanka as part of 91 Infantry Brigade and he, being a Tamil knew the language. On 24 November 1987, he was returning to base after a long cordon and search operation. At midnight, near Kantharodai village in North Jaffna sector, his column was ambushed by a group of LTTE militants. He and his team counter ambushed the assault group of militants from the rear and boldly charged at them. In close quarter battle, he killed several militants but one militant presumed dead shot him in the chest. He snatched his Rifle and killed him with the bayonet; he pressed on the attack while profusely bleeding and motivated his troops till he breathed his last. The ambush was broken and all militants were killed. Major Ramaswamy Parmeshwaran was awarded Param Vir Chakra posthumously on 26 January 1988 for displaying most conspicuous bravery, dauntless leadership, bold courage under effective enemy fire .
The IPKF command changed and Lt Gen A S Kalkat was appointed new OFC on 29 February 1988. IPKF was no more welcome in Sri Lanka either by the Sri Lankan Government or by LTTE. Sri Lanka Government  told Indian PM to withdraw but Rajiv Gandhi was adamant. Finally, with change in Government in India, the new PM,  V P Singh, called off the Peace Mission and all Indian troops were de-inducted by 24 March 1990.
The total casualties of Indian troops were 1287, Sri Lankan troops (including police) lost 23,790 and LTTE cadres lost approximately 27,000 lives. India's former PM Rajiv Gandhi was assassinated on 21 May 1991 by LTTE suicide bomber Thenmozhi Rajaratnam alias Dhanu at an election rally in Sriperumbudur, Tamil Nadu. She was accompanied by Shubha and Shivarasan.
The story finally ended  with a full fledged offensive by the Sri Lankan Armed Forces which commenced on 8 December 2006 in Batticoloa district in the East and Jaffna area in the North. Air force fighters bombarded the suspected locations and Armour was used.  Annuradhapuram was captured by SLAF on 5 April 2009. Sri Lanka PM declared total victory on 16 May 2009. LTTE admitted defeat on 18 May 2009 as LTTE supremo Velupillai Prabhakaran was killed along with his close aides. Thus, the 26 Years old Civil War in Sri Lanka finally came to an end.