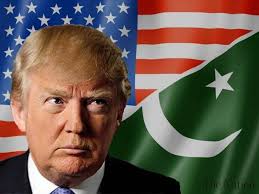 Vikas Khanna
Of late, Pakistan has been failing to read the new pitch laid-out by the global community, particularly, the United States. Accustomed to playing on a placid wicket with straight deliveries, Pakistan has been facing bouncers since the ascendency of Donald Trump as US President.
Taking off from his statements while announcing the US administration's Afghanistan policy last month, Trump trumped Pakistan again during his maiden speech at the United Nations General Assembly. Though he did not hit Pakistan directly, his disenchantment was obvious.
"We must deny the terrorists safe haven, transit, funding, and any form of support for their vile and sinister ideology," Trump said adding "we must drive them out of our nations. It is time to expose and hold responsible those countries who support and finance terror groups." No prizes for guessing who was on the firing line. While staving off the bouncer, Pakistan took a body blow and dropped to its knees in agony.
Pakistan might have brazened it out, but Trump did succeed in inflicting excruciating pain on its no-more ally.  By naming the Taliban and al-Qaeda along with Hezbollah, the message was clearly directed at Pakistan and Iran. That Pakistan has been providing sanctuary to the first two militant groups along with several others who are active in Afghanistan is now an open secret.  These acts by Pakistan severely jeopardise US operations in Afghanistan.
Early this year, the US administration had rattled Pakistan when the Pentagon refused to pay $350 million in military aid to it for not doing enough to tackle terrorism. But Islamabad chose to gloss over it as a "wide delivery" as Washington had suspended and waived off aid to its once close ally several times in the past.
The pressure has been maintained with the latest warning to Pakistan by US Secretary of State, Rex Tillerson, that the US may take punitive action against the country if it does not crack down on terrorists.
There's been an erosion in trust because we have witnessed terrorist organisations being given safe haven inside Pakistan to plan and carry out attacks against US servicemen, US officials, disrupting peace efforts inside Afghanistan,' said Tillerson in his very blunt statement.
Latest reports suggest that the US will be sending its senior officials to Pakistan in the coming days to keep the pressure on Pakistan. These developments suggest that the US is unlikely to allow itself to be blackmailed as Pakistan has been doing in the past.
 While Pakistan was still smarting from verbal missiles emanating from the US, the Chinese policy on Kashmir came as a second rude shock. China stumped Pakistan by refusing to bat on its behalf over Kashmir. Pakistan Prime Minister Shahid Khaqan Abbasi's demand that the UN Security Council resolution on Kashmir be implemented did not curry any response from China.
Within hours of Abbasi's address, Chinese foreign ministry dismissed calls for implementation of the UN resolution on the Kashmir issue. "The Kashmir issue is left over from history. China hopes India and Pakistan can increase dialogue and communication and properly handle relevant issues and jointly safeguard regional peace and stability," Chinese foreign ministry spokesman said.
China saw through the googly bowled by Pakistan's prime minister. It fully realised the Pakistani game plan of exploiting mistrust between Beijing and New Delhi over the Doklam issue. That the two countries could resolve the over two-month-long Doklam issue peacefully ahead of the BRICS summit, caused more anxiety to Pakistan. During the summit, China bowled a Yorker at  Pakistan by becoming party to a joint resolution naming terrorist groups like Taliban, Al-Qaeda, the Haqqani network, Lashkar-e-Taiba, Jaish-e-Mohammad, (all hosted by Pakistan) as a security concern in the region and seeking decisive action against them.
The hit wicket came when Pakistan's Permanent Representative to the United Nations Dr. Maleeha Lodhi held aloft a photograph of a severely injured young girl, claiming that she was a Kashmiri victim of Indian atrocities. "This is the face of Indian democracy," she claimed while showing the photograph. It was later confirmed that the girl in the photograph was not a Kashmiri as claimed by Lodhi but a citizen of Gaza who had suffered injuries during Israeli air raids in 2014.
Lodhi's goof-up embarrassed Pakistan and invited criticism from all quarters, including people from her own country. Pakistani citizens took to social media platforms to lambast her for bringing disrepute to the country and showing it in a poor light.
To make matters worse for Pakistan, UN General Assembly President Miroslav Lajcak has said that he would certainly think about suggestions to prevent the platform from being used to depict fake pictures.  After suffering humiliation from all quarters, the red-faced Pakistan has no option but to surrender.
Sadly, Pakistan continues to refuse to listen and learn. Even on the back foot, it tried to play to the (domestic) gallery by painting the US as the main villain for the growth of militant groups. In a Q&A session at the Asia Society in New York early this week, Pakistan's foreign minister Khawaja Asif said that by "wrongly" supporting the US in a "proxy war" in Afghanistan against the Soviets in the 1980s, Pakistan paid a very high price. Jihadist elements were nurtured by both the US and Pakistan during this conflict. "Don't blame us for Saeed (referring to Hafiz Saeed, the mastermind of the Mumbai terror attack that killed 166 Indians and foreigners), these people were your darlings 20 years ago, they were being dined and wined in the White House. Now you say go to hell, Pakistan," said Asif.
The international sentiment is definitely not in favour of Pakistan and the country now stands exposed for all of its misdeeds. It would be best for the country to admit its mistakes and join the global campaign against terror. Times have changed. There is growing clamour against terrorism. If Pakistan does not want to play ball, then it is facing red card in international circles. The ball is firmly in Pakistan's court.
(Vikas Khanna is a reputed journalist and commentator)