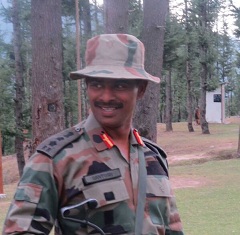 Defenceinfo Bureau Report
Colonel Santosh Mahadik, SM, the Commanding Officer (CO) of 41 Rashtriya Rifles was killed in a fierce encounter with terrorists who had infiltrated from across the border and were hiding in the Manigah forests of district Kupwara, North Kashmir. The officer made the supreme sacrifice while leading his troops in the operation from the front. Even as their CO breathed his last the troops, as an ode to his bravery and commitment, continued with the operation to hunt down while reinforcements were rushed in.
Colonel Santosh Mahadik was an officer of the elite 21 Para Special Forces and had volunteered to command a Rashtriya Rifles battalion in operations. He had already been decorated with a Sena Medal for gallantry exhibited in counter terrorist operations in the North east as part of Operation Rhino. A tough and fearless soldier, he was known to be relentless in pursuit of terrorists and had many successful operations to his credit.
His classmates from Sainik School Sattara remember him as a person with a calm and gentle demeanour behind which was nurtured a steely resolve for doing his best for his unit, his Army and his Nation. They feel that it was this tenacity which propelled him towards excelling in his profession as he did in sports while in school. His qualities of courage under fire led to this ultimate sacrifice for the cause of his country.
Chief Minister Mufti Mohammad Sayeed, while offering tribute to the martyred soldier, has conveyed his heartfelt sympathies to the bereaved family and prayed for the peace of the departed soul.
Lt Gen DS Hooda, Army Commander, Northern Command has expressed deep condolences on the loss of this brave Commanding Officer. He said, "We owe a deep debt of gratitude to officers like Santosh who lead from the front and are willing to pay the ultimate price in the fight against terrorism."
Colonel Santosh Mahadik leaves behind his wife and two children aged eleven and five years. His home address is, Gajraj Colony, Godoli, Sattara, Maharashtra.