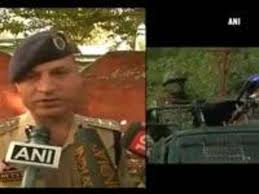 Defenceinfo Bureau Report
Asserting that the terrorists responsible for the attack on Army and the Border Security Force (BSF)  camps in Baramulla, Kashmir, fled the spot using the dark and heavy civilian population as a shield, the police on Monday claimed that the security forces could not retaliate in a heavy manner fearing civilian casualties.
Briefing the media here, district Senior Superintendent of Police Imtiaz Hussain said that an investigation is underway to ascertain which outfit the terrorists belonged to.
"There were around three-four terrorists. They attacked a BSF sentry post and then both the army and the BSF responded in kind, which is why the terrorists were not able to enter the army camp next. But one BSF jawan was killed and another injured during the operation," he said.
"There is a lot of civilian population around the camps, which is why the security forces were not able to respond in a heavy manner. Otherwise there would have been a lot of civilian casualties. Taking advantage of the dark and using civilians as shield, the terrorists ran off," Hussain said.
The terrorists attacked near a camp of the 46 Rashtriya Rifles in Baramulla late on Sunday night. They tried to enter the camp through a public park near it, but failed to breach the security.
IG BSF, Punjab Frontier Anil Paliwal has said today that an alert has been sounded on the border in the wake of the Baramulla attack and the following ceasefire violation in Poonch, assuring that the situation is under control.
Pakistan also violated ceasefire in Shahpur along the Line of Control (LoC) in Poonch, Jammu and Kashmir today. Heavy mortar shelling and firing was reported from the Pakistani side in Poonch. The fresh attack comes just after terrorists attacked in defence camps in Baramulla, Jammu and Kashmir, in which a BSF personnel was killed.