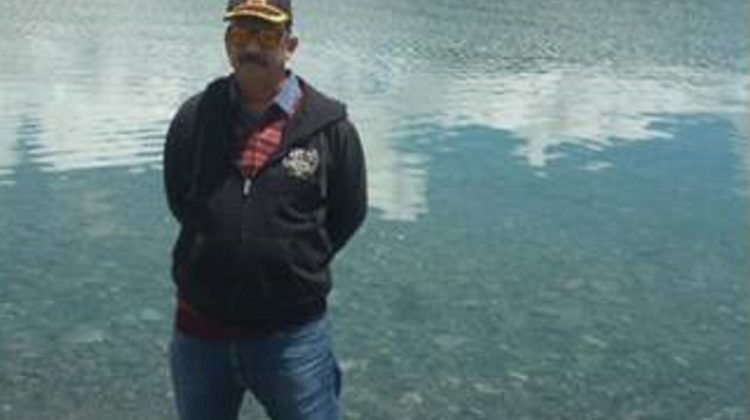 Col Alok Mathur, SM ( Veteran)
Flight G8-205 of First Air took off from Indira Gandhi International Airport Terminal 2, at dot 0500 hours for Leh on 02 August 2021. I was a passenger on the flight, on my way for a much awaited vacation in Ladakh, a region that I have been visiting regularly in to rejuvenate my spirits.
It was drizzling and overcast with moving monsoon clouds and faraway a silver lightening streak flashed across the sky. With in half hour, the Airbus A319 was above the white cotton river of clouds and the Pilot announced cruising at 750 knots at the height of 30000 feet and we could unfasten our seat belts. We were heading north. We could now see the golden crescent in the East as gradually the sun started peeping up from the semi circle shaped horizon. A million dollar view. I offered silent prayers to Surya Dev and observed the beauty of nature.
The flight passengers were divided in to two distinct groups comprising Army personnel returning from leave and overexcited groups of tourists from the sub-Himalayan plains of India .The Jet flew over snow covered peaks of Pir Panjal and Zanskar Ranges. As we were crossing Indus, the Pilot once again announced that in next 15 minutes, we will be landing at Kushuk Bakula Rinpoche Airport .The under carriages opened up with a thud. Air brakes were deployed and Aircraft slowly kept losing height and at 0615 hours finally landed on the Tarmac.
After a perfect landing, the plane turned on the Taxi way headed for the parking bay for de-boarding. Leh Airport , one of the highest airfields in the world, is sandwiched between River Indus and NH1 at height of 11200 feet. It is a strategic Airfield serving for both civilian and military purposes and is a vital link between Ladakh and rest of India.
Ladakh, now a Union Territory, the northern most region  of our country, derives its name from a Tibetan  dialect word – La Tags meaning Land of Passes (La) and mountains ( Tags).The region was also called  Mar Yul meaning Red Land and Kha Pacha( Land of snow ) by Chinese travellers. Ladakh is inhabited by a special race of People called Bot Pa, who profess Buddhism and speak Tibetan dialect based local language.
The land of Lamas was a remote part of the state of Jammu- Kashmir since the days of Dogra rule and an integral part of India since October, 1947. The state enjoyed special status under provision of Article370 and Section35A.Ladakh became a separate Union Territory by an Act of parliament in August 2019.
Ladakh has four major regions of which Leh and Kargil are in India . Aksai Chin region was occupied by China in 1956, and Gilgit-Balistan is under Pakistan control since 1948. Leh, the capital of Ladakh and is called Zeneva of the east, is located at height of 11200 feet. Kargil town is another important town about 230 kms from Leh on NH 1 (Leh Srinagar Road).
The total area of united Ladakh is approx 96701 sq km .The ceremonial Head is King Namgyal .The current official Head of State is Lt. Governer Radha Krishan Mathur. Jamyang Tsering Namgyal is the sole MP in the Lok Sabha .The geographical location is between 30 to36 Degree N Latitude and 76 to 79 Degree E longitude. The whole area is known as a cold desert .The Altitude varies from 2750 metres in Kargil to 7672 metres (22500 feet) at Sasar Kangri,Siachen in Karakoram range. The temp goes down to -40 degree in Siachen region in winters.
Ladakh was part of Great Indian Empire of Emperor Ashoka in 250 BCE, who introduced Buddhism to this region. Fa Hein travelled to Ladakh in 400 CE and wrote that the area was under a Tibetan Prince and his guru Kum Lama from Lhasa. During 10thcentury, Ladakh, as an independent Kingdom was ruled by Gyapalo Lachang Uthpala, followed by his son Trasingon and Lotrochoden till 1470 CE.  Bhagen Namgyal ruled till 1500 CE. In 1517 CE, Abu Sayed Mirza of Kashgar invaded and captured Ladakh. Namgyal fought back and regained power and ruled till end of 16thcentury. In early 17th century, Nawab of Skardu, Ali Mir, initially captured the king of Ladakh and established his rule. Later he married the daughter of King Jamyang Namgyal and restored him his kingdom. Singge Namgyal rebuilt all Buddha statues and temples broken by Ali Mir and established new monasteries of Hemis, Cheme and Temisgram. Singge was succeeded by his son Deidan Namgyal .He followed his father's policies and restored the glory of Ladakh. During his reign, Tartars from Balistan attacked Ladakh. The King escaped to Kashmir and asked aid from Ibrahim Khan, Governor of  Aurangzeb. Deldan had to embrace Islam and his kingdom was restored to him by Moguls.
Maharaj Gulab Singh after establishing Kingdom in Jammu Kashmir sent Legendary daring General Zorawar Singh to capture Ladakh and bring it under suzerainty of the Sikh empire. Zorawar Singh invaded Baltistan and captured Yark land also .Chinese forces attacked Zorawar Singh while he was on a campaign in Tibet in November 1841 and occupied Leh. Zorawar Singh was killed. Maharaja  Gulab Singh sent additional forces with General Basti Ram and within 6 weeks the Dogra forces recaptured not only Leh but also Balistan. The Dogra dynasty then ruled for 100 years in entire Jammu Kashmir including Ladakh and Balistan, till partition of India in 1947 when the incumbent ruler  Maharaja King Hari Singh decided to join Indian Union.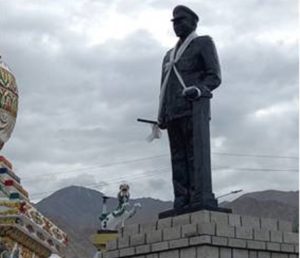 Statue of Col Chewang Rinchen
Kurshuk Bakula Rinpoche was the legendary local hero, who led the Ladakhis against Razakars from Pakistan in 1947-48 and supported Indian forces. He was two times MLA and two times MP from Ladakh. Col Chewang Rinchen, another Ladakhi hero, was awarded Mahavir Chakra in 1948 for his bravery against Pakistani invaders and again Bar to MVC in 1971 for assault in Balistan. He was also awarded Sena Medal in 1962 China War. I always go and salute his  grand statue on arrival , located on Junction of NH1 and NH3 built by Ladakh scouts.
Ladakh is Jewel of India and is most attractive destination for Indian and foreign tourists. Srinagar, which was the darling of Bollywood, lost his charm due to the bane of terrorism in the valley since 1990. There are three routes to approach Leh, the capital of Ladakh.
Option 1  Air route – Delhi to Leh. There are eight flights from Delhi to Leh. The travelling time is 1 hour 15 minutes. The link is operational throughout the year. There are one each flight from and to Srinagar and Chandigarh. Day acclimatization is must for all new arrivals.
Option 2 NH 1 (Srinagar Leh National Highway). The highway is 434 km long and road classification is Class 40.  The road link is operational only from May to Oct. Rest of the year, it is snowbound and not motorable.  Zojila is the bottleneck. The start point is Srinagar via Gandarbal, Kangan, Sonamarg , Baltal ( Gateway to Amarnath), Zoji La pass (11578 feet), Ghumri, Dras, Kargil, Mulbekh, Namik (12220 feet), Kharbu. Fatu La (13479 feet) Khalse, Saspol, Nimmu to Leh.  Ladakh range is overlooking from North. A tunnel under Zojila is under construction .Once completed will make NH 1 operational throughout the year.
Option 3 NH 3 (Manali to Leh National Highway) The alternative route link from Manali in Himachal  Pradesh to Leh, was operational from 1989 and now upgraded to National Highway. The total distance is 474 kms. The road passes through very high passes. Rohtang La (13052 feet), Keylong, Darcha,  Bara Lacha La(16049 feet), Serchu, Lachung La (16616 feet ), Pang, Tag lang La (17582 feet) , Nika la (15547 feet), Upshi, Karu to Leh. It's a two day route. The route is mostly used by Trucks and bowsers .60 percent of the route is in good condition but few stretches need lot of improvement. The road passes through Thikse, Stanka and Shey monasteries and Tibetan village of Choglamsar. New Atal tunnel, a 9 km long marvel of engineering, under Rohtang Pass has reduced the distance between Manali and Leh by 46 kms .
There two interesting landmarks on NH 3 between Serchu and Pang at 22 loop ,Captain Somesh Srivastva Memorial and Thirsty loop where all drivers offer Water bottles.  These are places of historical interests for tourists. Leh Fort is a nine storey palace built by King Sengge Namgyal in the 17th century. It is located on the Northern edge, on a dominating height overlooking the entire Leh town. It is miniature of famous Potala palace of Lhasa. There are several monasteries and palaces; the most famous are Hemis Gompa, Alchi , Spituk, Phyang, Shey Palace, Thikse, Matho and  Stok Royal Queen Palace.
River Indus, also called Sindhu River, the life line of Ladakh , flows from east to west enters India near Demchok, touches Upshi 70 km from Leh. Its green transparent water flows along south of the highway and enters POK north of Kargil and finally terminates in to Arabian sea at Karachi. There is a site under development for Annual June Sindhu Darshan festival. Nimmu is on the confluence of Indus and Zanskar Rivers also called Sangam, which is a beautiful rafting site,40 kms from Leh, enroute you come across the famous Pathar Sahib Gurudwara and Magnetic hill.
Pangong Tso, the turquoise blue swan lake about 150m kms from Leh is at an altitude of 14270 feet above sea level. It is 134 kms long and 5 kms wide. The International border, now Line of Actual Control bisects the Lake between India and China. Pangong  means "Hollow cavity."  The mountains of Changchenmo range in the North, offer beautiful reflection in the blue and green transparent rippling waters of the Tso. The southern edge is the Pangong range ( Kailash range) extending south till Spanngur Tso and further down to Rezang La and Rechin La. Nomadic tribe of Chang Pa live in small villages along the lake. Now, it is open to tourists after almost one year of hot deployment due to the Indo-China face-off in Eastern Ladakh. The route is via Karu, Shakti , Zingral, Chang La Pass ( 7,688 feet), Darbuk,  Phobrung and Lokhum village. The eastern tip of Tso is at Village Rudok in Tibet  I sipped the clean water of Tso, it was brackish.
Tso Moriri, is another spectacular lake 140 kms from Leh towards Upshi Nyoma highway Moirir The word means a mountain Lake, The river Indus has to be crossed at Mahi bridge; it is 26km long and 5 Km  wide at the height is 4572 metres. Kurzok village is located near the lake. It can be approached from Tag Lang La side also.
Khardung La is the highest motorable pass on Leh, Hunder, Nubra Siachen Axis. The height of the pass is 18330 metres. It is a popular tourist attraction. There is snow all over with strong chilly wind howling.  There is a Gompa on hill top with three Chortans. An Army Post of Siachen Warriors guards the Pass. Nubra valley is 86 kms and Siachen base camp is 164 kms from Khardung La. The enchanting Buddha statue at Diskit monastery stands tall in the background of Karakoram.
Border Road Organisation is the life line of Ladakh and needs to be applauded by all. I interacted with Cheerful Jharkhand  workers in GREF camps involved in clearing the landslides and maintaining the roads .They told me to inform Modi Ji that when we were inducted by Air, during Chinese threat the rates were 30000 pm now reduced to 18000 pm and our return Journey in winters is a costly affair. Lamchung ,my Nunnu cab driver told me smilingly that please tell Mathur Sahib ( Lt Governer) to lift  Prohibition.
This was my fourth visit to Leh. Initially as an young Lieutenant on a long range foot patrol from Manali to Leh in 1982, later while serving with DRDO and finally  as veteran on independent solitary missions . Ladakh is a mystical land with singing rivers, rugged terrain, crystal blue sky, snow capped peaks, chanting monks, chiming monastery hills, Manpas in Gompas, colourful costumes, cheerful Nunnus and smiling Dolmas, call me again and again.