S Ranjan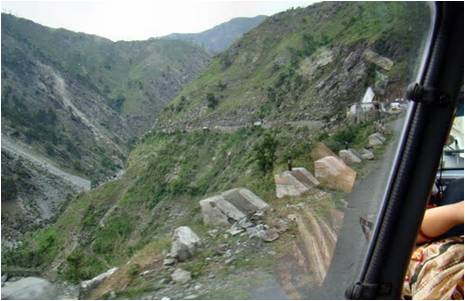 It was with a lot of apprehension that I embarked, this year, on a much longed for visit to the valley of Kashmir, for the first time in my life. All earlier plans were put down by my family with a terse diktat, "no, it is too dangerous to go there". In my maiden journey across Kashmir as a tourist, my understanding about the beautiful valley underwent a complete change. The valley has been presented to outsiders as a paradise which is under brutal political suppression by the government and the Army. Yet another image is of a region suffering under the brutality of Pakistan sponsored Islamic terrorism. My journey was my way of knowing the reality to understand as to which of these two pictures is true.
I landed, with my group, in Jammu to start my journey along the Jammu-Srinagar highway into the valley. Our driver, Sakeel, a native from Qazikund in the Kashmir valley, told us that we must leave early to avoid the traffic jam. As we proceeded, we came in contact with an Army convoy also moving towards Srinagar. We have never seen so many vehicles moving in such an orderly manner before. As we stopped for a cup of tea, Sakeel, who regularly works with the Army, introduced us to a large number of Kashmiri youths who, while working for the Indian Army, were a part of the convoy. It was a pleasure talking to them and hearing their experiences on the road, day after day.
As we proceeded further Sakeel narrated numerous stories about the drivers and their adventures with the army. We got to understand, quite incredulously, that the Army employ's a huge number of civil vehicles with drivers. They trust them with the sensitive job of transporting their men and material. This is evidently no small a feat in an environment where one simply does know who can be an informer of terrorists. Despite the risk involved, the army is taking the service of Kashmiri drivers to ferry its people. This came across as a testimony to the trusting relationship of the men in uniform with the people of Kashmir.
Sakeel went on to narrate instances where land mines took lives of innocent people instead of the army personnel who were the prime targets. I could see army men standing in pairs on high grounds overlooking the road. I was told by Sakeel that the process of road opening takes place in the wee hours of the morning. This tedious process is done to make the road safe not only for the army but also for common men like me who are out to enjoy themselves. It is because of the army that all of us revelers were travelling on National Highway 1 without any fear.
Sakeel, with his penchant of talking continuously, gave a long exposition deriding the political establishment while singing praises for the army. This was probably because this is where he earns his livelihood from. He was very enthusiastic about the tourist scene this year. He was sure that this year's earning would enable him to repay the loan of his three year old Scorpio. He and his whole family are into travel business; he now has plans to buy a new Mahindra SUV to add to his fleet. Sakeel then gave us a sage tutorial as to how rich travelers want luxury vehicles for comfortable journeys.
When we reached Qazikund after almost thirty minutes of waiting in a long car queue at the Jawahar tunnel, I was struck with a sudden change in the scenario. Thereafter, throughout my journey in the valley I noticed two things, one traffic and second new houses. The manner in which palatial bunglows are coming up in Srinagar, the city will probably double its size in two years time. When I asked Sakeel about the car craze he said that in the last two years two new number series have been introduced in valley, even interior areas have cars now. I also saw several new road construction projects underway which, I was told, were being undertaken through central government schemes. The seven hours journey was, visually, one the most beautiful that I have ever undertaken. It was also a travel through the political landscape of the region. Throughout this voyage, I got to traverse through different hamlets of the state where changing demography and culture was very visible.
I went as far as Rampur and Uri in Kashmir. I am happy that I did not come across any violence, even Baramulla, which is said to be the hot bed of terrorism, was peaceful. The tranquility of small towns nestled in a valley as seen in other regions of the country was visible here also. My observations may be one sided, I may have been lucky, but this was my perception as it was of others who were visited the valley along with me.
The millions of tourist who are visiting the valley are doing so on implicit trust of the security apparatus. The presence of the army, while seen from the confines of a drawing room, may seem to be uncomforting but on ground it is very reassuring. The soldiers do not look threatening and menacing to the traveler, but to the terrorist they must be a very frightening sight. I feel the system which has brought wealth and happiness to valley after the debilitating dark days of the 1990s should be allowed to continue. It is important for this trust to remain intact if the valley wishes to continue on the path of prosperity. If wealth keeps coming in from legitimate sources, terrorism will automatically lose its lustre for the youth who will, like Sakeel, look towards buying SUV's instead of guns.