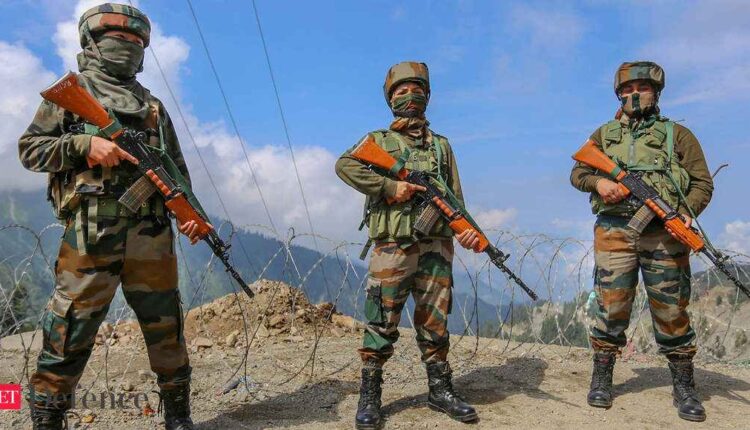 Dr. Simrit Kahlon
Winds of change are taking place in the Union Territory of Jammu and Kashmir in more ways than one. A welcome development in recent times is enhancement in induction of women in security forces operating in the region.
The ball was set rolling in August, 2020 with deployment of what the media termed as "Rifle Women" on duty along the Line of Control (LOC). These Rifle Women are soldiers of the Assam Rifles, an paramilitary establishment officered by the Indian Army that has made a sterling contribution in operational, insurgency and terrorism environments.
This deputation of nine women led by Captain Gursimran Kaur of the Army Service Corps (ASC), has been given operational responsibility at "Sadhana Post" located at an altitude of 10,200 feet in the Tangdhar and Tithwal areas near the LOC. All vehicles coming from about 40 villages in this area cross the Sadhana Pass to enter other parts of Kashmir and responsibility to search these vehicles lies with the Indian Army.  Difficulty was being faced in the search of vehicles carrying women passengers; now the job is being done by the Rifle Women. It is a difficult and dangerous task since the lookout is for drugs, narcotics, arms and ammunition
The women platoon is fast getting used to the LOC environment marked as it is with extreme cold climate  and cross border fire of small arms, automatics  and artillery.  They are in good morale and high spirits while being conscious of the fact that they are making history.
The Indian Army has, in January, 2020, commenced induction of women as soldiers in the Military Police. Undoubtedly, they too will get an opportunity to operate in J&K and Ladakh once they pass out from their training academy.
Earlier in the year, in January 2020, as many as 21,000 aspirants turned up during a police recruitment drive for the women battalions in Jammu and Kashmir Police to fill only 1,300 vacant posts. "Many girls in the Union Territory dream of joining the forces and most of them are well-educated to suit the position. Their coming out in such large numbers proves their eagerness to join the police force," said Danish Rana, IPS, Chairman of the J&K Recruitment Board.
In the erstwhile state of Jammu and Kashmir, Women Police Station came into being somewhere in the mid-1990's. The need was felt due to a limitation in dealing with ladies  in crimes related to harassment of married women by their in-laws , torture and dowry deaths etc. What started as a small experiment in Jammu at a time when a closed society prevailed has now grown into a dynamic and vibrant institution with the Women Police stations becoming a promising bulwark in policing functions.
Women intake in the police broke that curse of rampant violence against women in the rural areas. Distressed voices started being heard and outreach to rescue became very encouraging.
Women Police in Jammu and Kashmir 
Policewomen also play a sterling role in the all important counseling process whereby matrimonial disputes are sought to be sorted out by the Police. Since the fear of stringent laws is palpable the aggressors who are normally from the boy's side buckle down. Over the years, a strong message has been given to law breakers that they should not mess around as there is now a mechanism to protect the rights and honor of the victims.  Women police personnel are the bedrock of this message. Policewomen in J&K are now being assigned multifarious duties like law and order, security, regular crime and even heading the District's which is a great leap forward.
"I have had the privilege to initiate/inaugurate a Woman Police Station in Kathua in 2005 when I was the SSP of the District. The second one was in Rajouri in 2016 when I was the DIG of the range. Women Police Stations have achieved tremendous success in curbing matrimonial disputes and offering a ray of hope to the distressed woman caught in the spiral of human right abuse. It is highly salutary," says Johny William, retired Inspector General of Jammu and Kashmir Police from the IPS cadre.
The people of Kashmir have been facing extraordinary stress due to a surcharged environment of violence caused by foreign sponsored terrorism. It has created a new and challenging dimension with regard to family and civil disputes, especially those involving women. It is here that the Women Police personnel deployed in Kashmir play a very significant and extremely sensitive role.
"Women Police Stations in Kashmir are playing an active role in all matters concerning law and order to include checking crimes against women and security checks of women to curb transportation of drugs, arms ammunition etc. They are also called upon to assist in crowd/riot management where women are involved. Women Police personnel in Kashmir are motivated and committed to their sensitive jobs," says Farooq Wani, Editor of Brighter Kashmir a popular local newspaper published in the valley.
The Central Reserve Police Force, too has a dynamic presence of women soldiers since 1986 when the  first 'Mahila' battalion was raised at Jharoda Kalan, Delhi. The Mahila Battalions have taken part in several peace keeping assignments of the United Nations and have considerable expertise in dealing with situations of Insurgency, terrorism and internal security. Women soldiers are also a part of the elite Rapid Action Force (RAF) of the CRPF. They have a considerable deployment in J&K where they have proved their mettle in some very critical conditions.
It is very heartening to note that women are getting actively involved in sensitive duties of internal security, counter terrorism and counter infiltration right up to the LOC in Jammu and Kashmir. Their presence greatly facilitates effective dealing with the women population and overall smooth functioning of the security forces. The "womanly touch" is an added and very crucial force multiplier. They have proved their mettle. The decision taken to actively involve women in these duties is definitely a step in the right direction and is paying good dividends
(Dr. Simrit Kahlon is an academician, writer and commentator)