Simrit Kahlon
International Women's Day is celebrated annually on 8 March to commemorate the cultural, political, and socio-economic achievements of women around the world. It is also a focal point in the women's rights movement, bringing attention to issues such as gender equality, reproductive rights, violence and abuse against women.
The Srinagar based Chinar Corps celebrated International Women's Day today at Badami Bagh Cantonment, Srinagar by inviting a galaxy of women to share their thoughts and aspirations, more significantly, the struggles and challenges faced by women in Kashmir.  The audience consisted of young Kashmiri women including NCC girls.
The eminent speakers were Dr. Neelofar Bhat, Principal, Government Degree College Langate who spoke on the role of education in women empowerment.  Mrs. Safina Baig, Chairperson of State Women's Commission  spoke about Kashmiri women being the pillar of traditional Kashmiri society. Captain Kanika from Chinar Corps shared her experience and challenges in her journey to become an Army Officer after losing her husband Major Kaustubh Rane, Sena Medal (Bar), who laid down his life in the line of duty in Kashmir. Shiraza Malik, a government employee and  Zeenat Zeeshan Fazil, Kashmir Bureau Head of Republic TV also highlighted issues being faced by women. Many young girls from amongst the audience spoke about women rights, gender bias, hopes, aspirations and their experiences of Indian Army's initiatives such as Vocational Training Centres for empowering women in remote areas.
Lt General DP Pandey, General Officer Commanding, Chinar Corps, conveyed his compliments to all the participants and the gathering for celebrating the day with vigour and gusto. He highlighted that the sky is the limit for women, especially when it comes to career and other professional domains.
In Ladakh, a seminar was conducted at the Women Empowerment Centre, Khumbathang in which  Captain Bhawna Chhetri spoke of various education and job opportunities available for women in the country including the Indian Army. The Vice-Principal of Army Goodwill School, Farona, spoke of the various steps taken by the Government of India for empowerment and welfare of women in the country.
These events are a testimony of  the continuous efforts being made by the Indian Army in Jammu, Kashmir and Ladakh to promote gender equality and to pay homage to the Kashmiri women by acknowledging their contribution towards the overall development of the society.
Jammu and Kashmir has a chequered history of foreign conquest and social turmoil. Through all such difficult times the women, especially mothers, have acquitted themselves with exemplary resilience and courage. They have made supreme sacrifices during long periods of violent disorder and successfully overcome insurmountable challenges to keep their families intact, safe and morally righteous.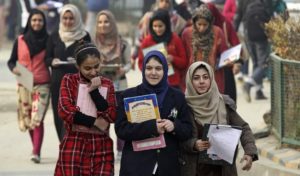 Empowered young women of J&K
Women, along with their children, have remained the most vulnerable victims of foreign sponsored terrorism and militancy in the region. The Army very well understood the trauma being faced by them and has , in response, given special attention to their needs though its welfare initiative –Operation Sadbhavna.
The women of the state (now Union Territory) have every reason to feel empowered and confident now that the shackles that were constraining them stand removed. Chief among them was denial of full-fledged rights to land and property, under the state Constitution of Jammu and Kashmir and due to provisions of Article 370 and Article 35A. The legislation passed by the parliament on 5 August 2019, led to the abrogation of Article 370 and article 35 A and liberated the women of the region.
The women are now looking at new vistas. In a welcome development many have opted to join the Indian Army and have either passed out or are under training in Officers Training Academy (OTA) Madras. Kashmiri girls, especially, are making a mark in the international sports arena. Recently, Sadia Tariq from Srinagar became the first Indian girl to win a Wushu World Gold Medal at the Moscow Wushu Stars event. Other women like Bilquis Mir and Tajamul Islam have done India proud with their sporting achievements. The sports council has seen a sharp rise in female registrations from Kashmir in various sports.
Why only the Army and sports, one would like to see women playing a dominant role in fields like medicine, law, corporate, administration, media etc. With increased higher education structures in the Union Territory which now boasts of IITs, IIM, AIIMs etc women will get unique opportunities to excel like their counterparts in the rest of India.
Women in Kashmir have a huge role to play in containing local recruitment into the evil fold of terrorism. Mothers and sisters need to shoulder the huge responsibility of saving their sons and brothers from evil designs of the enemy and also guide them towards gainful activities. It is also time for the youth to realise that it is the women of their family who are the most distressed and shattered when they meet an untimely and avoidable end.
Notwithstanding the foregoing, there is a lot of ground to be covered so far as full empowerment of women in the state is concerned. According to statistics, women fare poorly in workforce percentage parameters in comparison to other states of the country. Lack of employment opportunities along with low level of education are the biggest culprits in keeping women socially deprived and facing inequality
Exploitation of women in the workplace is a universal malady; special attention needs to be paid to this aspect so that women feel safe while going out to work. It also has to be ensured that working women are not exploited in terms of wages etc.
Women are the pillars of strength in all societies, if they take a lead others have no option but to follow. A sustained effort to ensure empowerment of women in Jammu, Kashmir and Ladakh with required momentum being maintained can, within a short period of time, make women important stakeholders in every segment of society. Such a situation will go a long way in ensuring much needed stability in the region.
(Simrit Kahlon is an academician and prolific writer)