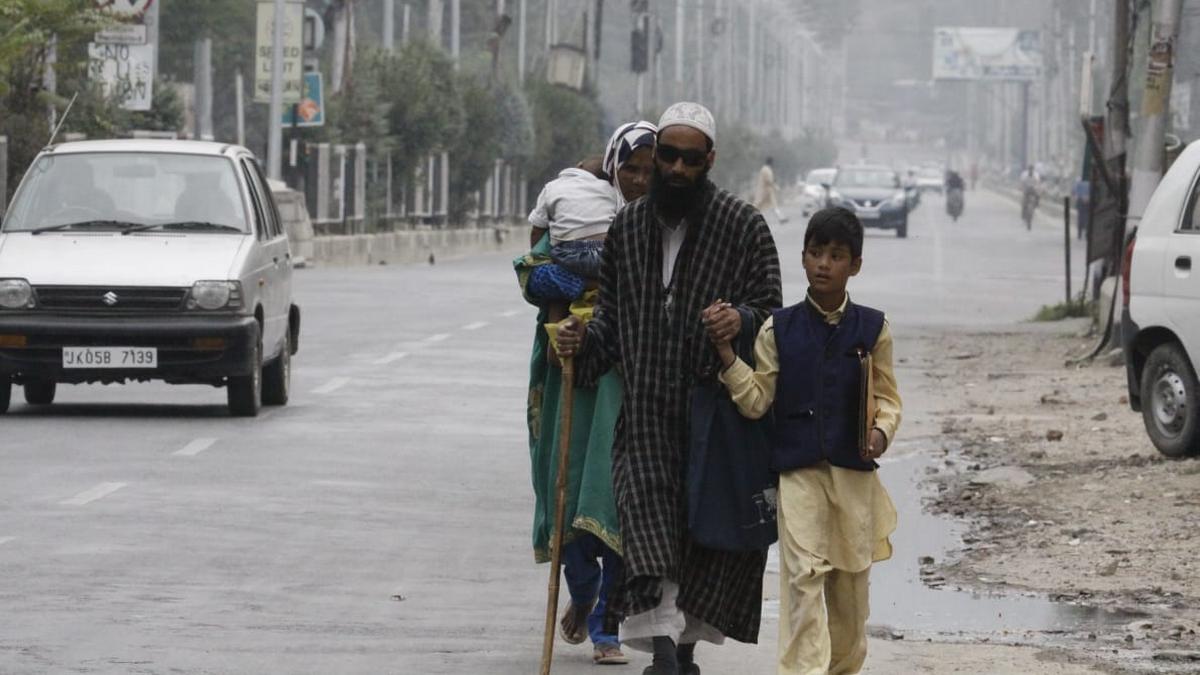 Brig (Veteran) Anil Gupta
Kashmir is fast returning to normalcy. The Central Government has decided to withdraw 100 companies of Central Armed Police Forces (CAPF) which were inducted post 05 August 2019, to maintain law and order. An obvious indicator of the improved situation while the security grid remains firmed in to give a stunning blow to diminishing terrorism. The "Hartal Calendars" are things of the past, stone pelting is rare and isolated, "Funeral Brigade" has become extinct, no more waving of Pak or ISIS flags, stray incidents of targeted killings and daily successful anti-terror operations are the new norm in Kashmir after the dawn of a new era. Majority Kashmiris are looking forward to a peaceful present and a bright future. Undoubtedly, there are still a few bad fish in the pond but gradually they are losing relevance as has been proved by the flop meeting organised by Dr Farooq Abdullah at his Gupkar Road residence with much fanfare. Media was agog with the hope of the much awaited revival of the political process in Valley with Abdullahs taking the lead.
The local media was overjoyed hoping a roadmap of political struggle to be launched by the grand old party of the Valley but the net result was a big disappointment. The meeting lasted for hardly any time in which supposedly a review of the events of entire preceding year was carried out. The presser later addressed by the usually fiery Farooq lacked fireworks. The sum total of what he said was a meek reference to Gupkar Declaration of 04th August 2019 and a decision to wait for release of all political detainees including their arch foe Mehbooba Mufti to chart further course of action. Someone rightly quipped, "Na Nau Man Tel Hoga, Na Radha Nachegi" (If the sky falls we shall catch larks). But there is much to be read between the lines for those who are still harping for restoration of 370, usually those who had benefitted most from the divisive Article. It is another setback for Pakistan as well.
Even the pivot of separatism in Kashmir Syed Ali Shah Gilani has realised the futility of his struggle for "Azadibarare Islam" (Freedom for establishing Islamic State). The most vocal supporter of Pakistan felt the change in the wind post 05 August 2019 and resigned from the lifetime Chairmanship of the Hurriyat. Apart from other things he also expressed his unhappiness with Pakistan. To placate him, it announced the conferring of highest civilian award Nishan-e-Pakistan on the veteran separatist leader. But the Deep State was playing games with Gilani, once their favourite. The infuriated Gilani refused to accept the award. A big slap on the face of deep state.
Earlier, Islamabad had tried to revive separatism by propping up an alternative to aging Gilani. However, the nefarious move was nipped in the bud by ever alert JK Police by arresting Ashraf Sehrai, their new favourite. Incidentally, Sehrai's son was a terrorist killed recently by the police. Pakistan's intent to prefer those having links with terrorists was obvious. Pakistan still refuses to acknowledge the new reality.
Pakistan once again is scouting for new Hurriyat leadership and is searching for younger leaders especially those who have been a part of terrorist organisations specifically from more hardened groups like Lashkar-e – Tayyiba (LeT). Once again the JKP has foiled their design by killing top LeT commanders in last few days.
Terrorism is on its last leg. Local support for the terrorists is vanishing. The local recruitment is drying up. The success rate of infiltration attempts has fallen. There is 50% decline in the killing of security forces. There is 73% reduction in law & order cases.About 400 terror supporters have been neutralised/arrested apart from killing of 130 plus terrorists so far.
Common man is feeling the effect of improved rural connectivity and other infrastructure. Over 600 languishing projects from 5-25 years have been completed. 19700 km of rural roads were built under PMGSY, highest ever, during FY 19-20. Another 5300 km has been sanctioned during the current FY. Many remote villages in Kashmir have been electrified now first time after independence. J&K has become the trend setter by announcing guaranteed health insurance for all its residents. Over 1900 projects recommended by Panchayats during 'Back to Village 1 &2 (B2V)' had been completed and work is apace to complete 2100 more. People are eagerly looking forward to B2V3 likely in October. In a first to bring added transparency and accountability into public expenditure, which was the biggest bane earlier, the government has put all of the 10573 infrastructure projects completed during 2019-20 into public domain for registering public grievances and feedback as well.
The common man is visualising the future with announcement of metro in both the capital cities, completion of Banihal tunnel, 600 km highway proposed along the border touching all picturesque tourist spots, the Delhi-Katra super highway cutting travel time to six hours, game changer Ujh Barrage and Kandi Dam project, 23 new KendriyaVidyalays, jobs under governments accelerated job scheme, setting up of IT parks and hopes of huge investments from both domestic and foreign investors.
People are also happy with the anti-corruption drive launched by the government. They are hoping that the growing drift between the bureaucratic machinery and them will be addressed quickly by the new LG. They also hope that connect between them and the administration will improve. The all-round vibes of positivity are being felt by all but Pakistan.
Despite Pakistan's obsession for Kashmir costing it dearly both economically and strategically it refuses to relent. India continues to be an existential threat. Terrorism continues to remain an instrument of its state policy. Kashmir continues to be the raison d'etre for continued supremacy of its Army. While all nations have an Army, the Pak Army continues to have a nation. Rawalpindi has turned a deaf year to growing debate at home of Kashmir versus Afghanistan. Many believe that Afghanistan is strategically more important and Pakistan should concentrate its resources there rather than in the lost cause of Kashmir.
For Pakistan China Factor has become over riding. China is egging Pakistan to continue its obsession and keep the pot boiling in Kashmir. It needs hold in Gilgit-Baltistan and does not want to part with Shaksgam and Aksaichin.To put pressure on India during the resolution of border dispute it needs to keep the threat of a two-front war alive. It needs access to Arabian Sea for which the China Pakistan Economic Corridor (CPEC) terminating at Gwader is crucial. The only ray of hope for beleaguered Xi Jinping's pet project of Belt Road Initiative is CPEC. China has gone to the extent of compelling Pakistan to choose between it and Saudi Arabia. Saudi Arabia, once trusted ally of Pakistan, has refused to allow Pakistan to sail in two boats. Net result is increased dependency of Pakistan on China that does not augur well for the security environment in the sub-continent. Under the Chinese influence and obligation Pakistan refuses to relent in Kashmir and Imran Khan's assertion that Pakistan will continue to support separatists in Kashmir should spring no surprise.
(The author is a Jammu based veteran, political commentator and columnist)