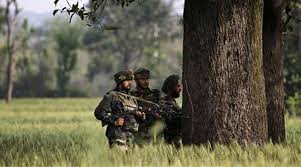 Vikas Khanna
Last two days, two terror attacks in Jammu and Kashmir. And more to follow! The attacks, which come after a lull of about three months, should ring alarm bells to the authorities in the state, particularly Chief Minister Mufti Mohammed Sayeed, who has been championing the cause of withdrawal of the Armed Forces (Special Powers) Act or AFSPA.
One can understand the "uncalled" for hurry with which Mufti wants to implement his agenda. Revocation of AFSPA, release of political prisoners and simultaneous talks with separatist Hurriyat Conference and Pakistan were the issues core to him and which fetched him political dividends in last year's state elections. Mufti would do well to understand that he has got the mandate only in Kashmir valley on the issues close to his heart. The views of people of Jammu and Ladakh can't be brushed aside while implementing his agendas.
It should be noted that the number and intensity of attacks will increase in the coming months when snow in the upper reaches of Kashmir starts melting. This is the time when militants with active support of Pakistan army and its intelligence unit, ISI, begin a major push to infiltrate.
At a time when Pakistan continues with its policy of bleeding India, the state should not be seen as adamant to pursue its agenda which runs against national interests. There is no doubt that the controversial act has generated a heated debate with two extreme view points. Human rights activists, who dub AFSPA as "draconian", allege that the act empowers the security forces to indulge in arbitrary killings, torture, inhuman treatment and enforced disappearances of innocent people. They say there is an urgent need to revoke the Act since it is prone to abuse. There is no doubt that there are some allegations of excesses against the Indian army.
But the army defends the Act saying it would not be possible for it to operate without it in states like Jammu and Kashmir and northeast.  While it does admit to some lapses on the part of some personnel, the Indian army says it has dealt with human rights abuse cases whenever found to be true.
There is no doubt that the arguments in favour of the withdrawal of the Act far outweigh those in support of it. But the immediate withdrawal of the Act may boomerang if state police are not equipped to deal with militancy-related cases. It has been found that the police, which is mainly tasked to maintain law and order, is found wanting at major operations against militants.  The oft-repeated comments by the new chief minister that time has come to withdraw the Act from some places which have not reported any militant-related activity for the past few years need to be taken with a pinch of salt. Mufti's statement on Friday that "we will start gradual process of scrapping of AFSPA" was greeted with a militant attack on the same day in Rajbagh police station in Kathua in which seven people, including two security personnel and two militants, were killed. The militants followed it up with another attack on an army camp in the Samba district the following day.
Mufti would do well not to make it a political issue and rather leave the matter to security forces who are risking their lives in battling insurgency. Time is still not ripe to lift the AFSPA from the state when militants with active support from across the border continue to target Indian security personnel and key government installations.