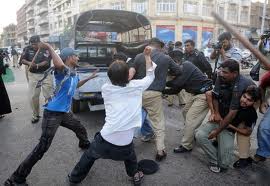 S Ranjan
Karachi, the capital of the Sindh Province of Pakistan is a multi-ethnic, multi-lingual, multi-cultural and multi-religious metropolitan city. For quite some time now it has been in the news for unprecedented levels of violence and destruction. For India, the city is important because it is home to a major portion of the Muslim population of north India that went to Pakistan during partition in 1947. Descendents of these people are now naturalised Pakistani citizens. Referred to as Mohajirs, this population has never really been accepted by Pakistan, especially the Punjabi Muslims. Its attempts to find a political voice for itself bore fruit in Karachi because of high numerical numbers over there. Now even in Karachi it is, slowly and steadily, being overwhelmed by many other communities, especially Pusthuns who are being encouraged to inhabit the area in great numbers.
In 1984, Altaf Hussain formed a political party, the Muttahida Qaumi Movement (MQM) comprising mostly of Mohajirs who, at that stage, constituted about half the population of Karachi. The party mandate was to protect rights and gain recognition for the ethnic Mohajirs. Deadly confrontation between the Mohajir cadre, Pashtuns and other ethnic groups ensued. Despite the pressure MQM won several landslide victories in Sindh elections. Yet, the federal government of Pakistan launched military operations against MQM in 1986, 1990, 1992 and 1998. Thousands of Mohajirs were displaced, house arrests were common place and MQM workers 'disappeared' from state custody. Even death sentences were meted out and implemented. Altaf Hussain fled to London in 1992 along with prominent party office bearers and workers. He and his associates were given asylum in the United Kingdom.
In the recently conducted elections the Pakistan People's Party (PPP) that has been ousted in the federal government has emerged as the majority party in Sindh and has formed the government in the province. Earlier, it had partnered with the MQM but this time the MQM has decided to sit in opposition. The ministry that was sworn in was by and large the same as the previous one except that the MQM representation was absent.
Ever since, the graph of violence has been escalating and MQM has been vocal in allegations of a witch hunt. It makes no bones about its apprehensions that its cadre have been victims of targeted killings. MQM has enough reason to be apprehensive. Immediately after the elections, on May, 28, Ajmal Beg, a unit in-charge of MQM was killed in judicial custody; the next day Sarfraz Ahmed another unit in-charge was killed at his home; On May, 31, Ghulam Hyder Jamali of the Karachi organising committee was killed. The list is very long and sufficient to prove that specific targeting of the MQM cadre is being resorted to.
Political vendetta is but one part of the violence that has become part and parcel of life in Karachi. Killings, kidnappings, extortions, land grabs and above all terrorist strikes have become common place over there. Kidnapping poses the biggest threat to the city; kidnappers have a far stronger network than the law enforcement agencies; if fact, the kidnapping mafia is said to have policemen on its pay roll. 74 kidnappings for ransom have been reported between January and June 2013. Being affluent and vulnerable, members of the Mohajir community are facing the brunt of this criminal activity.
On the militancy front, the Pakistan Taliban has a dominant presence in Karachi and has claimed responsibility for bomb blasts and violence in the lead up to the elections and beyond. It has specifically targeted MQM strongholds.
A few days back, fed up with the violence that has engulfed Karachi MQM Chief Altaf Hussain finally called for Army operation in Karachi. The very MQM that always stayed away from even the name of "Army" has finally demanded military intervention to restore the deteriorating situation and end violence in the city. The reaction of other parties has been swift and furious. They have joined as one to shoot down this very genuine demand. The federal interior minister Chaudhry Nisar has called for a 'grand consensus' for a 'targeted operation' in the Sindh capital. All the political parties in the National Assembly have endorsed this initiative. They have approved the spearheading of the operation by chief minister of Sindh and monitoring by a high-level committee comprising representatives from PPP, PML-N, MQM, Sunni Tehrik, ANP, JI, PTI, senior media persons, representative of business community and members of civil society.
There are, however, apprehensions in the MQM and also the ANP camp that such operations would selectively target their cadre and under garb of security a massive political witch hunt would be carried out. Already the MQM and ANP have cried foul over arrest and victimisation of hundreds of their workers. Chaudhry Nisar has assured the parties that that the security emergency being faced by the city will not be politicised; only time will tell if his word holds good or not.
Wikipedia describes Karachi as the largest and most populous metropolitan city of Pakistan; its main sea port and centre for banking, industry, economic activity and trade; home to Pakistan's largest corporations in textiles, shipping, automotives, entertainment and fashion industry, software, medical research and a host of other activities. The city is a hub of higher education in South Asia and the Muslim world. If Pakistan cannot maintain law and order in Karachi than it cannot hope to progress on the path of peace and prosperity.
It is quite evident that the problem is as much of lack of will as of political expediency. It seems that the Mohajir community is being targeted with the intention of breaking its will and its influence. Pakistan needs to rise above such political vendettas if it wishes to come out of the security morass that it is presently mired in. A good way forward would be to give immunity to MQM leader Altaf Hussain and his colleagues in exile and permit them to become a part of the political process.