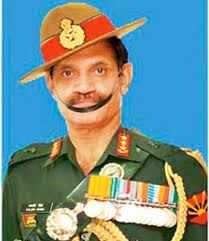 Defenceinfo Bureau Report
The government has named Lt General Dalbir Singh as the Army Chief designate to take over from the incumbent, General Bikram Singh, who will reach superannuation on July, 31, 2014. The designate General Officer is presently serving as Vice Chief of Army Staff at the Army Headquarters in New Delhi. The appointment has followed the traditional "principle of seniority" in the selection process. On the day when General Bikram Singh retires Lt General Dalbir Singh will be the senior most Army Commander ranked officer in the Indian army and thus he fits the bill for taking over as Army Chief.
Much is being made out about the decision having been taken by the outgoing UPA government a few days before the new government comes in. There is some merit in the argument that the decision should have been left to the incoming government but it also has to be borne in mind that the outgoing government has functioned with constitutional validity and requisite sanction from the election commission to go ahead with this decision.
The timing may be debatable but the decision per se cannot be faulted. Even if the new government had to take this decision it would have been improper on its part to break the tradition. The Army is an apolitical institution and it is best to maintain it as such. Breaking of the seniority principle would have amounted to politicising the selection process. A decision to supersede Lt General Dalbir Singh would have been deemed by many as partisan.
Indian army soldiers are known to extend all loyalty to the elected government of the country and there is no reason to believe that the next Chief will deviate from this sacred responsibility. The decision to name Lt General Dalbir Singh as Chief designate should be welcomed with the grace and the dignity that it deserves. Above all the office of the Indian army should not be dragged into politics.