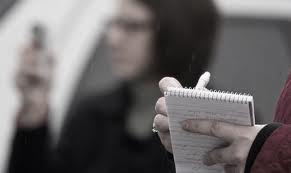 Simrit Kahlon
Journalism as profession has an aura around it; this is because it is looked upon as a creative field that involves travel to exotic places, interactions with the rich and the powerful and a high profile life. cialis professional Not wholly true but the characteristic is there. The new age has opened so many vistas in the field of information; the avenues of journalism have expanded with the rise of social media whereby every person is getting an opportunity for self expression. It is quite astounding.
With the increase in avenues and what can be termed as "Mass Production" the exclusive domain of a die hard, professional journalist is being threatened. The elegance and sophistication that marked the profession is fast getting extinct. As a replacement we have instant unedited news from loud, brash, half trained even untrained persons. Such information creates more despondence than happiness, it leaves the recipients bewildered and dumbfounded in equal measure most of the time.
The sad part today is that there is a lot of media but no pure journalism; nobody has time for sophisticated writing anymore. Stories are uploaded instantly from the hurriedly written copy that a field reporter sends in order to bypass the competition. That the reader has to contend with acute problems of spelling, grammar, usage, and punctuation is of no consequence. There are also many instances where language gets in the way of communication. Too many young journalists who wish to show off their vocabulary skills resort to obscure and obscurantist language. They totally ignore the requirement of concise, precise, understandable, consistent and informative reporting that builds up an honest and comprehensive picture.
Specialist reporting is the biggest sufferer in the new age of instant results. Organisations like the defence forces that have a fair amount to speciality involved and are constantly in the public eye are the biggest sufferers. Not many media schools, if at all, teach defence and security journalism as a part of their curriculum. The armed forces make an effort by holding orientation workshops but the initiative falls short in both content and scale.
This point can be well explained by only considering the aspect of terminology. While reporting on internal security, which is a most talked of subject, there is ambiguity in use of the terms terrorist, insurgent, militant, ultra etc to the extent that even government press releases have started using these terms loosely. How then can we correctly project the actual challenge that the state is faced with; is it terrorism or insurgency or a mix of both – if so, to what extent? Other glaring errors include calling an Army Corps a "Core", a Command as "Army Headquarter" and other such Faux Pas.
How often have readers read in newspapers, "Cop killed in gun battle"; there are many facets of etymology that explain the origin of the word "Cop" denoting a policeman. The overwhelming opinion is that this is a slang word that the police forces themselves consider to be derogatory; yet, throwing propriety to the winds, media persons use this word even to give news of a policeman's death.
Army or Paramilitary enlisted personnel are called troopers which is absolutely incorrect. A Trooper is, by definition, a member of mounted cavalry or mounted police; both definitions do not suit the context under reference. Paramilitary personnel are also, at times, called "Jawan" which is again not in order. The word Jawan, of Hindi origin, finds its genesis in the British Indian army; it therefore denotes only an Army soldier and derives significance from the slogan "Jai Jawan, Jai Kisan" coined by Prime Minister Lal Bahadur Shastri in 1965. In fact, a Hindi word should not be written in an English text at all, so it is best for journalists and writers to avoid use of this word totally.
Use of the word soldier also needs to be done with utmost care, Paramilitary forces are not considered to be a part of the armed forces of the nation, hence those serving in this forces are not "soldiers' in the right sense. It is for the paramilitary forces to come up with a correct terminology. It is surprising that the forces have given not thought tot this matter; in the meantime the word should be avoided while referring to them.
The best form of address is to use the rank of the person who is being described, for example a CRPF Constable, Army Naik etc; it may take more space but is correct and gracious.
It was the need to provide responsible copy that propelled the journalists of yore to take great pains with their work; elaborate systems were set up to ensure that what goes out is correct factually, linguistically, grammatically and in terms of nomenclature. Misspelling a name or using wrong terminology was a sacrilege that merited immediate and profuse apology in the few instances that it happened. The readers were so discerning that a newspaper or periodical prone to make small mistakes would lose patronage. Elaborate organisations were evolved to ensure error less scripting; Good media organisations had and continue to have a larger segment in the desk job than those on field duty, these comprise of Editor-in-Chief, Editors, Managing Editors, Sub-Editors, Copy Editors and many more as required. These professionals get together to ascertain that only the best and most authenticated is printed. They are known to be ruthless with their pens and cause a fair amount of heart break to the beat journalist. Unfortunately in modern times, if costs have to be cut, it is the desk job that faces the hack. How then can we expect quality journalism?
Mass media is most powerful in a democracy. It shapes and moulds opinions and attitudes and defines what is normal and acceptable. It is up to the nation to ensure that this important tool maintained at the highest level of professionalism. It is not in order to feed the public with untreated, distorted news especially so with regard to defence and security.