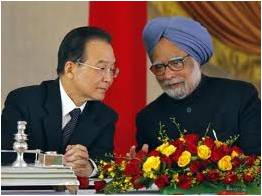 Prabhakar Gupta
The South Asian sub-continent is presently going through a difficult period with two local super powers, India and China, attempting to find ways and means to co-exist despite many differences. The attempt is in the backdrop of escalated chances of conflict as their growing spheres of influence overlap. After India and Vietnam recently agreed to jointly explore oil in the South China Sea, an aggressive China accused India of, "poking its nose where it does not belong." Also, while China is busy creating alliances with India's neighbours India has, to China's dismay, begun to strengthen ties with Japan, Australia, and the United States
Historically speaking, relations between the two countries have remained strained over many years, in many ways. China thumped India in a border war in 1962. Since then, the two neighbours have continued to grumble over their high-altitude frontiers. Indians envy China's economic rise and simultaneously console themselves by referring to absence of democracy in the country; that Indian democracy has not been able to do much to uplift the downtrodden is a fact that is conveniently forgotten. China, on the other hand, does not seem to be much in awe of India
In 1978 Deng Xiaoping won approval for a set of economic reforms that opened China to foreign trade, technology and investment. India's big liberalisation came years later, in 1991.The GDP of both nations has now become many times bigger than what it was in the mid-1970s, and the annual growth is normal despite the recent international economic pitfalls. Average living standards in China are still only a sixth and in India a fourteenth of those in America, but thankfully that gap too is closing fast. Though America still remains the world's biggest economy, this status is constantly under threat from a resurgent China. India and China, therefore, have some common aspirations and challenges on the world map.
For India, the China connection is quite disconcerting; for every dollar's worth of exports to China, India imports three, leading to a trade deficit of up to $40 billion in the year 2012, about 2% of our GDP. China accounts for a fifth of India's overall trade deficit with the world, over half if oil is excluded. Given our balance-of-payments woes, the rupee has fallen by a fifth in the past year; even Chinese businessmen worry about this unhealthy discrepancy in bilateral trade. There is apprehension that this disparity will grow rather than be bridged. As Chinese firms shift to more complex forms of production, they will make life harder for Indian high end firms which are the core of the Indian economy.
Thankfully, now India is on the roll to boost exports to China. At the G20 summit a deal was struck for the sale of rice from India to China. India looking forward to its leading industries including drugs, car-making and IT getting better access to China, most already have a presence, if only for procurement. More loans from Chinese banks will also come by to replace the wariness of olden times; more foreign direct investment is expected. In 2011 Narendra Modi, the Gujarat Chief Minister visited China to drum up investment.TCA Ranganathan, chairman of Exim Bank of India, reckons ten Chinese firms are building plants in India, and 100 firms already have their offices here.
The political relationship, sadly, continues to be marred due to simmering disputes. India's concerns now revolve around China's increased activity in Gilgit-Baltistan. The Chinese are working over there on road, railway and other infrastructure projects. According to Selig Harrison, an American analyst writing in the New York Times, "Pakistan is handing over de facto control of Gilgit-Baltistan, which is suffering a simmering revolt against Pakistani rule." Then there is the perennial problem of the border conflict. Both countries have conflicting claims and nearly fifteen rounds of negotiations have failed to yield any conclusive border settlement. At the current glacial pace of negotiations, it would probably take decades to arrive at an acceptable solution.
Be that as it may, the problems are just one part of the overall relationship, both countries will continue jockeying for influence while cooperating where mutual interests converge. The India-China relationship cannot be categorized into either `adversarial' or `friendly'; a more appropriate definition would be `engagement'. Both sides will engage with each other, sometimes cooperatively (when interests converge) and sometimes in an adversarial manner (when jockeying for influence is required).
One extreme view is that since India could expect to eventually overtake China economically, we should simply sit back and wait for the power gap to close and then act from a stronger position; this, however, involves looking too much into the future.
A good way forward would be to move ahead in all identified area of convergence and put up a united front in international initiatives like BRIC, WTO etc, increase trade and commerce to take it to its optimal potential and continue with border negotiations. The language of encirclement can be replaced with confidence building measures (CBMs) so that disagreements are not escalated. Despite the usual cold sweats foreigners have about India (nightmarish red tape, a cultural gap), Chinese executives opine that more local production will take place. China's consul in Mumbai, says, "Chinese firms are mustard-keen to invest in infrastructure, if also a little daunted." Might this be the start of a wave of Chinese investment? India needs outside capital, and expertise in manufacturing and infrastructure, China needs to invest its surplus funds abroad. Thus, Chinese investment in India is an idea whose time has come, if only the two sides can conquer a legacy of mistrust.
There is enough space for the Asian super powers to co-exist; there is also no indication of an imminent conflict due to adversarial issues. It can, therefore, be safely surmised that the time for Indo-China convergence has arrived