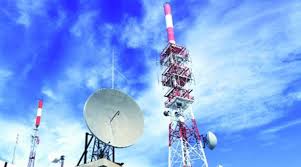 Dr. Simrit Kahlon
Terrorists in Jammu and Kashmir have hit upon yet another novel method of keeping their agenda alive. In the past ten days or so, they have carried out specific targeting of the telecom set up in Kashmir to the extent of literally paralysing the industry. A recent attack on Monday, Jun, 01 was carried out in the heart of Srinagar and that too on a BSNL tower located in a residential complex in Habbakadal. One person was injured in the grenade attack.
The affect of these attacks is that dozens of communications towers and service offices have shut down in the valley and more are in the process of doing so.
The people are looking at the development with dismay!! Today communication through mobile has surpassed class and creed boundaries to become an integral part of the lives of every person. For the people of Kashmir, mobiles provide greatly needed succour in their otherwise difficult lives. Communication binds them together; for the students mobiles and smart phones constitute an important link with the outside world that they wish to relate with. Families use mobiles to stay in touch and feel secure in difficult times. A lot of business and professional activity is being done on mobiles; in particular, the service sector that provides sustenance to small time professionals like electricians, plumbers etc. is wholly dependent upon mobile communication.
The telecom companies are, as expected, the worst hit. Those who are suffering in operations and business include telecom giants like Aircel,  Airtel, Vodafone, Reliance Communications and Idea Cellular among others. Now even the government owned BSNL has come under attack.
Due to this, a negative message is going out to other business concerns that may have some interest in setting up facilities in Jammu and Kashmir, especially the Kashmir valley.
Surprisingly, Chief Minster Mufti Mohammad Sayeed has chosen to down play the incidents. He has referred to them as  a "temporary phase" against which "action" will be taken. The ground reality is that this terrorist activity is anything but a temporary phase. It is a well planned design to break down communication in the Kashmir valley and send it back to the middle ages. Sadly, the promised "action" by the government is taking a long time to come by  and , as a result, the situation is deteriorating by the day.
The targeting of telecom facilities started as a retaliation to the breaking down of terrorist radio  devices and other gadgets that the police discovered installed with local telecom facilities in Sopore and other places. Terrorists had installed the same for their own communication. Pakistan's Inter Services intelligence (ISI) is said to have spent as much as Rs 25 crore on the project.
Terrorists, attempted a tit for tat by denying communication to the civilians also. They called for a ban on all mobile communication and targeted those who were providing service and space for the facility. Initially, they shot dead one man who was working at a mobile phone shop in the Sopore area and another man who had a cell phone tower installed on his property. Three other people were injured in attacks.
"Militants had installed a communication system on a telecom tower in Sopore, and after we seized it, they started pressuring people," said Javed Gilani, the Inspector General of the Kashmir Police.
Alongside, terrorists launched a propaganda campaign aimed at pressurising people into shutting down mobile towers and other facilities. Sopore was dotted by multiple posters, putting forth the terrorist demand that phone companies shut down their operations.
The initial success achieved by the terrorists, discomfort caused to the local populace and media attention thus received convinced the terrorist masters that a gold mine had been hit upon. They realised that this initiative would constitute a very good method to establish the depleting terrorist writ and embarrass the government. Another big gain that would accrue from the process was that terrorists would save themselves from scrutiny through the mobile communication.
What started in Sopore has now spread right up to Srinagar; it is poised to cover the whole valley and is attaining critical dimensions.
The terrorists probably realise that by hurting the common man on this sensitive issue they creating a negative perceptions that would hurt their cause. It is possibly for this reason that larger terrorist organisations like the Lashkar-e-Toiba (LET) or Hizbul Mujahideen (HM) are not taking responsibility for the acts of terror. The blame is being shouldered by a relatively less known organisation called the Lashkar-e-Islam. This is a clever ploy to ensure that the larger organisations do not garner negative publicity even as the work is done.
In case the terrorists feel that they can bring about a radical restructuring of the social, political, and economic order by applying such regressive means, they are sadly mistaken. Kashmiri people are not the type to take kindly to any attempt to take them back to the middle ages, this is not Pakistan where such nonsense will be accepted.
It is, however, time for Chief Minister Sayeed to stop burying his head in the sand. He needs to understand the threat and take affirmative action to counter the same. He has to realise that the militants and separatists for whom his heart bleeds are the enemies of the very people who have voted him to power. He now has to chose one of the two – the people or the separatists/terrorists. His government needs to come out of its slumber and take some firm action to stem the tide before it is too late, this is possible only if he gives firm and unambiguous directions to his police force and other security forces. Perhaps he should be taking a leaf out of the manner in which his predecessor OmarAbdullah used to handle such anti-people activities.