Col Alok Mathur (retd)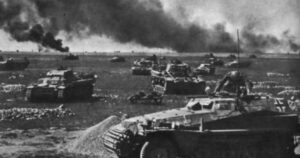 Battle of Chawinda Pasrur : Destroyed Pakistani Tanks
After the Indian debacle during the Indo-China War, 1962 , then Indian PM Pandit Nehru realised that the Indian defence forces required an overhaul and upgrading. The first to be sacked was Defence minister Krishna Menon. Yashwant Rao Chavan was appointed as new Raksha Mantri. Army Chief General P N Thapar resigned and General Jayant Nath Choudhary was nominated as new COAS. Centurian Mk 7, Folland Gnats,Hawker Hunters were procured from Britain. New mountain divisions were raised.
The command structure in 1965 was divided in to four operational commands. Lt General SHJF Manekshaw was the Eastern Army Commander covering area of West Bengal, Sikkim, NEFA and other six North eastern states. Lt General Motisagar was Army Commander, Southern Command covering all southern states and maritime assets. Lt General K Bahadur Singh was Central Army Commander covering Uttar Pradesh and Bihar. Lt General Harbaksh Singh , Vrc was the Western Army Commander with largest and active Area of Responsibility (AOR) spanning from Rajasthan, Punjab , Jammu Kashmir to Himanchal Pradesh.  There was no Northern Command in 1965 .
Pandit Nehru could not tolerate the back stabbing of Communist China and left for his heavenly abode on 27 May 1964. A simple  and honest Lal Bahadur Shastri  was sworn in as the second Prime Minister of India.
General Ayub Khan had taken over as President of Pakistan in 1958. Pakistan joined SEATO and CENTO and was supplied with modern American weapons like Patton tanks, Sabre F 86, Star fighter F 104 fighters and 155mm SP Artillery under mutual defence assistance. Pakistan think tanks concluded that it was the right time to achieve a military solution to the Kashmir issue and humiliate India. Pakistan planned a two phase Operation. In phase 1, named Operation Gibraltor it planned to infiltrate Pakistan Army officers led battalion strength of Razakar(civilian militants) to foment unrest, arson and anti-India insurgency in Kashmir leading to a local revolt. In Phase 2 it planned to launch a major offensive towards Akhnoor through Chamb and threaten Jammu.
Operation  Gibraltor launched in  early August 1965 was  a total failure as Kashmiri locals did not support Pakistan. Operation Grand Slam was launched on 1 September 1965 with a division and two Armoured regiments in Chamb –Jaurian sector . On 2 September  by mid day, Chamb was lost. On 3 September, Pakistan Armour crossed the Manawar Tawi River.  On 4 September 1965 , Jaurian had fallen after a ferocious battle. Akhnoor bridge on Chenab was just 18 kms away when General Harbaksh approached Army Chief to permit an offensive in the Shakargarh bulge in Punjab to relieve pressure in Akhnoor Jammu Sector. COAS contacted RM, who rushed to PM Shastri, who gave his concurrence immediately. Operation Nepal was launched in Shakargarh bulge and Operation Riddle was initiated in Lahore-Kasur Sector in Punjab. Ayub khan was shocked and ordered withdrawal of Pak forces from Chamb-Akhnoor  sector  to Pasrur and Lahore sector to save his price possessions . Rest is history.
Shakargarh Bulge is an area located in Rachna Doab between Chenab to North West and Ravi to Southeast, intruding into India, it extends from Jammu to Gurdaspur, an area of about 150 km North to South and 100 kms in depth. The western base line of this area in Pakistan starts from Sialkot in North, Pasrur at centre and Narowal in south. The important towns/ villages in the bulge are Bagowal, Charwa, Mharjke, Chak Amru,Iiklhaspur, Nainakot and Jassar along the International Border. Shakargarh town is in the centre of the bulge between Bein River and Basantar Nadi. Chawinda and Philurah are on Road Sialkot- Pasrur- Jassar. There is Railway line 35 Km from IB connecting Sialkot- Pasrur- Jassar- Lahore and a branch line is connecting Shakargarh- Chak Amru from Jassar. There are five rivers/Nalas running north to south, namely, Aik Nala, Degh Nadi, Basantar Nadi, Kirur Nala and Bein Nadi. Towards the Indian side, Jammu is on the Northern edge of the Bulge, Patankot is due east and Dera baba Nana is on the southern end with a Railway line and highway running 30 km away parallel to IB Joining Jammu to Pathankot and Gurdaspur/Jalandhar almost in the foothills of the Shivaliks. The water flows down from East to west. Shakargarh Bulge is of prime importance as it can be used by both countries as launch pads for an offensive.
Operation Nepal was the counter offensive launched by Indian strike corps (1Corps) on 7 September 1965 to divert the attention of Pakistan  from Akhnoor /Jammu sector and draw his strategic reserves into the Shakargarh salient . Enemy was strong in Sialkot -Shakargarh sector. The forces under Pakistan 4 Corps were 6th Armoured Division (a new raising) with four M48 Patton regiments (10 Cavalry, 11 Cavalry, 13 Lancer and 22 Cavalry). The Infantry component was 15 Infantry Division (3 Infantry brigades and 3 Armoured units) and later reinforced by 7 Infantry Division (Four Infantry Brigades and 33 Cavalry under command). 4 Corps Artillery brigade and Division Artillery units were also in range.  Indian 1 Corps was also equally strong. It had three Infantry divisions (26 Division, 14 Division and 6 Divivision) and the pride of the Indian Army, the  Black Elephant Armoured Division commanded by Major General Rajinder Singh Shergill (Sparrow) which had with two mobile brigades (1 Armoured Brigade and 43 Motorised Brigade).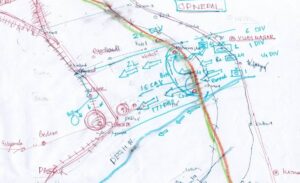 Strike 1 started rolling in to Shakargarh bulge at 2300h on 7 September 1965. 6 Mountain Division crossed the IB and 99 Brigade captured Charwa supported  by 18 Cavalry. 69 Infantry Brigade with 62 Cavalry captured Maharajke Village in Phase 1 and Niwe Wains/Unche wains and Bajragarhi in Phase2 . The bridge-head was secured by Mid-day of 8 September. 1 Armoured Division located at Ramgarh in Forward Assembly Area now moved in to the bridge head for breakout. 43 Motorised Brigade led by 62 Cavalry moved on the Northern route with objective as Bhagowal via Chanan Fatwal, Chak Atma, Cross road, Salewal. 1 Armoured Brigade led by 16 Cavalry and 17 Horse equipped with Centurion moved on the southern route with objective Philaura via Kangree, Sabazkot, Chobara.
43 Motorised Brigade move was very slow as the route was boggy. A new route was given and it reached Kalol by late evening of 8 September and the brigade went in to harbour at nightfall. 35 Infantry Brigade was following in support. By 10 September, they reached Nathupur. Meanwhile, 1 Armoured Brigade units were moving fast. 16 Cavalry faced enemy tanks and RCL fire at Gadgor and 17 Horse advance was blocked by Pattons at Tharoh.
Tank versus tank battle commenced. The Indian tank gunners had an upper hand due to excellent training standards. PAF carried out heavy bombing in the broad day light. On 9 September, 1 Armoured Brigade concentrated at Rurki Kalan. 14 Division also linked up. On 10 September, the battle of Philaura had begun. 17 Horse and 4 Horse (Division reserves) isolated Philaura and 16 Cavalry, 62 Cavalry were facing Sialkot to meet a possible enemy counter attack. Indians established at Libbe, Nathupur and Saboke line. Enemy Armour withdrew to Kalewali. 1 Armoured Brigade units scored 61 Enemy tanks kills in the battle of Philaura and 6 Indian Centurians were also destroyed by enemy fire. Philaura Tank battle is considered as one of the most ferocious since World War 2.
On 11 September, maintenance axis Sabzpur- Chobra- Gadgor- Philaura was opened and replenishment and repairs were carried out. Mirzapur, Zafarwal was also captured. The next objective was Chawinda which was heavily fortified. Simultaneously, tank battle was in progress at Khemkaran – Bhikkiwind as Indian 2 Armoured Brigade was fighting a pitched battle with Pakistan 1 Armoured Division. 43 Brigade had also by now reached Pagowal. Chawinda was surrounded from three sided by 4 Horse in North, 17 Horse from North-East and 16 Cavalry from the South. But Chawinda held on. Indian Armour Division was now leaning on Railway line Sialkot-Chawinda – Pasrur.
On 16 September, 17 Horse was tasked to capture Chawinda from the rear. 17 Horse boldly led by Lt Colonel A B Tarapore reached Butar Dograndi. Pakistan Armour counter attacked from Wazirwali. Ferocious tank vs tank battle took place. 10 enemy tanks were destroyed. Lt Col Tarapore led from front and controlled the battle. During the battle, he was severely wounded but he refused to be evacuated. After the battle, he got down from the tank but was fatally wounded by a direct Artillery shell hit. Poona Horse under his command decimated an entire Pakistani Armoured Regiment.For the conspicuous bravery, steel determination, unparallel valour , Lt Col AB Tarapore was awarded Param Vir Chakra posthumously.
A ferocious battle took place for Chawinda on 17/18 September, in which 14 Division, 6 Division and 1 Armoured Brigade were involved. 200 Pak troops were killed and 20 more tanks were destroyed. The final salient captured was from MS 8, Tilakpur, Muhmadpur, Chnan, Sabzpur Wazirwali, Pagowal, Rurki Kakan, Alhar station, Philura, Jaasarn. Most of the battles were fought around Chawinda between road Jammu- Sialkot in the North and Degh Nadi in the South. All guns fell silent on 23 September 1965. 1 Armoured Division advanced approximately 40 kms into enemy territory in 15 days against heavy opposition but decimated tghe myth of Pattons by destroying 100 plus US made M47/48 tanks in Armour battle at Phliaura and Chawinda. If the war had continued for some more time India would have captured Lahore.