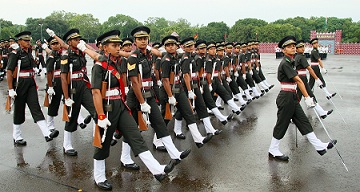 Defenceinfo Bureau report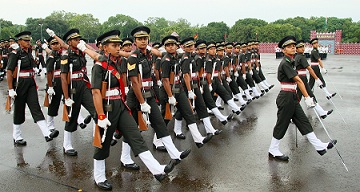 The Passing Out Parade (POP) of the Officers Training Academy, Chennai, was held on September, 14, 2013 . The SSC 96 and SSC(W) 10 Courses comprising of 350 cadets including 70 Lady Cadets and 20 Foreign Cadets from Afghanistan, passed out from the Academy in a glorious military parade. The impressive parade was reviewed by Lt General Ashok Singh, Army Commander, Southern Command. The parade was witnessed by the proud parents of the passing out course, civilian dignitaries, NCC Cadets and selected school students of Chennai.
In a glittering ceremony that marked the culmination of 49 weeks of rigorous and meticulous training, a total of 350 cadets marched in unison towards the final step to become young Lieutenants of the Indian Army and other friendly foreign nations.
The Reviewing Officer while addressing the parade reminded the cadets the amount of responsibilities they are going to shoulder while commanding the troops. He appreciated the cadets for their excellent efforts to make the parade an impressive one. He urged the cadets to dedicate themselves with utmost sincerity and devotion to uphold the honour and safety of the country.
The coveted Chief of Army Staff Banner was awarded to Basantar Company. Senior Under Officer Kuldeep Singh Baduriya received the 'Sword of Honour' for standing First in over all Order of Merit. The Gold Medal and Silver Medal for standing Second and Third in over all Order of Merit were awarded to Academy Cadet Adjutant Yengal Dasu Rajesh and Junior Under Officer Nitin Singh Bisht respectively.
The cadets were pipped by their parents in front of the Parameshwaran Parade Ground. The event was followed by an oath taking ceremony and National Anthem. Apart from the President's Commission to lead the world's third largest army, each of the newly commissioned Lieutenants would be awarded a Post Graduate Diploma in Defence Management and Strategic Studies by the University of Madras.
"We are really excited to join our units and want to experience the real life a soldier is undergoing… most of us will be going to borders where our units are deployed." said a visibly elated Lieutenant Kanishk Sethi who is a fourth generation officer and is commissioned into Mechanised Infantry.